SUN COMES OUT AT LECKVIEW BUT ROVERS REINED IN
If there was one consolation from last night's late, late goal that decided the outcome of the F.A.I. Cup replay at Leckview Park – and there can't have been too many as far as the home side were concerned – it was that at least nobody in a Letterkenny Rovers jersey was going to have to live with the memory of being the one to miss the crucial spot-kick in the shoot-out that was within three minutes of coming our way
But still cruel agony for a courageous Rovers who matched their League of Ireland opponents all the way right from the kick-off at Lissywoollen only to be denied 207 minutes into a tie that had remained stalemate up to that winning strike.
It could, of course, have been all so different and had those of us occupying vantage points behind the visiting goal been in a position to do so, we would have raised that bar sufficiently to allow Stevie Okakpu Emeka's close range stoppage time header to fire in under it rather than off it.
As it happened, Athlone Town came close to snatching it themselves when, from the resulting breakaway, substitute Emeka Onwubiko had a shot brilliantly parried away by Rory Kelly in the home goal with David Shovlin blocking the danger as Val Feeney looked set to score from the rebound.
The sun was out in strength at Leckview along with a decent Tuesday evening attendance and Eamon McConigley's men can take huge credit for providing them with a performance of grit and graft.
They could, and possibly should, have won it in Athlone and had other chances last night to book their passage into the next round but not to be.
This could have gone either way but Alan O'Sullivan's strike those three minutes from the end of extra-time –set up by Onwubik who, I thought, was the difference in the end – finally decided it.
Rovers, however, undoubtedly made up for the disappointment of that Intermediate Cup Final loss with an inspiring performance against the Midlanders.
Hell, even the great A.C. Milan couldn't manage to beat Athlone Town on one famous occasion.
HARPS PULL THE TRIGGER
Shay Given should go to France; Seamus Coleman should go to Manchester United; and Finn Harps should remain in the Premier Division of the League of Ireland at the expense of Shamrock Rovers. Oh, and God has a Donegal accent.
The man who put the ball in the Holland net was in Letterkenny last night in company with Irish Comedian of the Year, Eric Lalor – the alternative royal visit and one that drew a sizeable gathering to the Shellbridge Suite of the Clanree Hotel.
Jason McAteer was in town having first swung round by Ballyliffen, we were told, to have a round on the links. Though he'll hardly have managed a shot like the one he engineered against the Dutch on that glory evening back in September 2001 which just about assured Ireland of a place in the World Cup qualifying play-offs.
The Finn Harps fundraising night organised in conjunction with McGettigans proved a tonic for the troops – with Lalor introducing himself as a Bohemians supporter and thanking Ciaran Gallagher for his recent penalty save against them. But still, he insisted, he'd prefer Harps in the Premier Division to the Hoops from Tallaght. Spoken like a true Bohs fan.
Fresh from his stint at Ballyliffen – "a lovely place to play golf" – 'Trigger' launched into a series of stories from club and country that had us reeling in the aisles, McAteer and Lalor providing the perfect double act on stage.
Not enough space in this week's column to venture into any of the anecdotes (though I may get a chance to air one or two of them next time out) but the former Ireland and Liverpool midfielder was adamant on a couple of points.
Our own Shay Given is desperate to go to France for the Euros. "I want to see him go and I think he will go," 'Trigger' told his Donegal audience.
And Seamus Coleman? Not his or Everton's best season with a loss of confidence affecting his game, McAteer argued. But the Scouser had some solid advice for the Killybegs defender. "I'd like to see him leave Everton and go to Manchester United." Spoken, not, like a true Liverpool fan.
Meanwhile, reacting to the deep tones of one questioner in the Q&A session that marked the second part of the night, Lalor decided that God truly has a Donegal accent. I tell you, we're blessed.
An entertaining night at the Clanree and if you missed it, you'll need to travel to Limerick where the pair are performingtonight.
That revelation prompted one bright spark in the audience to persuade McAteer and Lalor to mention the name of one B.J. Banda when they get there!
CRUMBLING UNITED
Three defeats in succession. Twelve conceded and nothing to show for it at the other end of the field. How an entire season can change in the blink of a couple of weeks.
Let's face it, Finn Harps latest reversal, the Cup game against Crumlin United, was no real surprise given the downturn in confidence after those crushing upsets by Dundalk and St. Patrick's Athletic. And, it should be added, given the Dubliners' outstanding performance against Letterkenny Rovers in the Intermediate Cup Final the previous weekend.
No surprise, either, that the scorer of the only goal at Finn Park on Saturday night was Gregory Moorhouse who followed on from his hat-trick display against Rovers to pile more agony on a Donegal side in a Cup competition.
Due to a later than expected return from the Ulster Schools Track and Field Championships at the Antrim Forum on Saturday, I didn't make it along to Ballybofey for the F.A.I Cup tie but the updates on social media and radio were continuing to convince me that I wasn't missing too much in the way of an impressive Harps performance.
True, the dismissal of Barry Molloy after picking up two yellow cards in the space of a couple of minutes didn't help but even a ten man Premier League side should be able to do the business against a non-league outfit, even one as capable as Crumlin United.
Difficult to believe that's it all of two weeks since Harps fans were lauding that 2-2 draw at the home of their fiercest rivals.
Not the first time in their history that the Finn Parkers have leaked a dozen goals in three successive outings – thanks to Bartley Ramsay's club bible, I'm able to reveal they started off the 1984-85 campaign in similar generous fashion – but after their encouraging opening third to this season, and a defence that appeared reasonably watertight up to that Dundalk clattering, we would have been expecting more.
The concern is, not just the fact that Harps have conceded twelve in three games, but that they haven't managed themselves to register anything on the scoreboard.
Ryan Curran has netted a handful of goals but, as reflected on in these parts earlier in the current campaign, Ollie Horgan requires a proven striker with goal scoring credentials and whether the July transfer window can provide one of that quality – not to mention the Harps kitty – is open to debate.
"We need to turn this and it's not just going to turn by talking about it," manager Horgan declared in the gloom of the Finn Park clubhouse after the defeat to Crumlin.
Still, what better way to turn fortunes around than by a visit to Tallaght in your next game and a meeting with 'de Rovers.
Now there's game to help eradicate the goals against column.
BRENDAN RODGERS AT CELTIC PARK 1….
There are those of us who strongly believe that Celtic wouldn't even require a manager to win the Scottish Premier Division title and could safely negotiate a season without one and still be too strong for the "opposition" that particular league provides every year.
But now that old rivals, Rangers, will be rejoining the fray from next season, it's probably safer to have one installed and who better than the man, who but for a Steven Gerrard slip-up, would without a doubt have claimed the Premiership title in England a couple of short years ago.
As you may have seen in this neck of the news woods earlier this week, Brendan Rodgers got his first taste of Glasgow Celtic when he, as an 11 year old, was taken to Finn Park back in 1984 to watch the Scottish giants in what was billed as a festival of football (Manchester City and Southampton were also involved in that mini-tournament). The Scots beat Harps 3-0 and the young Rodgers had seen enough to convince him that here was a club worth the watching though had he told anyone back then that he would, one day, manage the Hoops he would have been laughed all the way down Navenny Street.
But here he is now, officially appointed in the role and bidding to not alone reclaim another Scottish title but also to advance the club's cause in Europe where they didn't exactly shine under Ronnie Deila.
From next season, it's back to a two horse canter but the stark reality is that both Old Firmers require a new racecourse if they are to bring the competitive edge back into their game.
BRENDAN ROGERS AT CELTIC PARK 2….
Well, safe to say that we can discount Derry as any serious challenge in the All-Ireland Championship. Not after that totally dispirited performance against arch rivals, Tyrone, in the opening salvo of this year's Ulsters.
There was none of the fire and brimstone that marked the teams' meeting in the McKenna Cup Final at the start of the year when, within four seconds of the throw-in, Derry's defensive operator, Brendan Rogers was left in a heap on the pitch by Tyrone's Tiernan McCann.
This time, Rogers lasted a lot longer but was up against one of the true stars of the game, Sean Cavanagh, who all too often had the measure of him in one of the stand-out duels of Sunday's encounter at Celtic Park.
Cavanagh's Tyrone were always likely to win this one and when the clocked had ticked up to the twenty minute mark, Mickey Harte's re-emerging forces were in command on the pitch and on the scoreboard which signalled a 2-5 to 0-5 advantage.
For the past couple of years, I've been one of those who considered this Tyrone team and their manager well past their sell-by date. Wrong on both counts.
Recent performances have suggested that our neighbours would appear to have regained the substance and sting that has been missing in recent times
The Ulster Championship title would surely only be a stepping stone on the way to greater things. Unless the likes of Donegal – much better equipped than their Derry counterparts to do so – can put a stop to their gallop.
WONDER WEEKEND FOR DONEGAL QUARTET
Some week this has been for Donegal sports stars operating both at home and aboard. On Friday last, Raphoe's Chloe Magee and Letterkenny's Sinead Jennings, were confirmed by Team Ireland for places on the plane to Rio And on Monday it was the turn of Brendan Boyce from Milford to walk his way onto that flight.
And while, Conrad Logan, won't be making the trip to the Olympics – in a professional capacity at least – he'll still have a summer to celebrate after claiming a Cup winners medal following Hibernian's dramatic 3-2 win over Rangers at Hampden Park.
The Ramelton born goalkeeper wasn't around when Hibs last brought the Scottish Cup to Edinburgh – none of us were given that it was only a mere 114 years ago – but he's capped this season (it was his two penalty stops that helped Hibernian through to the Final) with another impressive display.
Can we expect to see the trophy winging its way Lennonside any time soon?
CHRISTY AT PORTNOO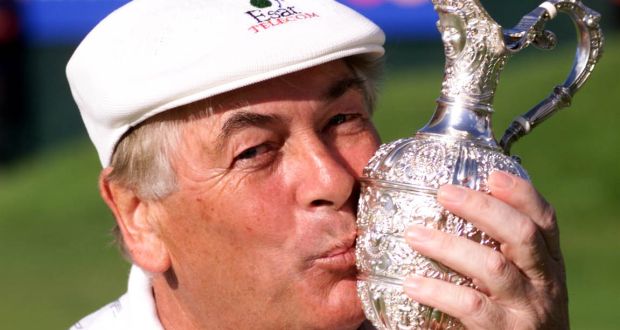 And now an honourable mention for Portnoo. Lifted directly from the mention the popular seaside resort got in the London 'Times' in last Thursday's edition.
All to do with Christy O'Connor and the time he played in a pro-am there back in the 1980's.
In the 'Lives Remembered' section on the obituary page – the newspaper had carried a nice tribute to the Irish golfer on the previous day – John Dawson had written in to recall a holiday he and his family had taken in Donegal when he had decided to venture along to watch the great man in action in the pro-am in Portnoo.
"The course had no practice area so Christy and his caddie went down on the strand. The caddie tipped out a bag of about 50 balls and wandered 100 yards down the beach. Christy – wedge in hand, fag in mouth, and chatting non-stop to a friend – dispatched the balls off the hard-packed sand. Every one landed at the feet of his caddie, who just bent down and popped them back in the bag.
"He had a beautiful languid swing, but what impressed me most was that Christy was determined to give of his best, even at a minor pro-am," John acknowledged.
Minor pro-am? In Portnoo? No such thing. Anyone out there with stories of O'Connor's participation in that particular tournament, feel free to e-mail in your recollections.
Meanwhile, good to see Rory McIlroy claiming an Irish Open title at long last.
"I was trying to hold back the tears on the 18th," he declared after claiming the trophy.
The sight of Enda Kenny can indeed have that effect.
PENALTY COUNTS
And finally a quick reference to that Ulster Cup Final at Ravenhill from a couple of weeks back when the Letterkenny Under-18's were mightily unlucky to lose to their Armagh counterparts.
Just got confirmation this week of the penalty count in that game. Armagh: 27. Letterkenny: 2.
Enough said. Or maybe not half enough.
Tags: