Passengers on a ferry service from Burtonport to Arranmore got more than they bargained for when making the trip this morning.
Skipper of the Arranmore Blue Ferry Joseph Doherty sent us a video link (below) and images of a herd of cattle swimming from one island to another!
The incredible video captures the moment the cows attempt the 200 metre swim from Inishcoo Island to Duck Island just off Burtonport.
Doherty has already witnessed this a couple of times in the last week or so, and said the animals are clever enough to know not to attempt it when the currents are strong.
He told Donegal Daily, "They've been doing it a few times this week, and they're very smart animals.
"They wait for slack water so there's no strong current.
"I had to avoid them, and they're a danger to navigate around," said Doherty jokingly.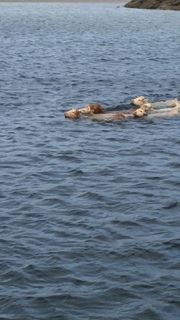 "There's a 3 knot tide when flowing or ebbing but these cows know when it's the right time to run the gauntlet."
To view the short video of the cows making a break for the Island – then simply click play on the video above.