Dental nurse Eileen McGlinchy has come up with an innovative idea to keep our mouths healthy, while also helping Donegal Hospice.
Eileen has been a dental nurse since 2011 after completing her degree in Oral Health Promotion.
She is the founder of Smiley Eileey's Oral Health Promotions, and she visits preschools and national schools across Donegal to educate kids on how to keep their pearly whites nice and healthy.
Speaking to Donegal Daily, Eileen says; "It is very rewarding seeing the children's faces light up as I educate them in a fun way on how brushing our teeth can be a fun and enjoyable routine, and not a task that ends up in an argument between parent and child."
She came up with the idea to sell dental floss on a keyring to encourage children and adults alike to get into the habit of flossing, while also raising much needed funds for Donegal Hospice.
"Flossing can increase your life expectancy by 6 years. You may ask how? Well, those bacteria that live in our mouth can go down our throat into our heart, lungs and stomach and cause blockages there also unless we clear it using floss.
"Having floss on a key ring makes it convenient, often enough food gets stuck in between our teeth after we eat and you constantly battle all day to get it dislodged. Having the flossing key ring in your bag or on your keys makes that problem very solvable."
Having a keyring is also handy for little ones as they can attach it to their school bags or their locker keys.
Eileen added; "Learning how to floss early in life will instill a healthy oral hygiene routine for a child which will benefit them later in life.
This smiley dental nurse admires the work done at Donegal Hospice, and wanted to do what she could to help them.
"I applaud the work of the hospice, and all the staff are so friendly. Every penny they receive goes to good use and I just wanted to give back to them also.
"They make all the patients feel at ease and give their family members the time and support they need," she concluded.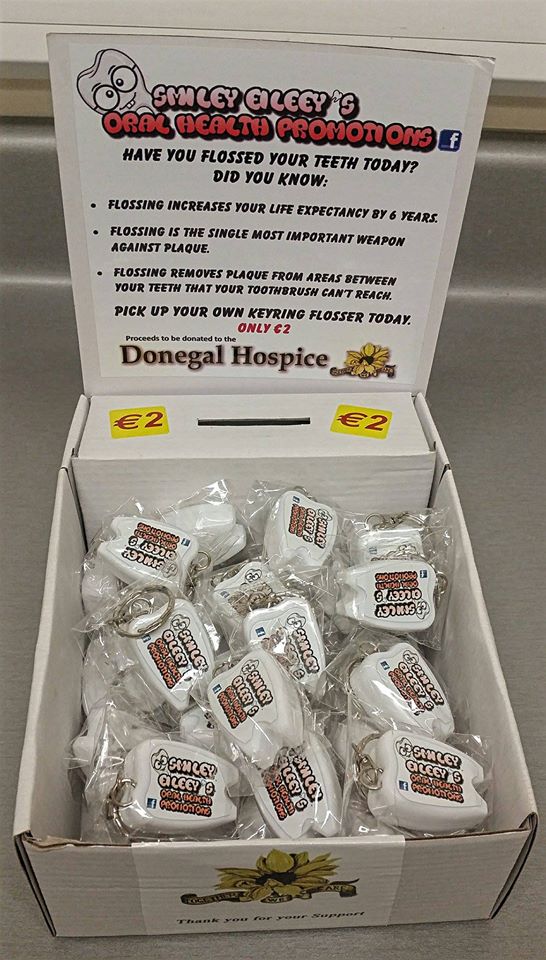 You can pick up one of these 'flossome' little tools for just €2 at Donegal Denture Clinic Ballyraine, McFadden's Pharmacy, Errigal Dental Forte Lynne House, Healthwise Pharmacy Ballyraine, Magees Pharmacy and Online Photo Printing, and Lloyds Pharmacy.
For more information on where to get the flossers you can check out Eileen's Facebook page and website.
Tags: