The students of St. Safan's National School in Castlefinn got groovy last week for their Relay for Life Donegal' Schools 1for1@1 Challenge. 
The young pupils did a fantastic Zumba dance to Bruno Mars' fun song '24K Magic' – and it was a gem of a performance. The dance, as part of Active Schools Week, allowed students to successfully raise hundreds of euro for Relay for Life Donegal.
Sarah Marie from Pinehill Studios lead the dance and Ena from the Relay Committee joined the group on the day.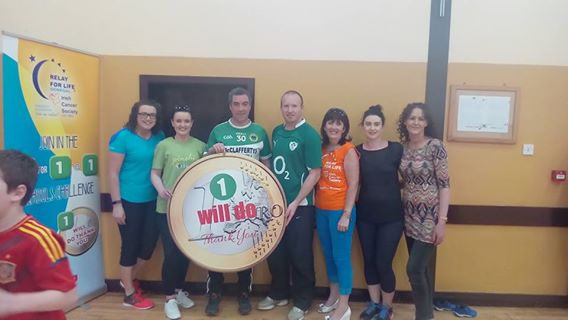 New names!
We are delighted to announce that three more schools registered to take part in the challenge last week. Now a total of 37 schools are now taking part in the '1for1@1 Challenge'! Welcome Crana College, Scoil Colmcille and Woodlands National School!
We are hoping to break the 40 schools barrier today, will you sign your school up for the challenge?
Here is the updated list of 37 schools taking part:
Scoíl Phádraig Dobhair, An Bhunbeag
Loreto Secondary School, Letterkenny
Scoíl Olibhéir Pluincéid, Rann Na Feirste
Gaelscoil Adhamhnáin, Leitir Ceanainn
Scoíl Mhuire , Doirí Beaga
St. Saffons NS, Castlefinn
Scoíl Chonaill, An Bun Beag
Scoil Naomh Fiachra, Illistrin, Letterkenny
Scoíl Naomh Dubhthach, Machaire Uí Rabhartaigh
St. Bernadettes School, Letterkenny
Letterkenny Educate Together
Scoíl Naomh Diúgh , Anagaire
Naomh Colmcille NS, Drumoghill, Manorcunningham
Pobal Scoil, Ghaoth Dobhair
St. Baithin NS, St. Johnston
Scoíl Adhamhnáin, An Luinnigh
Loreto Community School, Milford
Scoíl Náisiúnta, Mhín an Chladaigh
Mulroy College, Milford
Scoíl Náisiunta, Gort an Choirce
Scoíl Fhíonáin, An Falcarrach
Pobail Scoíl Chloích Cheann Fhaola
Scoíl Chnoic na Naomh, Doire Chonaire
Scoíl Eoín Pól, Loch an Uir
Royal and Prior School, Raphoe
Scoil Roisin, An Clochan Liath
SN Taobhóige, An Clochán
Coláiste Phobail Cholmcille, Baile Ur Oileán Thoraí
Scoil Naomh Cholmcille, Oilean Thoraí
Scoíl na Léibe , Leabgarrod, Arranmore Island
Scoíl Cholmcille, Arranmore Island
Raphoe Central National School
Scoil Mhuire, Dristernan, Gleneely, Inishowen
Dungloe National School
Crana College, Buncrana
Scoil Cholmcille, Letterkenny
Woodlands National

School

, Letterkenny
What's the challenge?
From now until Friday, May 19th, we are asking schools to pick one challenge and on their chosen day to carry it out at one-o-clock. Relay for Life Donegal are doing this fun challenge in association with Donegal Daily to raise vital funds for cancer survivors.
Every student takes one euro into the school (hence the name 1for1@1) Every single euro raised for Relay for Life this year goes directly to the extensive research programme for cancer survivors presently ongoing at Letterkenny University Hospital.
Unfortunately, cancer does affect every family and we are asking ''ALL SCHOOLS'' to please consider taking part as every euro is so important to us.
Donegal Daily
We at Donegal Daily have joined forces with the Relay for Life Donegal committee to promote the Schools Challenge for this most worthy of causes.
We are asking schools to do a one minute video of your challenge and send it to relayforlifedonegal@gmail.com.
As you can appreciate, it would be impossible for us to show all videos sent in but we will put up a selection of them over the next two weeks. If you can also send a photo of the students taking part in their challenge to the same address we will put that photograph up for viewing.
Remember that on the weekend of Relay for  Life Donegal  27th/28th May at Letterkenny LYIT, all of the videos sent in will be shown on the 'Big Screen'. So keep in touch with Donegal Daily and with the Relay for Life Donegal facebook page during the challenge!
Tags: