Welcome to the Castle Grove blog on Donegal Daily.
This week Castle Grove is basking in the glorious sunshine and we are hopeful that the good weather will continue through the weekend.
We have been proudly promoting the Wild Atlantic Way all week, sending our guests off to explore the beautiful scenery around the coast of Donegal and they all have returned home having thoroughly enjoyed their experiences. Donegal is truly such a beautiful county and this weather really helps it shine!
Be sure to check out some of these discovery points whilst the good weather prevails: www.discoverireland.ie/Wild-Atlantic-Way/Donegal/
With that in mind, we decided to create a dish which is locally sourced, as Donegal has such a fantastic selection of produce available, including some of the best seafood in the world, straight from our own coastal shores.
This dish is fresh and light and perfect for a Summer's evening and as always easy to prepare at home.
Be sure to pair with a nice glass of chilled white wine… our preference is a full-bodied white wine like a chardonnay or a white pinot noir to pair with salmon but really, it's your preference!
We hope you enjoy.
"Parmesan Herb Crusted Donegal Salmon with Walled Garden Leaves and Asparagus Salad with Fresh Garden Mint Dressing and Parmesan Shavings"
Recipe: serves 4 persons
4 x 6oz salmon fillets
80g breadcrumbs
20g parmesan crumb
Chopped parsley and dill
10ml olive oil
300g garden leaves
4 whole asparagus
40g garden peas
40g parmesan shavings
Mint Dressing recipe:
3:1 olive oil to white vinegar, salt & pepper, ½ tsp Dijon mustard, 10 g chopped fresh mint
Method:
Lightly grease oven baking tray, preheat oven to 180 degrees

Place fillets on tray and season lightly with salt & pepper

Brush fish with olive oil and bake for 4 minutes

Remove and add parmesan crumb, breadcrumb, soft herbs mix to the top of the fillet

Bake for another 3-5 minutes until golden

Peel the asparagus stalk and blanch for 1 minute in boiling salted water

Toss the leaves and chopped asparagus with the mint dressing and add to the plate next to the fillet

Garnish the salad with parmesan shavings.

Serve with lemon wedge
To enjoy more dishes like these, come and visit Castle Grove any time. Visit www.facebook.com/castlegrove1695 for updates or www.castlegrove.com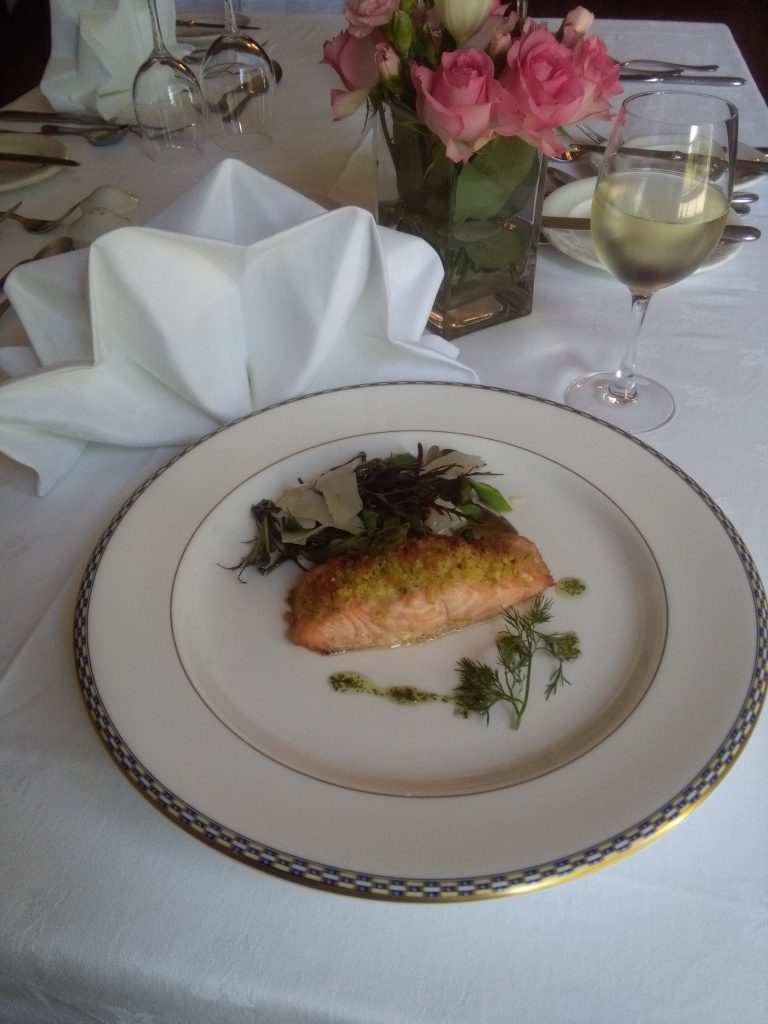 Tags: