Sarah-Marie McDevitt from Pinehill Studios in Letterkenny shares the many benefits of camps for children.
Camps are fun. But why are they important? Is there more to them than just silly games and crazy songs? Way more. In a world gone tech crazy, it is important for us as parents to take control and make sure our children have the correct balance in social inclusion.  
Sarah-Marie from Pinehill Studios gives us 10 reasons why camp is important for children together with some reviews from parents of past camp students.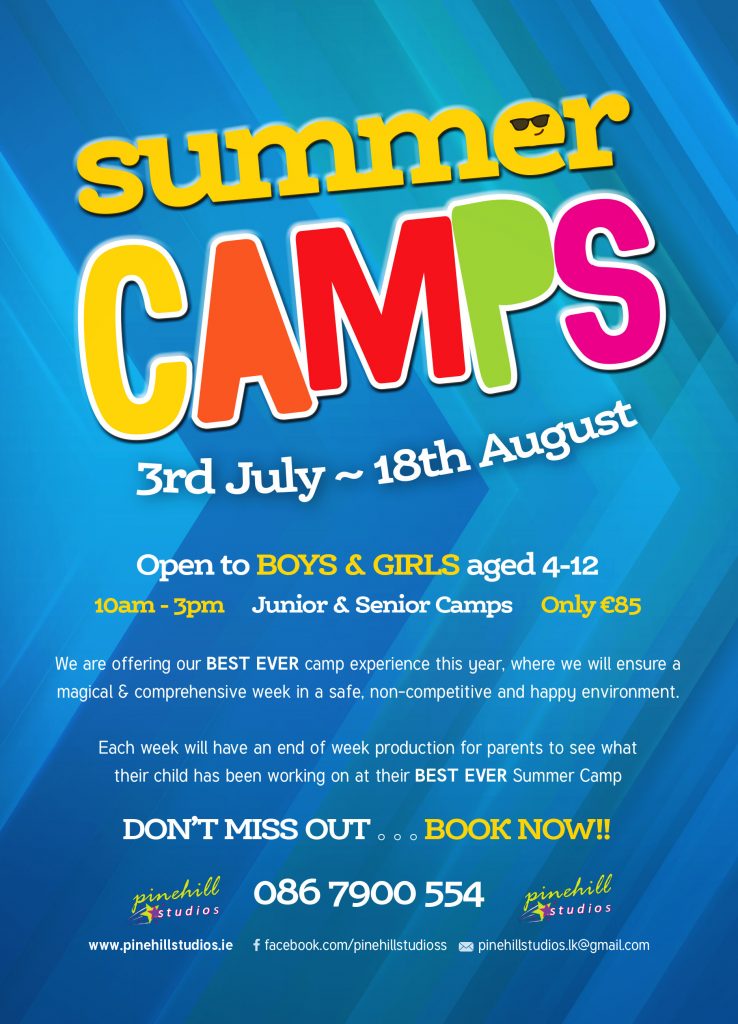 Exposure to diversity
Camp connects kids to those who they may not normally meet.  Kids learn the world is a big place with lots of people, who might do things differently to what they are used to. That includes other kids from all over the world – and the camp's leaders, who serve as positive role models who can leave a huge impression. They're not seen as strict "law enforcers" but older, "cool friends" who care about them.
Self-esteem boost
When kids are at camp, they don't have mum and dad there to help them approach people and make connections. They have to put themselves out there, this teaches the kids confidence when making friends from all over.  Learning how to dance or developing co-ordination skills also makes a child realize how capable he or she is to learn and grow.
"There are no words.. it's the best thing I have ever done for my child" – Catherine
Relax
You are giving your child a break from the pressures and stress of competitive sports, school, and you.  All camps at Pinehill Studios are all-inclusive and each child gets their very own 3 seconds of fame to go home feeling that extra bit special.
"Peter definitely gives you 10/10!! Don't know how he will manage till September" – Tracey
Develops independence
It's a great way to encourage self-development and also develop independence. Kids are empowered at camp to take care of themselves, with guidance from camp leaders. Children a little too attached to mum and dad get the opportunity to learn how to trust themselves to make decisions and take care of themselves.
"My little boy has gone from sitting on the floor and not taking part to bouncing into Pinehill Studios.  For me as a parent it has been brilliant to see him grow more confident" – Aggie
Instills leadership skills
Camp teaches them important leadership skills. Because camps allow kids to make choices and direct summer projects, camps are natural leadership training places. These kids are less likely to be affected by peer pressure and more likely to set the pace and tone for other kids – and feel empowered in tasks they take on throughout their lives.
Gives wonderful memories
Camp builds good memories for the future, to enjoy the summer with a large number of likeminded children. Kids have tons of memories of the good times, silly shenanigans and fun activities. It's a time of discovery and self-improvement that stays with a child long into adulthood.
"Girls I just wanted to thank you for the amazing Easter Camp.  The boys haven't stopped chatting about it and are still practising their dance moves." – Pamela
Helps them make friends
They get to become lifelong friends with people they don't necessarily live right next door to. They can make friends with people from all over.  This offers a unique opportunity for your child to branch out in the buddies he or she has. Navigating and building these friendships over the summer also teaches children how to be more socially confident – something they can take back to school with them in September.
"My shy, quiet nine-year-old went to camp not knowing a soul.  She came home transformed. She blossomed. She made friends, learned a multitude of activities, felt safe, loved, confident, and happy — really, really happy. As hard as it was on me, it was all worth it for her. It was the single best thing I have ever done for her." — Niamh
Gets them active
Camp helps kids learn how to be kids again.  In this technology-filled world, camps cut back on distractions. Removing the chance of mobiles, ipods, tv etc means kids can truly take advantage of all summertime has to offer. That means those prone to sit on their bums and text or play video games are forced to get up – and get moving!
Develop interests
Camps are a nurturing environment for a child to explore activities and programs that could turn into lifelong passions. With so much to do at summer camp (dancing, singing, acting, clowning, crafts, etc.), there are many fun, creative activities and opportunities for kids to discover.
That's why it's the perfect place for your child to tap into an interest that he or she wants to carry on after camp is over. Did your daughter shine 'On Stage'? Perhaps she's a budding dancer who would enjoy regular lessons?
Occupies the summer
"I have to work!" expressing what for many parents is the most practical reason to send their child to camp. After all, when school ends for summer, kids have to go somewhere to spend their time. Camp offers fun, excitement and lessons that last a lifetime.
Did this post help you decide if you will send your child to camp? Comment and tell us your thoughts.
Summer Camps at Pinehill Studios – choose from 6 camps running from 3rd of July until 18th of August.  Each camp is a weeklong Monday-Friday 10am-3pm.  Cost per week €85, sibling/multiple camp discounts.
Contact Sarah-Marie on 0867900554 or visit www.facebook.com/pinehillstudioss for further camp details at Pinehill Studios this Summer 2017.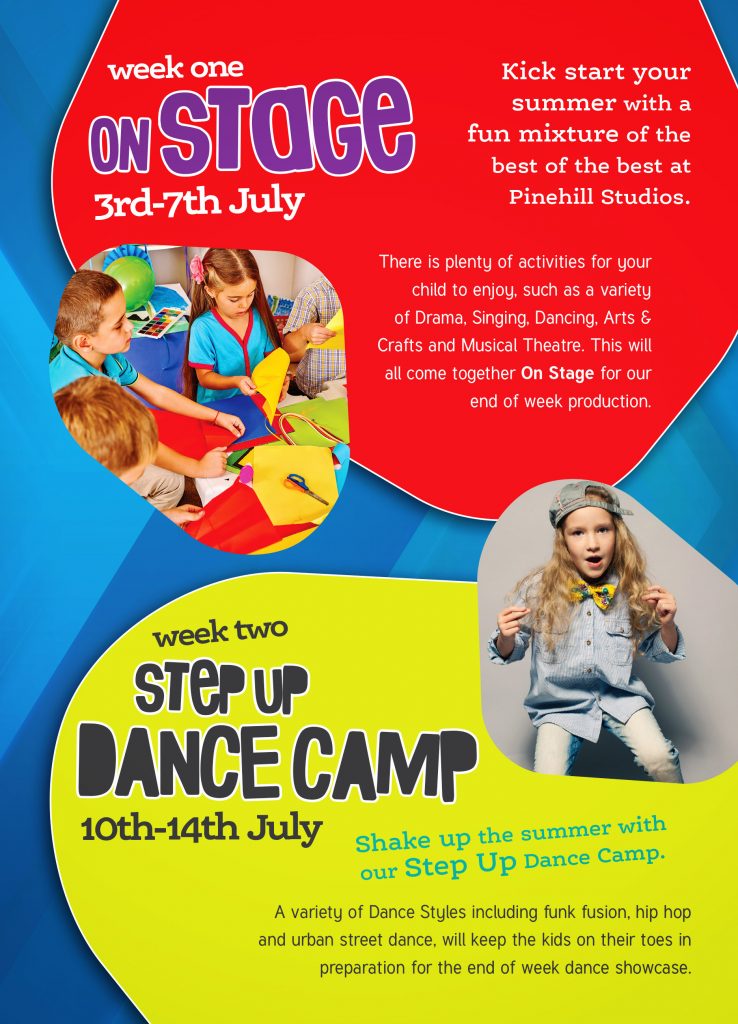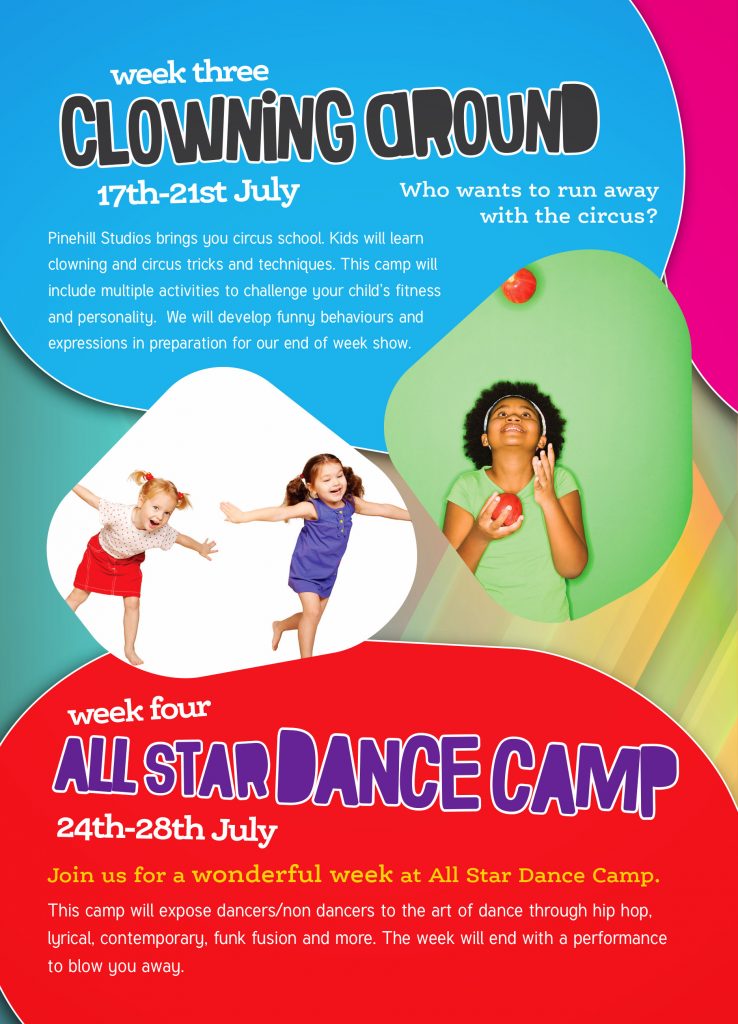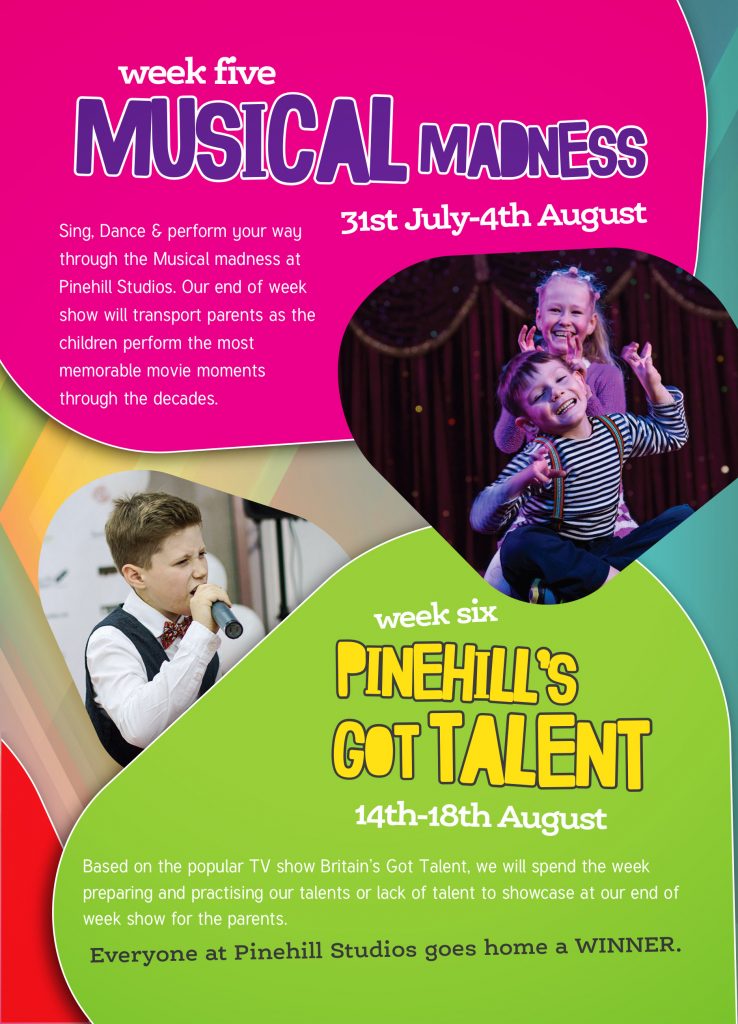 Contact Sarah-Marie on 0867900554 or visit www.facebook.com/pinehillstudioss for further camp details at Pinehill Studios this Summer 2017.
Tags: