Lagan Harps prevailed in a gripping penalty shoot-out to claim the Donegal Women's League Under-12 League title on Monday night at the Aura Centre.
Lagan Harps 1 Illistrin FC 1 (after extra time, Lagan win 7-6 on pens)
Nothing could separate these teams throughout the season and it was the same on Monday as their play-off joust went all the way to 16th penalty, when Lagan's Iesha Kelly stepped up to convert the winning spot-kick, after Aoife Sweeney saved the previous effort.
It was a fitting way to end a superb campaign for both teams and the only shame was that there had to be a loser.
Lagan led at half-time as A'Alya Mustafa fired home late in the first half, but Illistrin were level early in the second half when Ciara Molloy broke to fire home.
Chances came and went at both ends but it was down to penalties as not even extra time could throw up a winner.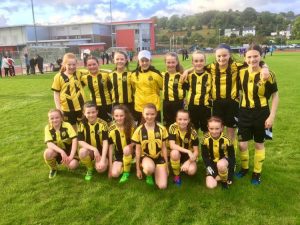 Molloy went close early on with a powerful shot in the second minute and the follow-up by Darcey Kelly was held by Lagan netminder Aoife Sweeney.
Niamh Sweeney was denied at the other end by Aobhin Randles while Molloy saw an effort that was destined for the top corner turned away by Sweeney.
Erin Doherty shot wide from distance while Kelsey Coll prodded over from Chantel Peoples' corner.
Mustafa gave Lagan a cushion on 26 minutes, but nine minutes into the second half, Molloy sped clear to tuck in the equaliser.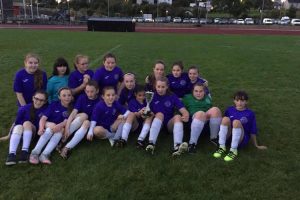 The lively Harriett McCrossan almost put Lagan ahead, while Doherty tried her luck again.
Twice Molloy came close to sneaking a win for Illistrin in the closing stages, but Sweeney held firm.
Lagan saw captain Doherty clear from her own goal-line in the second half of extra time and it was down to the dreaded penalties where Lagan secured the League to go with the Under-12 Cup they'd already captured.
Lagan Harps: Aoife Sweeney, Sinead Deasley, Chantel Peoples, Iesha Kelly, Erin Doherty, Emma Gribben, Kelsey Coll, Harriett McCrossan, Niamh Sweeney, A'Alya Mustafa, Tanya Gillen, Sophie Canning, Mia Devenney, Shauna O'Donnell, Amy Doherty, Tara Gibson.
Illistrin FC: Aobhin Randles, Grace Nugent, Erika Gallagher, Darcey Kelly, Claire Gallagher, Aobha Harrigan, Nicole McDaid, Sarah McGinley, Ciara Molloy, Leanne McGettigan, Aoife Toye, Myah McBride, Meabh Devenney, Sarah Robinson.
Referee: Liam McLaughlin.
Tags: