The 'KIller Bs' were back to the scene of their greatest hour last Sunday and surveyed, 25 years on, the baying hoards of Hill 16 again.
The dizzying heights of 1992 are still vivid in their minds even now, after two-and-a-half decades, and the moments flowed through the minds as they stood on the Croke Park turf again.
The Donegal team of '92 was honoured as the jubilee team last weekend and one of their number, Declan Bonner, was last night named as the new senior team manager.
Manus Boyle and Tony Boyle, the other two of that fearsome front line from the year of years, have backed the Na Rossa man to succeed.
"It's the only appointment," Manus Boyle says.
"Because of his success at minor and under-21 level, he is the natural successor."
Manus and Tony both played with and for Bonner, who last managed the Donegal seniors from 1997-2000.
Manus says: "Bonner is the ideal man. He is an extremely good man manager, he's an excellent organiser and he'll get the right people.
"He will go out of his way to make sure the players are looked after. I know he'll go to the ends of the earth. I played with Declan and I played while he was the manager. There is no-one with a better will for Donegal football.
"I came in around the same time as him. He was there from he was 17 and here he is with the same enthusiasm 34 or 35 years later."
Bonner has been involved with Donegal at underage level since 2011 again.
Tony Boyle came on the scene for Donegal in 1990 and was a team-mate of Bonner's and also played three seasons under his former Rosses Community School mate after his appointment in '97.
"Declan took the job at that time and he galvanised the whole squad," the Dungloe man says.
"The situation isn't too dissimilar to what he has to do now.
"Declan got the respect of the dressing room from the word go and that was good for a man getting his first crack at it. A last-minute goal pipped us.
"Declan was very thorough and he leaves no stone unturned. The big thing from Declan's perspective is that he has a wee bit more experience. A good bit more experience actually.
"I saw an article this week where Declan said that he was 'half mad'. Maths was never his strong point because he's full mad!"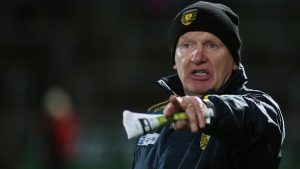 Tony Boyle and Bonner also soldiered with Keadue Rovers in the Donegal League.
When John Joe Doherty, another hero of '92, was appointed Donegal manager in 2008, he had Tony Boyle and Tommy Ryan as part of his backroom team.
Their two years at the helm, following an appointment process that became a public farce played out in the local media, ended with a qualifier hammering by Armagh in Crossmaglen in 2010.
"When we went in that time John Joe got the job, it was at the start of what you'd call the 'professional' era in Gaelic football," Tony Boyle says now, older and wiser with the passing of time.
"Players were full time doing gym sessions. Looking back now, we were all coming in from an older style, where you trained three or four times a week and that was that.
"Now, it's seven days a week and absolutely round the clock.
"We weren't successful, but it was still a great experience. I find the easiest part of it is when you have the players in front of you. When they're away, you're relying on them to be disciplined and to do all the gym work. At that time, the boys were nowhere near as disciplined as they are now. You're basically having to track them from they get up in the morning to they go to bed at night.
"But the county players now know you're basically signing up to be a professional sportsman when you go in there."
Manus Boyle keeps a close scrutiny on all things Donegal and believes Bonner was unfortunate not to get a better crack at an All-Ireland Under-21 title this year. That campaign ended with a semi-final loss to Dublin after Donegal had won an impressive Ulster title.
Manus says: "I think we left an Under-21 title behind us because of the under-21 players playing with the seniors. Who's to blame for that? Well, someone should have sat everyone down and made sure that this wouldn't happen."
On Bonner the manager, he says: "He could be considered old school by modern players, but he has updated himself as he's gone on. Bonner is not behind in any of the stuff you need in the modern game at all.
"This is a fierce important time for Donegal.
"This is the right appointment and it is so important that he gets the support of the county and the support of the players – they carry the can and carry the hopes for anyone."
Manus Boyle's name will be forever in the annals for his nine-point haul in the '92 All-Ireland final win over Dublin. He'd been previously Man of the Match in the 1987 All-Ireland U21 final win over Kerry.
He'd come off the bench to tilt a forgettable semi-final against Mayo in Donegal's favour and, five evenings before the final, he heard that he was getting the nod ahead of Tommy Ryan.
Between them, the 'Killer Bs' hit 0-14 of Donegal's 0-18 total, Manus with nine, Bonner with four – including that iconic final point of the game – and Tony weighing in with another.
Last weekend, they reunited again to toast that famous win.
Manus says: "There is great affinity with that squad with a lot of people. Even in Dublin last weekend, there was so much goodwill to us and the messages we received were nothing but positive.
"It was an unbelievable weekend. It was all that we hoped it would be. It was just brilliant."
Tony Boyle was the baby on Brian McEniff's team in '92. He'd come into the fold two years earlier and soon made the number 14 his own. The low centre of gravity and a deadly eye for a score marked him out as a real ace in the pack – and he would win an All-Star that year.
"It's always a great honour to be mentioned as part of the first-ever Donegal team to win the All-Ireland," he says.
"That was an unbelievable time. The county just went mad. No-one thought it would ever happen, but in fairness to Brian he got the squad together and we have fantastic memories of that time.
"It was great to meet up again for the anniversary this year.
"We had an absolutely fantastic weekend with the same characters, the same stories and the same slagging.
"We even had a buck who turned up wearing the same suit as the '92 squad, like a phantom selector from '92! But I suppose that happens with all successful teams where you've men claiming credit for all sorts."
The good times rolled again under Jim McGuinness, with Donegal winning an All-Ireland and three Ulster finals under the Glenties man's watch.
Bonner picks up the baton from Rory Gallagher following a successful spell at underage level, but Tony Boyle says patience ought to be the order of the day in Donegal now.
He says: "Donegal had lean years after '92 too and one thing we have to remember is that everyone involved in Donegal is there to try and make Donegal successful. The true supporters know that. We need patience, first of all. People need to be patient and to get behind Declan and the team now – I have no doubt the good times won't be far away."
Tags: