Today marked the official Bank of Ireland School Bank opening for Loreto in Letterkenny.
The School Bank team were joined by Jimmy Stafford, the Bank Manager from Bank of Ireland in Letterkenny and Eamonn Doherty, Jason McGee, Michael Langon and Enda McCormick, who play for the Donegal GAA team.
All Transition Year students were present for the bank opening.
Sara Bundschu reports
The bank opening began with a few speakers, first was a speech from Katie Hasson, the School Bank Manager.
The mic was then passed onto Lucia MaCauley, who is the Youth Coordinator from Bank of Ireland. Lucia works with the girls every week to ensure a smooth running of the school bank.
Manager Jimmy Stafford, then gave a few words before the cutting of the ribbon, which was cut by Eamonn Doherty.
The school bank will be open every Tuesday giving all students the opportunity to open an account and save money.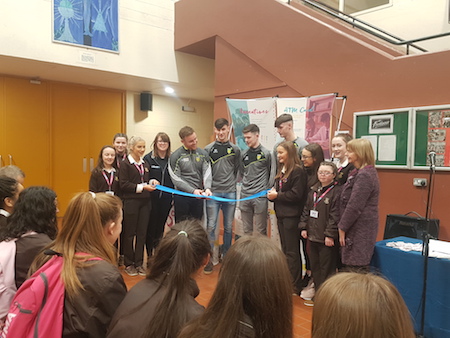 Tags: