Daniel and Majella O'Donnell have put their own spin on Carpool Karaoke, with none other than their architect Dermot Bannon. 
Dermot Bannon will launch his new series of 'Room to Improve' on RTÉ One this Sunday at 9.35pm by revamping the home of country music legend, Daniel O'Donnell and his wife Majella.
In an RTÉ Player exclusive extra released today, fans can watch the trio step back from heated discussions of 'secret' doors and oak finishes to blow off some steam on a mini road trip belting out some classic tunes along the way in Dermot's Donegal Duet.
Cruising through Donegal, they took on karaoke classics such as Beyoncé's 'All the Single Ladies', ABBA's 'Money, Money, Money' and 'The Hills of Donegal' by Goats Don't Shave.  Click here to watch the episode: https://www.rte.ie/player/ie/show/room-to-improve-extras-30004535/10839839/
Prepare for some serious shoulder shimmies and questionable high notes as Dermot fails to impress country music king Daniel with his vocal efforts!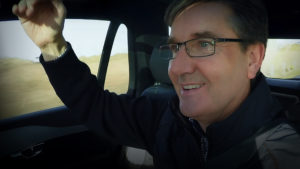 Following this Sunday's episode of Room to Improve, fans can expect many more extras on RTÉ Player over the coming weeks.
Tags: