Fanad United and Bonagee United Youths played out a scoreless draw at Traigh-a-Loch this afternoon.

Fanad United Youths 0 Bonagee United Youths 0

Fanad started on the front foot and Darren McElwaine fired over after just two minutes.
On 15 minutes the same player showed great skill to evade a number of challenges before see his shot fly over the bar.
Eight minutes later McElwaine was at the heart of the action again when he headed over from a Paul Bradley corner.
The best chance of the half fell to Bonagee in the 35th minute. When the impressive Aaron Wasson broke through the Fanad defence he was denied by an excellent save from Eoghan Jordan.
Fanad came agonisingly close to opening the scoring 10 minutes into the second half.
Ryan Toye showed superb skill in the box but his shot from a tight angle crashed off the crossbar and down onto the line. From the follow up, Darren McElwaine seen his header well saved by Cian Harkin.
On the hour mark Jack Murphy hit a fine shot from outside the box but he was denied by a full length save by Eoghan Jordan.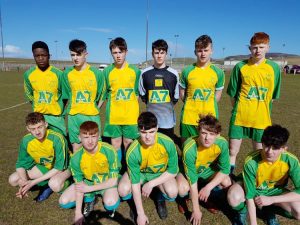 Fanad pressed in the closing stages and Conor McHugh and Jonah Serrinha seen shots go over the bar. In the closing seconds Fanad had a penalty claim turned away when Darren McElwaine was caught by a high foot in the box.
Fanad United: Eoghan Jordan, Bernard McGettigan, Shaun Little, Peter Curran, Matthew Gallagher, Fergus Friel, Conor McHugh, Padraig McGinty (Jonah Serrinha 45), Darren McElwaine, Paul Bradley, Ryan Toye
Bonagee United: Cian Harkin, Taylor Cassidy, Odhran Donnelly, Dylan O'Brien, Jack Clarke, Johnny Cody, Aaron Boyake (Shaun Cullinane 70), Jack Murphy, Aaron Wasson, Peter Carr, Adam Hannaway
Referee: Marty Quinn