Job Vacancies: The Cope Dungloe, one of the North West's most well-established retailers, has excellent opportunities in the deli and cafe department:
We are looking to expand our grocery business and we are looking to recruit a high calibre, self-motivated Café and Deli Manager and also highly motivated Deli and Café personnel.
Deli & Café Manager – Full time
The successful candidate will be responsible for the day to day management of a busy café and deli set in a bustling grocery store.
Experience Required:
• A minimum of two years' experience in a deli or kitchen environment essential, experience at a
manager level would be an advantage.
• Excellent leadership skills: Must be able to manage and develop a team.
• Experience in a demanding and energetic role with an ability to work at a high intensity.
• Stock and ordering systems and procedures.
• Ability to maximise sales and margin whilst minimising waste.
Key Skills and Responsibilities:
• An ability to manage, coach, mentor, develop and motivate the deli team.
• Flexible with proven ability in managing all aspects of a deli and café.
• To have a strong work ethic, strive to be the best and lead by example.
• Ensure full compliance with all food hygiene policies, HACCP and Health & Safety requirements.
• Creating and maximising promotions to encourage sales and footfall.
• The ability to strive towards increased sales and targets and outperform set targets.
• Have excellent interpersonal skills and an ability to maintain high levels of customer service satisfaction.
• Ability to create and implement menus and product offerings.
• Ability to maintain and improve department standards.
Deli Assistants – Variable Hours (Part time)
The successful candidate(s) will ideally have experience in a similar customer facing environment and possess excellent customer service skills.
Responsibilities and Requirements:
• Dealing with customers and providing excellent customer service in order to maximise sales
and customer retention
• Fluent & Articulate English Speaker
• Ability to work on own initiative on a daily basis and follow instructions essential.
• A good working knowledge of computers
• Ability to cook and clean essential and previous HACCP qualification would be advantageous.
• Ability to converse in Irish (preferred) but not essential
• Flexibility and availability in terms of working hours essential.
If you think you have what it takes to be part of a successful team, please apply with full C.V and
covering letter to:
Email: careers@thecope.ie or Mail: H.R Officer, The Cope, Main Street, Dungloe, Co. Donegal
CLOSING DATE FOR APPLICATIONS Friday 27th April 2018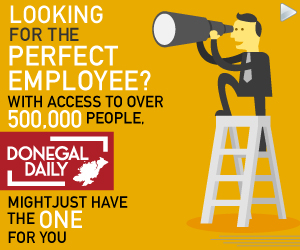 Tags: