A hat-trick from Ella McHugh – the daughter of former Finn Harps striker Kevin – was one of the highlights of Monday night's games in the Donegal Women's League U12 League, on a night when there were 23 goals across the four games!
Swilly Rovers 4 Raphoe Town 4
Raphoe Town captain Ella McHugh – daughter of Finn Harps legend Kevin McHugh – grabbed a hat-trick in this end-to-end encounter in Swilly Park on Monday evening, but in the end both teams had to be content with a share of the spoils in a brilliant contest packed with excitement right to the end.
The visitors had the best of the early exchanges with Samara McBrearty, Ella McHugh and Alicia McCullagh all coming close, but it was Swilly who took the lead when Susie Diver sent a beautiful lob to the top of the net from distance in the 14th minute.
The lead was short-lived though and Raphoe were back on level terms within two minutes, Samara McBrearty's initial effort well saved by Claire McCarron in the Swilly goal, but the Raphoe poacher swooping on the rebound to steer home the equaliser.
Ella McHugh had Raphoe ahead five minutes later, racing through the heart of the Swilly defence to neatly tuck her shot away in the bottom corner and when the Raphoe captain scored her second just minutes into the second half, the visitors had a more commanding lead even though Swilly were by no means out of the game.
If anything the home side took control from then and when Susie Diver found the top corner with a terrific goal in the 46th minute, an exciting finish looked on the cards.
Libby Sachs in the Raphoe goal saved well from Katelyn Doherty who had a storming game in midfield for Swilly, while at the other end Aine Connolly saved from Ella McHugh and Samara McBrearty as Raphoe pressed again.
The lively McBrearty was a constant threat all night for Raphoe and her battle with the superb Claire McCarron was one of the highlights of the game, the young Swilly defender making several superb saving tackles to shut down Raphoe attacks.
At the other end Cara Eaton was inspired in defence for Raphoe, but Swilly were taking control and got back on level terms when Katelyn Doherty steered home a fine strike to the bottom corner and the teams were on level terms going into the last ten minutes.
Swilly then struck again, Katelyn Doherty making the most of hesitancy in the Raphoe defence to nip past the advancing Raphoe goalkeeper and tuck the ball home, but even with just minutes left on the clock there was time for more drama.
This time it was the turn of Raphoe captain Ella McHugh to seize the initiative and she burst clear of the Swilly defence to hammer home and tie things up again.
Both teams went for the winner as the seconds ticked down, but in the end they had to be content with a point each after a superbly entertaining encounter.
Mulroy Academy 5 Illistrin FC 1
In blustery conditions in Rabs Park, Kerrykeel on Monday, Mulroy M and Illistrin fought hard in a well-balanced contest.
Both teams took some time to settle with some chances missed early on.
In the 9th minute, a fine cross from Rachel Friel was struck home by Eva Blaney, followed soon after by a powerful shot into the back of the net by Clodagh Herron.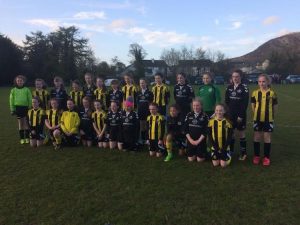 Further goals from Eva Blaney and Megan Mc Laughlin saw Mulroy leading 4-0 at half time.
In the second half, Sarah Mc Ginley outwitted the Mulroy defense to score for Illistrin while Eva Blaney completed her hat-trick leaving Mulroy M in a comfortable position.
A great team performance from Mulroy M saw some fine defending and skilful passing. For Illistrin, Grace Nugent, Darcy Kelly and Sarah McGinley put in strong performances.
Bonagee United 2 Lagan Harps 3
Bonagee had a narrow defeat to near rivals Lagan Harps on a very windy night at Dry Arch Park.
Bonagee took the lead through Grace Murphy.
Lagan where quick of the mark and scored soon after through Orla Doherty.
Both teams were playing very well in tough conditions and Bonagee got their second of the night when a through ball was played into Laura Callaghan who finished well.
Lagan's Sine Harris and Aileen Sweeney were combining well for Lagan and they equalised through Doherty.
With Lagan having the momentum they went on and made it 3-2 with orla Doherty getting her third.
Bonagee fought to the end with Ginny Diver, Grace Murphy and Chloe Creevy playing well in what was a very good game of football.
Best for Lagan was Orla Doherty and team performance from Bonagee.
Gweedore United 1 Finn Valley 3
A windy evening in Gweedore made for an exciting match between Gweedore United and Finn Valley.
An end to end entertaining game made pulsating viewing for a large crowd in Carrickboyle. Both teams started well and each keeper was very busy.
The home side took the lead with a fine effort from Mary Anne Ward.
Finn Valley fought back but Maria Gallagher in goals for United had an excellent match throughout.
Gweedore United went in 1-0 ahead at half time. Finn Valley came out strongly in the second half and equalised with a goal from Avelina Ward.
The hosts pressed but where denied by a fine save from the Finn Valley keeper.
The strength of Finn Valley showed against a young Gweedore side and Sarah Conaghan scored a fine rebound after a great save from Maria Gallagher in the Gweedore goals to make it 2-1 to the visitors.
While Gweedore pressed for an equaliser Finn Valley scored an excellent third with a strong strike from Abigh McMenamin.
An excellent game with Finn Valley edging it 3- 1
Neasa Nic Phaidi, Nadia Nic Aoidh and Aine Ni Fhearraigh excelled for Gweedore United who badly missed their injured captain Koraleigh McFadden.
It was a good team performance from the Finn Valley girls in this exciting encounter between both sides.
RESULTS
Under-12 League – Monday 
Gweedore United 1 Finn Valley 3
Bonagee United 2 Lagan Harps 3
Swilly Rovers 4 Raphoe Town 4
Mulroy Academy 5 Illistrin FC 1
FIXTURES
Under-16 League – Wednesday, April 25, 6.30pm
Finn Valley v Lagan Harps
Raphoe Town v Kilmacrennan Celtic
Mulroy Academy v Swilly Rovers
Under-14 League – Friday, April 27, 6.30pm
Illistrin FC v Lagan Harps
Gweedore United v Mulroy Academy
Bonagee United v Gweedore Celtic
Swilly Rovers v Kilmacrennan Celtic
Raphoe Town v Finn Valley
Under-12 League – Monday, April 30, 6.30pm
Mulroy Academy v Lagan Harps
Illistrin FC v Swilly Rovers
Raphoe Town v Gweedore United
Finn Valley v Kilmacrennan Celtic
Bonagee United v Mulroy Academy (S)
| | | | | | | | | |
| --- | --- | --- | --- | --- | --- | --- | --- | --- |
| Under-12s | P | W | D | L | F | A | GD | Pts |
| Mulroy Academy | 2 | 2 | 0 | 0 | 13 | 1 | 12 | 6 |
| Finn Valley | 2 | 2 | 0 | 0 | 7 | 3 | 4 | 6 |
| Illistrin | 3 | 2 | 0 | 1 | 7 | 5 | 2 | 6 |
| Raphoe Town | 3 | 1 | 1 | 1 | 8 | 8 | 0 | 4 |
| Lagan Harps | 2 | 1 | 0 | 1 | 4 | 6 | -2 | 3 |
| Gweedore United | 3 | 1 | 0 | 2 | 5 | 9 | -4 | 3 |
| Bonagee United | 3 | 1 | 0 | 2 | 6 | 13 | -7 | 3 |
| Swilly Rovers | 2 | 0 | 1 | 1 | 6 | 8 | -2 | 1 |
| Kilmacrennan Celtic | 2 | 0 | 0 | 2 | 0 | 3 | -3 | 0 |