The Donegal County Museum brought the large scale "Remembering World War 1 – the Donegal Story" exhibition to the Dolmen Centre, Kilclooney and promoted it as part of the Bealtaine Festival.
Cavan County Museum and Glenties Comprehensive School also exhibited their presentations on World War 1 including their 'Adopt a Soldier' projects. It was fantastic that several local primary schools attended the exhibition to further build on their historical knowledge of the event.
On Thursday, 10th of May Caroline Carr from the museum gave a talk 'County Donegal and World War 1'. She spoke of the many Donegal people who participated in the war and gave an insight into the conditions in the trenches during the war.
On the final night of the exhibition, F
riday
18th of May
  there was a concert/presentation. Locals were invited to bring along any memorabilia or items of historical interest from this period .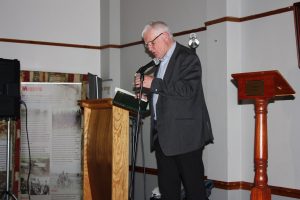 Conal Shovlin was MC for the night and introduced Gerry Moore who gave a talk  about his experience in St.  Columba's Comprehensive School with the Adopt a Soldier Project. He spoke of their visits to France to research soldiers from World War 1. Joshua Peraton who is a student in St. Columba's Comprehensive spoke of his own research into a Donegal soldier.
During the concert local school children from St.Conal's National School under the guidance of Sara Laughlin sang 'Green Fields of France' and 'It's a Long Way to Tipperary'. Patrick McGill poetry from the era was also recited.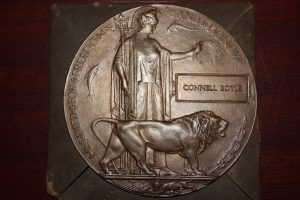 Letters from local man Connell Boyle who served in the Gordon Highlanders were read out as part of the concert by Conor Whyte and Siobhan Shovlin.  The concert concluded with a song from Joni Kay Loughlin about John Condon who was a soldier of 14 years of age from Waterford who lost his life in the war.
It is fitting that there was a minute's silence for Connell Boyle and all the local soldiers who lost their lives at war at the end of the event.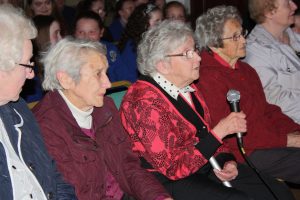 Many of his family were in attendance for the evening and it was a special moment when his niece Rose Gallagher sang 'Scarlet Ribbon' at the end of the concert. Connell's other two nieces Kathleen Boden and Mary McNelis were also present. The committee would like to acknowledge the Dolmen Centre for their cooperation in the organisation of this event.
Tags: