Greencastle went top of the pile in the North West Women's Super League thanks to a big home win over Lagan Harps, while Bonagee United edged Illies Celtic in a cracking contest and Moville Celtic played out a draw with Clonmany Shamrocks. 
Illies Celtic 3 Bonagee United 4
Bonagee United edged out reigning champions Illies Celtic in a seven-goal thriller at Stranaclea.
In piercing heat, the participants served up a red hot clash that was full of action and Bonagee, just, held sway in spite of a hat-trick by the ever-deadly Paula McGrory.
The visitors were indebted to a brace of goals by Chantelle Grant and a stunning display by young goalkeeper Clare Friel, who produced a number of magnificent saves.
The game started at a frenetic pace and Bonagee led after only four minutes. Grant provided the assist from a corner kick, which was brilliantly riffled to the net by captain Natalie McFadden.
But the lead lasted just five minutes as McGrory fired home from close range after panic ensued in the Bonagee goalmouth.
Bonagee got their noses in front when Grant netted from a free-kick wide on the left.
The Illies reply, again, was almost instant as McGrory stepped up to fire home a penalty.
The mercury was rising rapidly and straight away Bonagee had a penalty of their own when referee Eamonn Doherty adjudged Claire Orr to have been pulled in the box. Grant assumed responsibility, but her effort rose over the crossbar.
Friel made a stunning double-save to keep Illies at bay and just before half-time the teenager wonderfully tipped over from Alannah Doherty's teasing effort that was sneaking for the top corner.
Illies had the lead when McGrory wriggled free in the area and tucked home.
Bonagee shook their heads clear and were back on level terms when Grant fired in from distance for her second of the night.
The drama wasn't over at that and Bonagee sneaked ahead again when Anna Doherty spun and found the bottom corner with an excellent finish from 20 yards.
Illies laid siege and there were some heart-stopping moments in the closing exchanges but Bonagee, with Friel in top form, saw it out for a pulsating win.
Moville Celtic 3 Clonmany Shamrocks 3
Moville Celtic start strong passing the ball confidently in the Colmany side, but Mary J Doherty opened the scoring for Clonmany in the tenth minute.
Moville's Andrea McColgan mad a good run from a long ball from Coleen McElroy, although she was in the offside position.
A foul from Gemma McGuinness gave Clonmany a penalty and Doherty scored.
Erin Coyle made a run from the middle of the field taking it around the Clonmany defence and the keeper putting Moville Celtic 2-1 up, ending the first half.
Moville Celtic opened the second half with a goal from Emma Doherty, but Katelyn Grant made a great run from the middle of the park and made it 3-2.
Doherty got the ball again and got a shot on target, but this time Moville Celtic keeper Shona Harkin mads a great save.
The game began to even out with both teams battling it out in the middle of field.
Moville Celtic dominated the second half with shots on target from Sinead McGuinness, Andrea McConnalogue, Caitlin Davenport and Chantelle McCauley but Clonmany kept the score at 3-2.
Moville equalised again when Emma Doherty was fouled and Colleen McElory scored a penalty.
Greencastle FC 10 Lagan Harps 0
Kate McClenaghan scored five times as Greencastle moved out on their own at the top of the North West Women's Super League.
With Illies losing to Bonagee, Paddy Keys' side took full advantage with a big home win at Chapel Lane.
Irish Schools international Kerry Brown hit a brace, while Eimear McLaughlin also netted twice for the Greeks.
Danielle McLaughlin bagged the other Greencastle goal.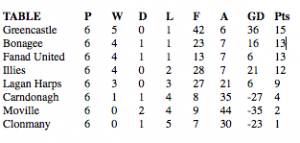 FIXTURES
Thursday, July 5, 7.30pm
Carndonagh v Greencastle
Moville Celtic v Fanad United
Clonmany Shamrocks v Illies Celtic
Lagan Harps v Bonagee United