Eclipse Cinemas Lifford-Strabane have launched a brand new customer offering to add something a little extra to the cinema food and drink experience.
Extras@Eclipse provides just that, extras that you would not expect in your average cinema. In addition to an elegant modern sit down area, cinema viewers can now enjoy Gourmet Hot Dogs, Pizza, Loaded Nachos, Italian Coffee plus Pastries that can be enjoyed in the Cinema Screens.
Extras also is licensed to sell wine and a further innovative idea "Pour @ the Pictures" where customers can enjoy wine in the cinema screen, will be piloted on Sunday 22nd July for the 8.45pm showing of 'Mamma Mia: Here We Go Again' to see is there a demand for this service.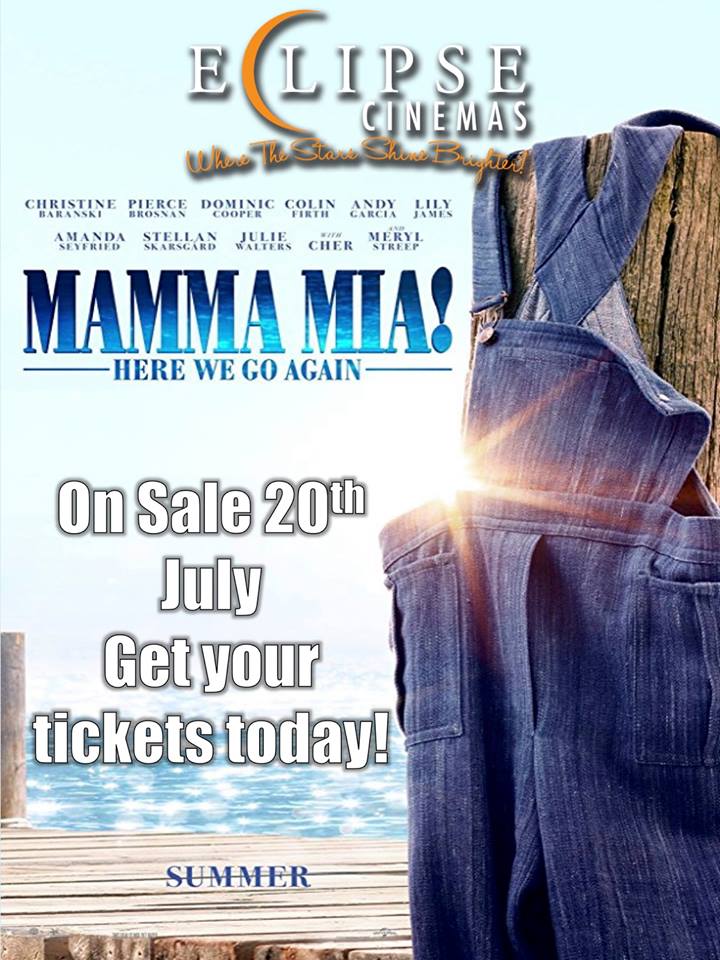 This is the latest in a major reinvestment in this family owned business, Eclipse Cinemas Lifford-Strabane.
Over the last few years there has been a major renovation of studios and toilets in addition to updated 4K projection and improved car-parking. All this is done while still providing the same quality service at a lower cost including:
Kids Club

 

everyday

at 12noon. Tickets

€

1.80 for everyone

Crazy Tuesday

All Tickets All Day –

€

4.00 for everyone – Pre Booking advised

Over 50's Wednesday

– anyone over 50 years old

€

5 – No ID required

Thursday Meal Deal

–

€

10 get s you a Ticket + Med Popcorn + Med Drink

Late Night Friday

–

€

4.00 for all tickets after 10.30pm on Fridays

Special Guests – Sunday 29th July – 1.30pm to 2.30pm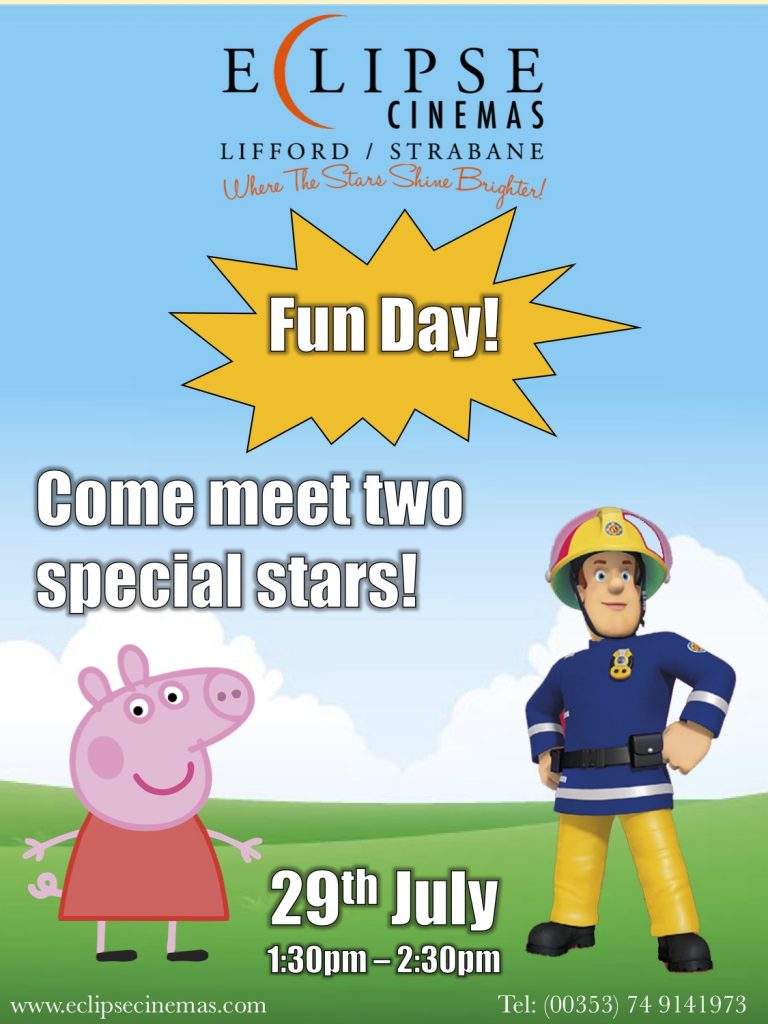 ---
Check out some of the biggest films available at Eclipse Cinemas this summer:
For bookings, visit http://eclipsecinemas.com/index.php?__site=LIFFORDCP 
Mamma Mia: Here we go again  – 20th July – Pre booking advised    
Discover Donna's (Meryl Streep, Lily James) young life, experiencing the fun she had with the three possible dads of Sophie (Amanda Seyfriend). Sophie is now pregnant. Like Donna, she'll be a young mother, and she realizes that she'll need to take risks like her mother did.
Thomas & Friends: Big World! Big Adventures! The Movie – Showing from Friday 20th July @ 12.30pm & 2.30pm
When a mischievous little racing car called Ace passes through Sodor on his way around the world, Thomas is inspired to embark on his own ambitious trip. Travelling full steam ahead across five continents, Thomas discovers magnificent new sights and experiences exciting places and cultures. Along the way, he makes friends with an inspiring and fun Kenyan engine called Nia.
With so much for Thomas to learn about the world, will Nia be successful in teaching him a lesson about the true meaning of friendship? Featuring a world of wonder, curiosity and amazing animal friends, join Thomas on an epic adventure, fulfilling his dream of seeing the world!
Autism Friendly showing Sat 21st @ 1pm – Sound Lower & Lights Higher than other matinees
Mission Impossible: Fallout  – Showing from Wednesday 25th July
The best intentions often come back to haunt you. The sixth instalment of Mission: Impossible finds Ethan Hunt and his IMF team, along with some familiar allies, in a race against time after a mission gone wrong. Henry Cavill, Angela Bassett, and Vanessa Kirby join the dynamic cast with Rogue Nation director Christopher McQuarrie returning to take the helm
Incredibles 2 – Now Showing
While the Parr family has accepted its collective calling as superheroes, the fact remains that their special heroism is still illegal. After they are arrested after unsuccessfully trying to stop the Underminer, their future seems bleak. However, the wealthy Deavor siblings of Devtech offer new hope with a bold project to rehabilitate the public image and legal status of Supers, with Elastigirl being assigned on point to be the shining example.
Now having agreed for now to stay at home to care of the kids, Mr. Incredible finds domestic life a daunting challenge, especially with baby Jack-Jack's newly emerged powers making him almost impossible to manage.
However, Elastigirl soon has her own concerns dealing with the menace of a new supervillain, Screenslaver, who is wreaking havoc with his mind control abilities. Now, Elastigirl must solve the mystery of this enemy, who has malevolent designs on the world with the Parr family and friends key targets of this evil.
Hotel Transylvania 3 – Friday 27th July
Mavis surprises Dracula with a family voyage on a luxury Monster Cruise Ship so he can take a vacation from providing everyone else's vacation at the hotel. The rest of Drac's Pack cannot resist going along. But once they leave port, romance arises when Dracula meets the mysterious ship Captain, Ericka.
Now it's Mavis' turn to play the overprotective parent, keeping her dad and Ericka apart. Little do they know that his "too good to be true" love interest is actually a descendant of Abraham Van Helsing, ancient nemesis to Dracula and all other monsters.
Ant – Man And the Wasp  – From Thursday 2nd August
Midnight show also available
In the aftermath of 'Captain America: Civil War,' Scott Lang grapples with the consequences of his choices as both a Super Hero and a father. As he struggles to re-balance his home life with his responsibilities as Ant-Man, he's confronted by Hope van Dyne and Dr. Hank Pym with an urgent new mission. Scott must once again put on the suit and learn to fight alongside The Wasp as the team works together to uncover secrets from their past.
Teen Titans Go ! to the Movies  – Friday 3rd August  
It seems to the Teens that all the major superheroes out there are starring in their own movies-everyone but the Teen Titans, that is. But de facto leader Robin is determined to remedy the situation, and be seen as a star instead of a sidekick. If only they could get the hottest Hollywood film director to notice them.
With a few madcap ideas and a song in their heart, the Teen Titans head to Tinsel Town, certain to pull off their dream. But when the group is radically misdirected by a seriously super villain and his maniacal plan to take over the Earth, things really go awry. The team finds their friendship and their fighting spirit failing, putting the very fate of the Teen Titans themselves on the line.
Equalizer 2 – Friday 17th August
Robert McCall serves an unflinching justice for the exploited and oppressed, but how far will he go when that is someone he loves?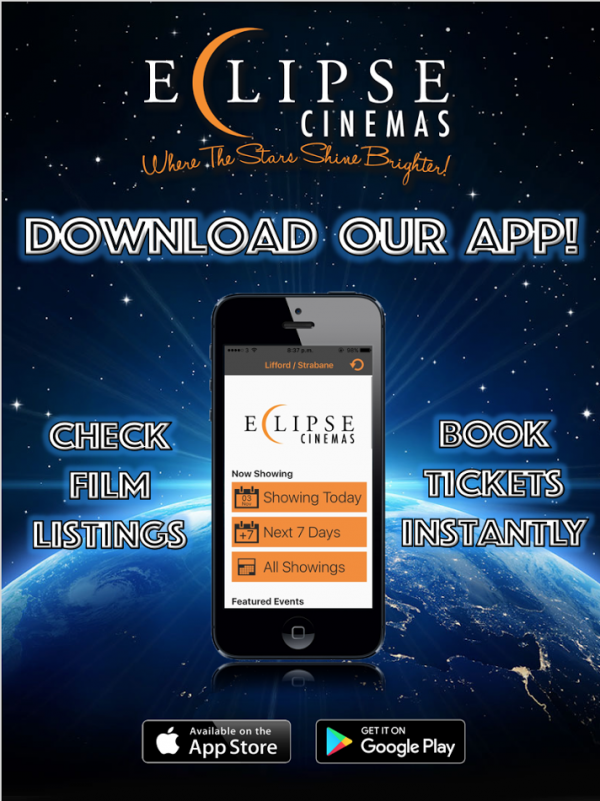 ---
Sponsored Post
Tags: