A group of Inishowen and Derry-based activists tied baby shoes to the railings outside St. Mary's Oratory Buncrana to highlight the awful crimes perpetrated on young women, babies and children by the Catholic Church.
The protest coincided with the Papal mass in Phoenix Park yesterday.
The local Baby Shoes Remember actions were part of a series of events against Catholic Church abuses.
Co-ordinator Caroline Kuyper said: "The idea behind the name is that the horrors inflicted in childhood and infancy are never forgotten by the victims of the Catholic Church.
"By hanging baby shoes tied with black mourning ribbon on Catholic Churches during the Papal visit, we want to make sure the Catholic Church is never allowed to forget either.
"If the perpetrators think in centuries, those who seek justice must think in centuries also.
She continued, "Today we stood for all victims of clerical abuse and against the cover-up at all levels, of the Catholic Church. We will never forget the abused, the raped, the beaten, the trafficked, the shamed, the shunned, the incarcerated, the neglected, the ignored and the discarded".
In 2010 protesters quietly tied 1000 pairs of baby shoes with black mourning ribbon to the railings of the Catholic Pro Cathedral in Dublin, Ireland.
Sinead Stewart who participated in the event said: "Our event was part of a national day of action by survivors from clerical abuse, mother and baby homes and those in solidarity with them."
She continued: "We demand nothing less than reparation to victims and full cooperation with legal authorities. Money can't take away the horror of sexual abuse, the stealing and trafficking of babies, the despicable treatment of women and girls in mother and baby homes, but it would show that the church is serious about reform and ensuring these horrific crimes and cover-ups never happen again, then it's the least they can do.
"We hold the pope as leader of the Catholic church accountable for these crimes and their cover up. We demand action, not hollow words."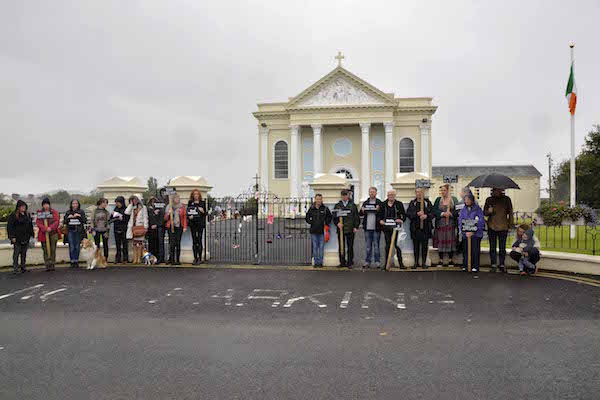 Tags: