Ballyraine FC this week launched their Christmas Draw as part of fund-raising drive for the development of their new pitch at Orchard Grove, Letterkenny.  Club founder Andy O'Boyle and secretary of the Letterkenny and District schoolboy league Gerry Gallagher joined club coaches and players at the launch in Arena 7 on Monday lunchtime.
The old Ballyraine pitch at Orchard Grove, Letterkenny is currently being upgraded to a state-of-the-art sports field.  The Ballyraine Community was successful in securing funding for the project from the LEADER European fund, administered by the Donegal Local Development Company (DLDC).
 The club has set the target to raise €50K of matching funding. The pitch development project is currently being managed by club committee members John McCarron and Oran Grimes.  The new state-of-the-art pitch is expected to be ready for use in the 2020 season.
At a recent parents' information evening, Enda Nicholls vice chairman at Ballyraine FC outlined an ambitious fund-raising plan for the club over the next 12 to 18 months.  A fund-raising subcommittee has been established and is being chaired by Oisin Harkin (Club Chairman) and Enda Nicholls (Club Vice-Chairman).  
Enda Nicholls said, "We have 10 great prizes in the draw".  "They include two cash prizes of €1,000, a two-night hotel break, 500 litres of home heating oil and many more".  "We appreciate the local businesses who have come on board to support our Christmas Draw.
They include Evolve Menswear, Donegal Oil, Bizz Print, Arena 7, Benedict's Hotel and the Brewery Bar".  "We are also grateful to the Celtic Supporters Club and Dessie Kelly who organised the signed Celtic and Ireland jerseys respectively". "Schoolboy football clubs such as Ballyraine FC would not be here without the support of local businesses".  "Tickets are now on sale and we are asking the general public to support our pitch development by buying a ticket, or two".
Tickets for the Ballyraine FC Christmas Draw can be purchased at Arena 7, Swilly Group or from any Parent, Coach or Committee member of the Club.  The draw will take place on the 19th December 2018.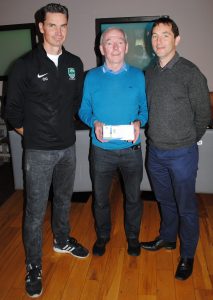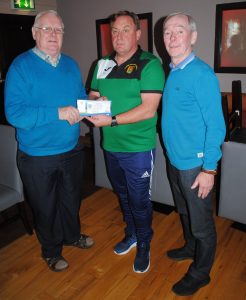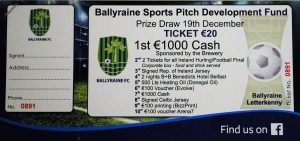 Tags: