Thinking of buying a new car in the coming months? Then you've no doubt heard about Personal Contract Plans or PCPs. Here, the Letterkenny Credit Union advisors explain what these agreements really mean and share a guide on getting the best deal on car finance:
PCPs car finance agreements have been getting a lot of attention – and not always for the right reasons.
The Competition and Consumer Protection Commission (CCPC) recently released the first public analysis of PCPs in Ireland. The report found that a third of new car purchases in Ireland are now financed by PCP agreements. 

In 2016, a significant €805 million was extended to consumers in PCP finance – a considerable increase of 65% on 2015. The CCPC says however that because of the complexity of these agreements, there is a concern that consumers do not fully understand how they work. In particular, they say there is a doubt that consumers are fully aware of the balloon payments at the end of a PCP agreement. The CCPC is of the view that further protection is needed in Ireland for consumers availing of these agreements.* 

Paul Hume, Chairperson of Letterkenny Credit Union said: "For many, headline rates on PCP agreements can at first look more attractive, but these can easily distract from the range of additional charges and a good deal of inflexibility.
Paul explains: "Essentially PCPs are lease schemes. The buyer has in effect, hired the car for a particular period of time while they make payments. At the end of the agreement, they will have to make a balloon payment in order to own the car.
"With a traditional car loan, the person simply borrows the money to pay for a car, which they own immediately. They can also sell the car on at any time they wish, should they need to, whereas they do not have this option with a PCP."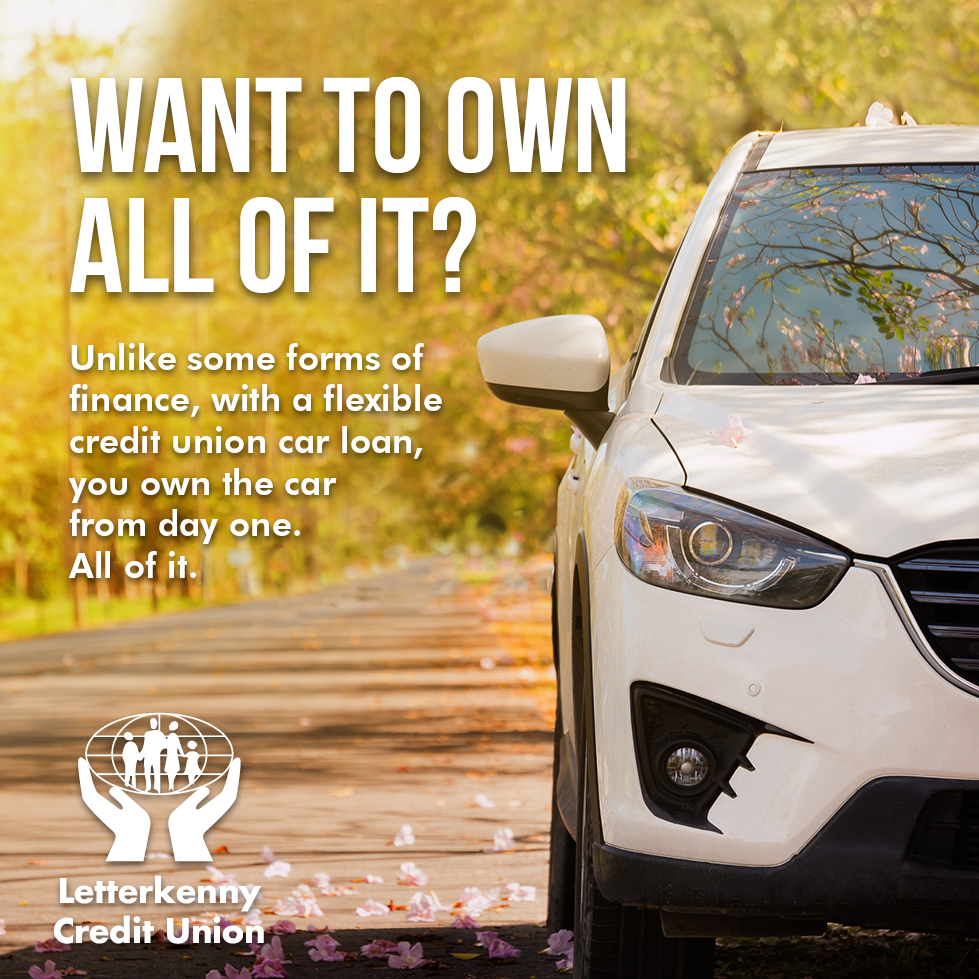 There is further detail in the 'small print' of a PCP agreement which consumers should be aware of.
They will, for example, need to be conscious of the mileage they are clocking up, because the balloon payment at the end of the agreement will have been calculated with their annual mileage in mind.
On the other hand, if a consumer takes out a car loan before purchasing a car, they are effectively going as a cash buyer to the car dealer and are in a far better position to negotiate a deal. 

Paul continued: "At Letterkenny Credit Union we offer a car loan with an APR rate of 7.5%** which is typically approved within 24 hours. There are no hidden fees or administration charges with our loan, and we are always happy to work with our members to arrange repayments in a way that best suits their individual circumstances.
"We would really encourage anyone thinking of buying a new or used car in the coming weeks to contact us at Letterkenny Credit Union before making any decisions.
"We are happy to see all our members, no matter how long it has been, and of course we are always happy to chat to anyone who has never been a credit union member."
For further information just contact the LKCU loans team on 0749102126 or email loans@letterkennycu.ie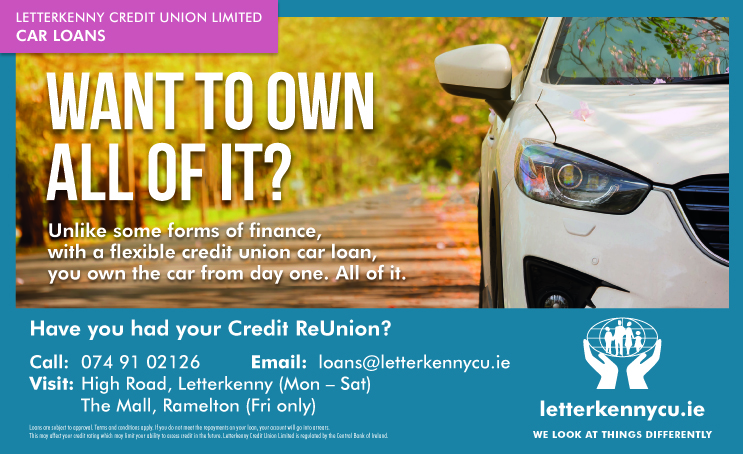 *CCPC; Personal Contract Plans – The Irish Market. March 2018

** For a €30,000, 5 year variable interest rate loan with 60 monthly repayments of €497.88, an interest Rate of 7.24%, a representative APR of 7.5%, the total amount payable by the member is €29,871.16 Information correct as at 30/10/2018.
Tags: