Declan Bonner mused at one stage that he felt the Donegal of 2018 would have lost Saturday night's game against Meath.
The small margins have inched in Donegal's favour this year, for wins over Clare and Meath.
Donegal's Ryan McHugh twists away from Meath's Niall Kane during Saturday's Division 2 National League game in Ballybofey. Photo Evan Logan
A win on Saturday seemed to have been eluding Donegal, until the tide was turned from the shore by a flick of Caolan McGonagle's wrist, 11 minutes from the end.
Donegal still, at that stage, had work to do – but they got the noses in front to cut the tape.
Last year, albeit operating up a rung, in Division 1, Donegal lost by single-point margins against Kerry and Galway. Dublin needed a late burst of scores to put a gloss on a five-point win.
And Donegal would've stayed up, but for a late, late Kevin McLoughlin score on the final day of their League campaign. McLoughlin's late point to draw the day for Mayo in Ballybofey was enough to relegate Donegal.
Now, although in Division 2, Donegal have got the rub of the green.
"You make your own luck," Donegal defender Caolan Ward pointed out.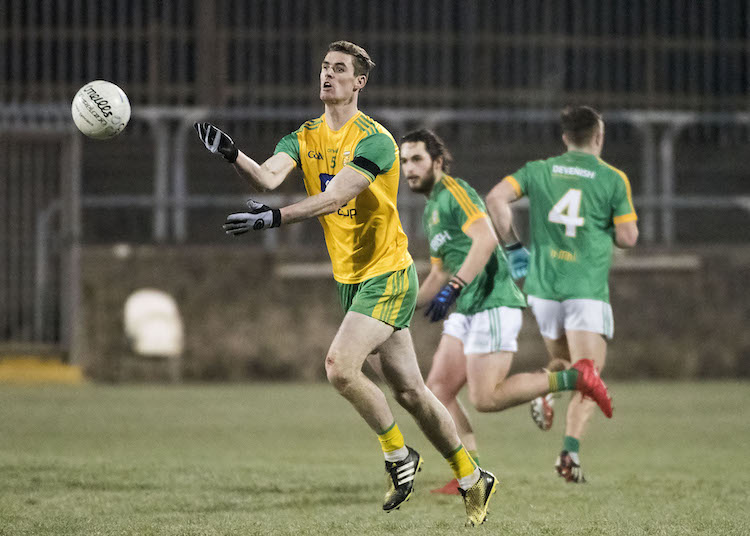 "There was an element of luck, but you still have to take the chances. We got a lift with the goal. Caolan (McGonagle) was the first to react and we saw the game out from that."
Personnel-wise, Donegal remain shy a number of their key men.
Michael Murphy, Paddy McGrath and Frank McGlynn will be integrated over the next month or so. The sizeable Gaoth Dobhair crew, among them the likes of Odhrán Mac Niallais, Neil McGee and Daire Ó Baoill, are concentrating on club matters for now.
Patrick McBrearty will be back in time for the Championship from a cruciate lay-off and Kieran Gillespie, who has a similar injury, could be pencilled in for a late-summer return if the Tir Chonaill men are still standing.
"We're far from a finished article and it's a work in progress," Declan Bonner said after Saturday night's 1-13 to 0-14 win over Meath in Ballybofey.
"The pleasing aspect was the resolve, the real desire and belief in the last ten minutes.
"There is a real resolve there now. They stuck at it."
McGonagle and Ciaran Thompson have stepped up with some big plays this year, while Michael Langan has firmly been putting his hand in the air.
That Brendan McCole's inexperience at senior level hasn't been uttered in loud tones is enough in itself to show what the St Naul's man has brought to the table, while the seamless returns of Eoghan Ban Gallagher and Ryan McHugh have added a touch of class.
Leo McLoone was used as a substitute on Saturday night, while Stephen McMenamin – who had been on club duty with All-Ireland club JFC semi-finalists Red Hughs in January – really made his presence felt when brought into the action.
Eoin McHugh, Jason McGee and Niall O'Donnell opted out of Bonner's panel for last summer, but are all in tow again.
"It's a bit of everything," Bonner said. "A lot of lads are getting a bit of game time.
"I'm always more content talking about the players we have; the guys who are playing and putting in the work.
"There is a lot of experience to come in. The guys out there have been working extremely hard. They're in possession of the jerseys now. It's going to be up to the other boys. It won't be a case of anyone walking straight back in."
Division 2 has been good to Donegal in the recent pass. It was from a base of a solid spring (and winning Division 2) that, in 2011, Donegal ended a 19-year wait for an Ulster title and went on to reach an All-Ireland semi-final.
When Donegal reached the All-Ireland of 2014, famously toppling Dublin in a semi-final, they could trace the roots back to a League term in which they reached a Division 2 final.
St Eunan's man Ward is among those given his head at the moment – and is looking to make the most of it again.
"The players coming in will have to earn their positions," Ward said.
"Declan has said that and that he's focussing on the players we have. You know the players coming back in will make the group stronger.
"The younger players are getting a chance and are stepping it up. They'll make it ten times harder for whoever is coming back in. There are no guarantees that they'll just step back in."
Martin McElhinney said after the Dr McKenna Cup win over Down in Newry that this squad of players was the best he'd been involved with.
The St Michael's man was the only 2012 All-Ireland winner in Saturday night's starting line-up.
These are early days in the campaign, but a quick glance throws solid weight behind that optimism.
Tags: