SHEER SPORTS Management have moved to defend their management of Jason Quigley in the wake of sharp criticism by Matthew Macklin.
After Quigley lost his unbeaten pro record and his NABF middleweight title in California on Thursday night, Macklin posted a series of tweets hitting out at the direction of the Ballybofey man's career.
Picture: Jason Quigley with Ken Sheer and Lyle Green from Sheer Sports Management. Picture by Valentin Romero
Macklin was a co-founder of MTK Global and is looking to re-enter the world of boxing again having left the MTK stable last year.
"Jason's career is an example of everything NOT to do in your career. Bad move after bad move. No guidance whatsoever. The management of his career has been absolutely SHOCKING," Macklin tweeted after Quigley was beaten by Tureano Johnson at Fantasy Springs.
"An Irishman boxing predominantly on the west coast of America to a predominately Hispanic audience with the nickname "El Animal" I mean you don't need to be a marketing guru to be thinking WTF!"
Sheer Sports Management is headed up by Ken Sheer, the company's CEO. Sheer Sports Management also have Monaghan brothers Aaron and Stevie McKenna on their books.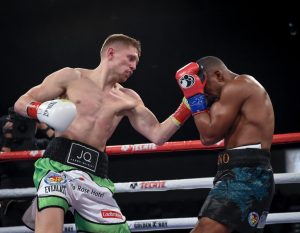 "Jason Quigley made a well thought out decision to move forward with Sheer Sports Management and financial consideration was not the impetus for his choice," Sheer insisted in a statement this evening.
"Jason is not just a great boxer but very intelligent and makes well thought out and educated choices (anyone close with Jason knows that is true).
"His dream was to train in California and fight for Golden Boy Promotions.
"Sheer Sports facilitated that dream (as we have done for all of our fighters over the past 7 years).
"Our relationship with Golden Boy Promotions is outstanding, we work closely to choose the right opponents during the appropriate time in our boxer's career."
Quigley has fought on America's west coast just twice in a 17-fight career so far with his wins over Greg McCoy and Daniel Rosario recorded in Boston. The only other time Quigey was outside of the west coast of America to fight was his March win over Mathias Eklund in London.
"That said, the majority of Golden Boy venues are on the west coast – as Mr Macklin is aware a manager does not determine fight venues," Sheer added.
"Jason will be back and we will continue to support him on a daily basis."
Tags: