JOHN KELLY was between emotions as he assessed a silver medal in Sunday's National Senior Championships.
At trackside in Morton Stadium, Kelly had just thrown 17.60 metres to win a silver in the shot put final.
That came just seven days after the Finn Valley AC man set a new Ulster and Donegal record when he threw 18.01m in Sweden.
Even that wouldn't have been enough to topple Eric Favors, who took the gold with a Championship record of 18.64m – beating John Dermody's 18.61m mark set in 1999.
"Eric has that in the tank and he has had bigger throws this year so fair play to him," Kelly told Donegal Daily/Donegal Sport Hub.
"It was impressive stuff. All I can do is keep working and try to catch him.
"You can never argue with a national medal and I'm happy to get this."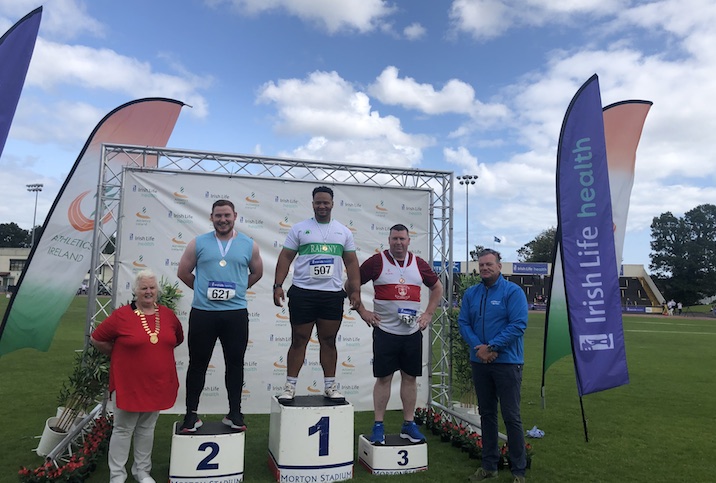 Two years ago, Kelly won the Irish shot put title and had been the silver medalist in 2016.
"It's not too bad –  that's roughly what I'm throwing on average," Kelly said as he jumbled the 17.60m around his head.
"After last week's throw, it's a bit backward – but at times you have to go back to go forward.
"My average went up this year by over a metre so I'm happy overall with the picture of the year. Do I want more? Yeah.
"That's roughly what I'm throwing on average so I can't be too happy or too sad; it's somewhere in between. If I can get it up again in the next couple of weeks, that would be good. You can't keep going up.
Kelly described his breaking of the 18-metre barrier as akin to gong through a wall.
Now, the St Johnston man will look to raising the mark even further.
Kelly, who jets out to Portugal to compete this weekend, said: "For me, it was more of a wall I broke through. It's been there. It's been hit in training and competition and it was aggravating for me.
"To actually see me over 18 metres on paper takes some stress off my back. Now, if I can figure things out, hopefully I'll get over that 18 line more consistently."
Tags: