HAVING HAD an almost identical bump in his own career, Andy Lee believes he can steer Jason Quigley back on the path to the top.
Quigley suffered the first loss of his professional career in July when he was beaten by Tureano Johnson.
Quigley surrendered the NABF middleweight title to Johnson when the Ballybofey man's corner retired him on the stool after the ninth round at Fantasy Springs.
Quigley is now 16-1 as a pro and has begun working with former world champion Lee in recent weeks. Quigley has left Dominic Ingle's Wincobank stable and is re-sharpening the tools with Lee ahead of a planned December 5 return to the ring in California.
"It's time for Jason to start fulfilling his potential," Lee said.
"He can't afford another mistake. He has to be very careful with how he fights and how he goes about fighting these opponents. 
"Jason has a huge amount of talent, but it's about shaping that talent now and making it effective in the ring."
Lee (who retired with a 35-3-1 record) was 15-0 when Brian Vera stunned him with a seventh round Tko in March 2008.
Lee, eleven fights later, would exact revenge on Vera when he defeated him three-and-a-half years later in Atlantic City. Lee was beaten by Julio Cesar Chavez Junior for the WBC world middleweight strap in 2012 but in December 2014 Lee shone in Las Vegas.
Down 50-45 on two scorecards, Lee claimed the WBC world middleweight title when he stopped Matvey Korobov in the sixth round.
Lee feels those experiences make sense of his link-up with Quigley.
Lee said: "I've had a similar career. I lost a fight to a tough, rough guy who outmuscled me. I should have beaten that guy and was favourite to beat that guy. 
"I know what it's like to go through that. Mentally and physically, I know what is needed to come back. 
"It's one fight and one step at a time. I think I can actually help Jason, not just in boxing but with what he has to go through."
Quigley won the NABF middleweight title when he defeated Glen Tapia in March 2017, but was absent for a year after that bout having suffered a bad injury to his right hand. 
His loss to Johnson came just a few months after he'd been in talks to fight Ryota Murata for the WBA's world middleweight title.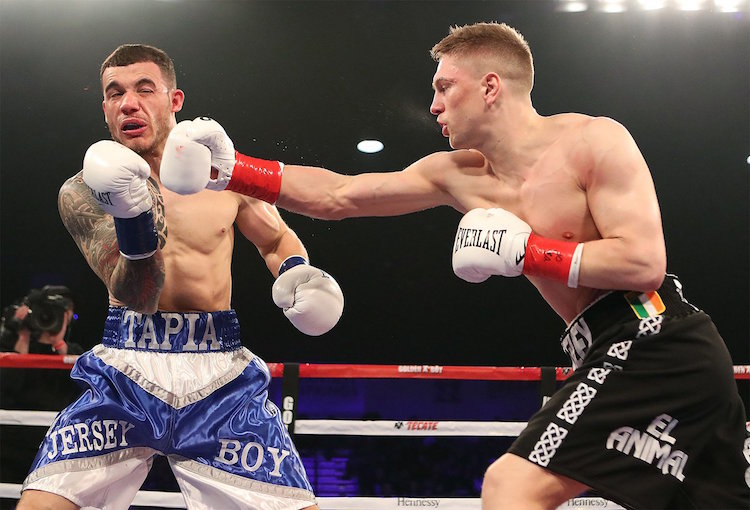 Rocked by a first pro loss, Quigley is now on the comeback trail and Lee has started by honing the finer details. 
He said: "Jason needs to get the tools to cope with these type of fighters. Others will try to follow what Tureano Johnson did. We have to make Jason comfortable when they're inside. 
"Jason has been comfortable so far and he's responding. He's made improvements, just on simple things. I've been surprised that he hasn't been taught these things. 
"I've only been working with him for a short time, but I already see improvements. Jason is very teachable and takes everything on board. It has been encouraging so far. If I tell him something, he doesn't repeat the mistake."
Former world silver medalist and European champion Quigley remains a firm part of the Golden Boy Promotions roster. Although he has altered his cornered ahead of his next bout, Quigley is still managed by the Los Angeles-based Sheer Sports Management, who last week added St Johnston prospect Brett McGinty to their books.
Lee says Quigley has to come back with a bang in December.
He says: "We want to work now to getting Jason to winning again and looking good winning. We have to show something to people in boxing and people in general to get excited about. That's important. 
"We have to show that the loss was just a blip. Jason still has the potential to be a world champion. It can take two or three fights to get the confidence back, but we have to show that people should be excited." 
Tags: