We had well over 2,000 votes in this week's Sports Person of the Week poll, in association with O'Reilly's Sportswear.
In all, there were 2,318 votes cast.
Naomh Muire ladies ace Caroline Sharkey topped the list with a whopping 722 votes – some 31 per cent of the total.
Susanne White of Killybegs was in second with 540 votes while St Naul's Daniel Brennan (302) and Natasha Kelly (300) were next in line.
It was a historic Sunday at The Banks as Naomh Muire defeated Con Magees from Antrim to reach the Ulster Junior Ladies final. 
It will be Naomh Muire's first time at provincial final level and the Lower Rosses side had to do it the hard way as they needed extra time. 
Caroline Sharkey scored one of the extra time goals and also hit the net in normal time.

Each weekly award winner will receive a kitbag, a jacket and a bobble hat, supplied by O'Reilly's.
O'Reilly's Sportswear was founded in 2017 by well-known Twin Towns sporting brothers Steven and Martin O'Reilly.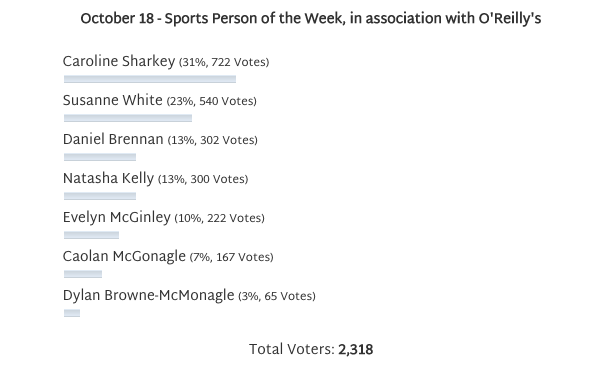 Tags: