Gay Byrne is being remembered as the voice of RTÉ in our lifetime, a pioneer and a man of exceptional talent today following the sad news of his death at the age of 85.
The veteran broadcaster passed away at his home in Dublin following a long illness.
He was a broadcasting legend, but in West Donegal, he is being thought of as a popular neighbour. Gay and his wife Kathleen bought a holiday home outside Dungloe 40 years ago and enjoyed their summers in the north west.
Donegal Deputy Pat the Cope Gallagher has expressed his deep personal sadness on the death of Gay Byrne today. 
In the tribute, Deputy Gallagher hailed Gay as "the pioneer of Irish broadcasting pushing the boundaries out, breaking new ground and charting new courses on otherwise uncharted territory – some called it controversial but to Gay it was just breaking new ground and natural journalism."
Depury Gallagher also celebrated Gay's connections to the county: "A frequent visitor to Donegal, where he made his second home in Tubberkeen just outside my native hometown of Dungloe, overlooking Dungloe Bay.  It is here he spent his free time with his wife and daughters. He compered the Mary from Dungloe Crowning Cabaret for many years and was also an adjudicator.
"He was a very loyal adopted Dungloe man and visited there right up to recent years.  He together with his wife Kathleen and close friends could be seen walking and cycling the roads and the byways of the Rosses. Gay drew great solace from the peace and quiet of west Donegal where he was left to his own devices, and he came and went as one of our own."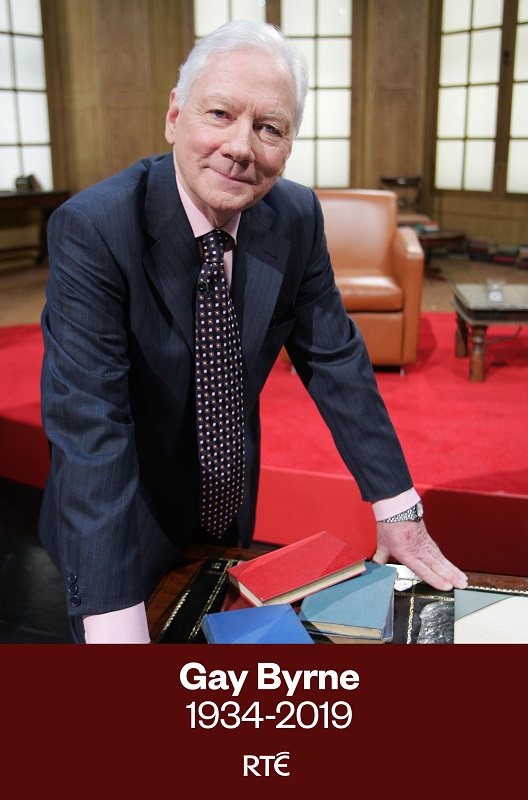 Deputy Gallagher continued: "The passing of Gay is the end of an era of great Irish broadcasters, a career that spanned 60 years or more, a career that was an active agent of change and challenge to Irish societal views.
"Gay Byrne's place in broadcasting history is guaranteed for eternity because he was the original of our time and the pioneer that used the medium of broadcasting to change for the better a country's very social fabric and understanding of modern life.
"I wish to convey my deepest sympathies to his wife Kathleen, his daughters Crona, Suzy, grandchildren and wider family circle. His colleagues from RTÉ and all those who worked with him.
"Gay was a true champion of public service and his duty to the people of Ireland will be unequalled by any other, he devoted his life to public service broadcasting, his listenership or viewers were his lifetime friends and they in turn viewed him as Uncle Gaybo.
"Eternal rest grant unto him."