So, after 85 days, 11 championship matches including those two famous replays and every bit of blood, sweat and tear imaginable, Naomh Conaill's unforgettable year ended with a narrow defeat in the Ulster Club SFC final today to Kilcoo, writes Alan Foley.
Kilcoo 2-11 Naomh Conaill 2-9
Those youngsters who've been bringing lots of noise – shuttling behind the goals – to the fixtures of Naomh Conaill over the last few weeks had the sign that was simple in its execution. All it said was 'Believe'.
Lacking that particular characteristic is not something they could be accused off around Davy Brennan Park and today in the final of the Ulster Club SFC against a well-drilled defensive unit and imaginative in attack Down champion, Naomh Conaill were pipped. In the end the clock beat them perhaps.
A disappointed Leo McLoone at the full time whistle.Photo Evan Logan
They had edged their way back into the match from the dead not once but twice but were defeated by the marginally better team on the day. Kilcoo did have chances to land the killer blow, but Naomh Conaill hung in there as Naomh Conaill tend to do.
About three minutes before half-time, Martin Regan's team, with their heads bobbling lower and lower, on the water-level to almost below, were looking for a lifebuoy at 1-8 to 0-4 down. However, a manic finish to the first half and two Naomh Conaill goals meant the deficit was only one at the break, 1-8 to 2-4.
Then, in the second half when Kilcoo reaffirmed their dominance, the margin was stretched out to six at 2-10 to 2-4 by the 40thminute.
Naomh Conaill, driven on by Ciaran Thompson in particular, came back to within one again and whispers about extra-time did whisk through the chilly air in Omagh. However, Darryl Branagan, excellent throughout, scored Kilcoo's first point in some 21 minutes in what proved to be the clincher.
Regan and his management team will rue two spells – the bulk of the second quarter and then the beginning of the third. Those periods are where Kilcoo totted up something to hold onto; something Naomh Conaill had to always chase.
There was nothing out of the ordinary to begin with. Fifteen minutes gone and three points apiece. The closest either side came to a goal was when a Eunan Doherty effort flew over the Kilcoo crossbar when Charles McGuinness slapped down Brendan McDyer's ball.
Kilcoo seemed content to play from the back, with a couple of thin-icers, while Naomh Conaill were going long when they could. Conor Laverty was here, there and everywhere.
The Christmas lights had been untangled and for the next 12 minutes or so after that first quarter-hour, Kilcoo were rampant as swiftly as it took to flip the switch and light up the tree. Ryan Johnston's influence was beginning to grow and some of the forward moves had the look of choreography – a Mickey Moran stamp if ever there was one.
Johnston scored two points, the second of which could've been a goal as he struck with aplomb, only for Stephen McGrath in the Naomh Conaill goal to turn it over. Jerome Johnston soon made it 0-8 to 0-4 and it would get worse before it would get better for those in blue.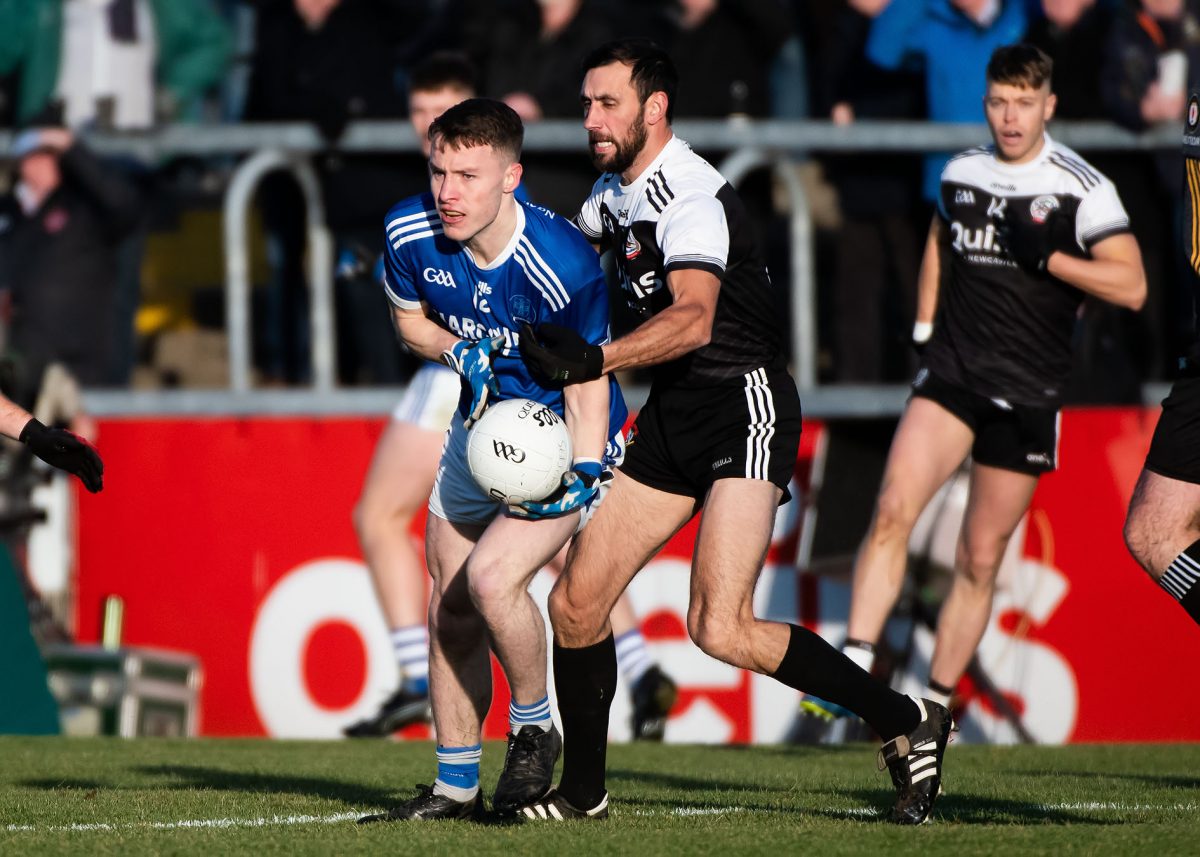 Darryl Branagan's run from deep on 28 minutes broke the Naomh Conaill line and, following a neat lay-off by Jerome Johnston, full-back Aidan Branagan was steaming forward to score the opening goal of the match. Kilcoo 1-8 Naomh Conaill 0-4.
Naomh Conaill needed something and what they produced, well their famed local poet and writer of yesteryear Patrick MacGill himself might've even written it. Still in the 28thminute, a goal was pulled back from McGuinness, who tucked home after Kieran Gallagher kept an Ethan O'Donnell ball in that many felt was going wide.
Then, in the third minute of first half injury time, Jeaic Mac Ceallabhuí smashed home a second Naomh Conaill goal soccer-style, when he was fed by McGuinness after Eoghan McGettigan had made his way in down the side.
Somehow, at half-time, Naomh Conaill were just one down – 1-8 to 2-4 as a buzz went throughout the ground. The crowd drew their breath and players headed for the changing-rooms.
After a fruitless 43 years following on from the 1975 triumph of the Ballyshannon-Bundoran amalgamation of St Joseph's, Gaoth Dobhair ended the Donegal famine 12 months ago in Ulster with an extra-time victory over Scotstown.
Naomh Conaill came as close as anyone to bridging that gap, losing out to Crossmaglen Rangers in the 2010 showpiece at Cavan's Breffni Park, 2-9 to 0-10.
Down champions – winning eight from nine – Kilcoo were defeated Ulster finalists in both 2012 and 2016, when they were defeated by Crossmaglen and Slaughtneil respectively.
Kilcoo would've wanted the peculiarity to be ironed out, as they had been value for more than a lead of a solitary point at half-time. Their forwards were slick in that first half, with two-thirds of them having chalked their name on the scorers' blackboard.
Within five minutes of the second half getting underway, the other two – Ryan McEvoy and Conor Laverty – registered to complete the half-dozen. Naomh Conaill were stuck in the blocks, again, and Darryl Branagan added a second goal on 39 minutes when he skipped in from the byline to open and angle and score.
The face of the cliff was steeping for Naomh Conaill, now 2-10 to 2-4 behind and the chance of an Ulster crown looked to have slipped through their fingers. Kilcoo were stung before in provincial finals and made the decision to try and hold.
That invited Naomh Conaill back into things and three Ciaran Thompson points from distance, as well as one from Ethan O'Donnell, brought the margin into two. It wasn't all one-way traffic, though, as Anthony Thompson had to make a last-gasp claw away to avert a Ryan Johnston ball into the danger area.
Then, Anthony Thompson scored a peach from long-range and suddenly, in the dying embers, Naomh Conaill were just one behind, 2-10 to 2-9. They had two chances to draw level, only for Eoin Waide and McGuinness to miss the target with forced efforts as Kilcoo were piling back.
At the other end, McGrath was pushed up and had to frantically backpedal when substitute Justin Clarke led a break and inexplicably tried to lob the Naomh Conaill goalkeeper instead of taking the point and moving it out to three.
One daring raid later, though, and Darryl Branagan finally sealed it for Kilcoo. It's the first ever title at this level for Kilcoo, while for Naomh Conaill the search must go on.
Naomh Conaill:Stephen McGrath; Ultan Doherty, AJ Gallagher, Kevin McGettigan; Ethan O'Donnell (0-2), Anthony Thompson (0-1), Eoin Waide; Ciaran Thompson (0-4, 3f), Leo McLoone; Brendan McDyer, Eoghan McGettigan, Eunan Doherty (0-1); Jeaic Mac Ceallabhuí (1-0), Charles McGuinness (1-1), Kieran Gallagher. Subs: Marty Boyle for AJ Gallagher (half-time), Dermot Molloy for K Gallagher (51), Nathan Byrne for McGuinness (57), K Gallagher for U Doherty (60+1), Anthony Thompson (black carded 60+4)
Kilcoo:Martin McCourt; Niall Branagan, Aidan Branagan (1-0), Niall McEvoy; Shealan Johnston, Aaron Branagan, Darryl Branagan (1-2); Aaron Morgan, Dylan Ward; Eugene Branagan (0-2), Paul Devlin (0-2, 1f), Ryan Johnston (0-2); Ryan McEvoy (0-1, 1f), Jerome Johnston (0-1), Conor Laverty (0-1). Sub: Justin Clarke for E Branagan (57), Felim McGreevy for McEvoy (60+4 black card)
Referee:Sean Hurson (Tyrone)
Tags: