The sixth Scoil Gheimhridh Ghaoth Dobhair opens with the launch of Barry Kerr's exhibition 'Music from Anything' in An Gailearaí, The Údarás Business Park in Gaoth Dobhair on the 27 December at 7pm.
The work reflects on the words of Donegal fiddler John Doherty, and is inspired by the music and landscape of Donegal.
Scoil Gheimhridh Ghaoth Dobhair happens in the stunning surroundings of the northwest Donegal Gaeltacht.
Formerly Scoil Gheimhridh Frankie Kennedy, it is without question one of the highlights in the traditional Irish music calendar, where people travel from near and far!
There will be numerous workshops with various traditional Irish music instruments, song and dance from some of the most respected musicians around, including acclaimed Harper, Síle Denvir, and Uilleann Piper Mick O'Brien. Other tutors include Mairéad Ní Mhaonaigh, Louise Mulcahy, Angelina Carberry, Dan Brouder, Diane Cannon, Tony O'Connell, fiddler Zoë Conway and many more.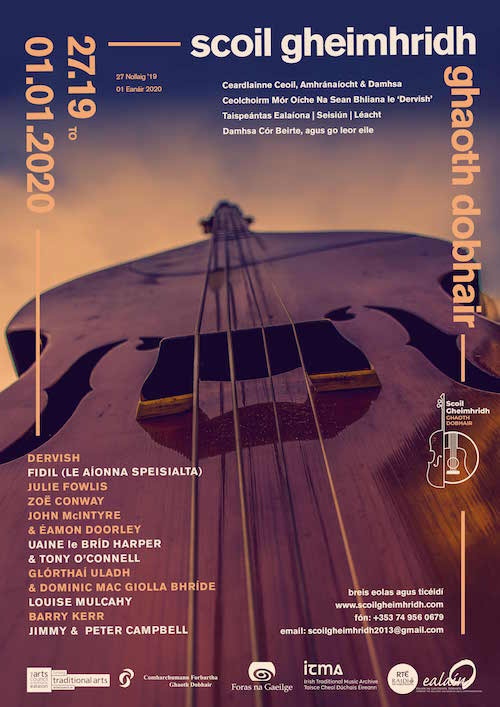 This years concert series consists of an array of acclaimed acts, including FIDIL, who are back after a 10-year absence, with their new album release, 'Decade'.
A spokesperson said "We are also delighted to welcome acclaimed Scottish and Irish musicians Julies Fowlis and Zoë Conway, John McIntyre & Éamon Doorley, who will play music from their latest acclaimed release 'Allt'. Zoë Conway, who is also one of this years tutors, was named Folk Instrumentalist of the year, at the recent RTÉ Radio 1 Folk Music Awards.
"Special guests, Cór Uladh with Dominic Mac Giolla Bhríde will also be performing. Another concert features masters in Traditional Irish music – Bríd Harper, Tony O'Connell, Paul Meehan and Lisa Butler, which forms the new group UAINE."
One of the highlights each year at Scoil Gheimhridh is the New Year's Eve party. This year we are honoured to have Dervish and surprise guests. Receiving this year's Lifetime Achievement at this years BBC Folk Awards, this band are ending an incredible year with us in Gaoth Dobhair! It is going to be truly epic!
This special concert is a family friendly, and ticket only! To avoid disappointment we encourage people to purchase tickets in advance! Tickets will not be available for purchase at the door.
This year's lecture is 'Women in Uilleann Piping 1800s- 1900s', presented by musician Louise Mulcahy
Events will be happening in various venues including Pobalscoil Ghaoth Dobhair; Amharclann Ghaoth Dobhair; Teach Hiúdaí Beag; An Gailearaí and Teach Jack, in Glassagh.
There will also be session trails around various public houses in the Gaoth Dobhair during the festival.
The following workshops will be available: Flute, Fiddle, Uilleann Pipes, Tin-Whistle, Harp, Banjo/Mandolin, Button / Piano Accordion, Sean-nós dancing, and singing, concertina, bouzouki/guitar
Full details of all events are available on www.scoilgheimhridh.com, where you can also purchase tickets. You can also call: 074 956 0679, or email scoilgheimhridh2013@gmail.com
Scoil Gheimhridh Ghaoth Dobhair are grateful to be receiving annual funding from the Arts Council of Ireland.