A new service for holidaymakers from across Donegal to Majorca in sunny Spain will commence on March 31st 2020 from Ireland West Airport with their newest airline partner Lauda.
The new service will operate twice weekly on Tuesdays and Fridays from March to the end of October and provide further choice and sun holiday options for people living in Donegal.
Located at Knock in Mayo, Ireland West Airport is less than the time it takes motorists to get to Dublin and there's a lot less traffic.
And with ample, affordable parking in the grounds of the airport, Ireland West Airport is becoming an increasingly popular airport with Donegal holidaymakers who prefer less hassle when they are taking off or arriving home.
Lauda is a 100%-owned subsidiary of Ryanair Holdings plc, a low-cost carrier based in Vienna in Austria and currently flying to 38 destinations across Europe.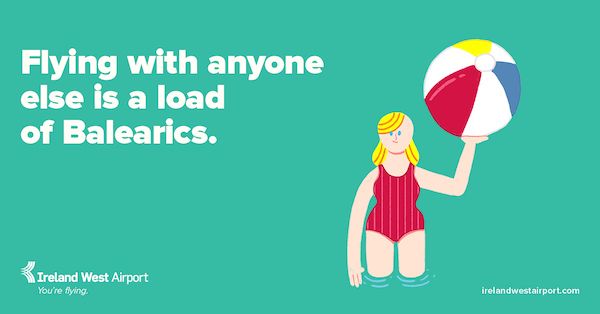 MAJORCA
Mallorca (Majorca) is one of Spain's Balearic Islands in the Mediterranean. It's known for beach resorts, sheltered coves, limestone mountains and Roman and Moorish remains. Capital Palma has nightlife, the Moorish Almudaina royal palace and 13th-century Santa María Cathedral. Stone-built villages include Pollença, with its art galleries and music festival, and hillside Fornalutx, surrounded by citrus plantations.
It is a superb destination for families, couples and singles alike. Majorca has a whole host of wonders including electric nightlife and a culture-rich capital, lush countryside and towering mountains, as well as friendly resorts and peaceful coves. Everything's encircled by gorgeous beaches, too. On top of that, you'll have a huge range of activities to choose from, including theme parks, waterparks and stunning cycling routes.
Majorca enjoys a typical Mediterranean climate, with hot dry summers and mild winters. The beaches vary from large fine golden sandy stretches to small isolated crystal-clear coves. Each region of Majorca has its own appeal, offering unique characteristics and attractions; the northeast for history, the east coast for beaches and caves, the north and west for spectacular mountains and picture-postcard villages.
Visit the islands' capital Palma with its stunning Gothic cathedral, wealth of shops, lively cafes and chic restaurants. Take a drive into the countryside and explore small traditional villages. Enjoy a family day out at a water park. Or party the night away in the island's livelier resorts.
The top 5 Things to do in Majorca:
1. Deià
What is it? Probably the most enchanting village on all Majorca, Deià is a winsome little tumble of honey-coloured stone cottages on a hilltop overlooking the rugged coast. Writer Robert Graves lived here, and now it's become a hideaway for the rich and famous.
Why go? Visit the delightful home of Graves, then meander through the narrow streets, dotted with chic boutiques and galleries. Linger over drinks on one of the charming squares, before hitting the beach at Cala Deià.
2. Drive along the Cap de Formentor
What is it? A panoramic road zigzags dizzily along this stunning headland at the north-western tip of Majorca. There are a series of viewing points (miradors) where you gaze out over the plunging cliffs, before you reach a lighthouse (and a bar where you can steady your nerves) right at the end.
Why go? This drive is not for the faint-hearted, but the scenery – cliffs, emerald forest, turquoise coves – is truly breathtaking. On the way back, you can stop at the elegant 1920s Hotel Formentor for a drink or to laze on the gorgeous (if busy) beach.
3. Puro Beach Club
What is it? Majorca has got more beach clubs now than you can shake a cocktail umbrella at, but this one is the oldest and still the best. The location, on a tiny peninsula, means you get fabulous views, which you can enjoy whilst lounging on a pure white lounger.
Why go? This beach club has a restaurant, cocktail bar, DJ sessions, and a massage service, but it's best for an evening cocktail – this really is one of the best places to enjoy the sunset on the island. Glamorous but totally chilled, it's the perfect way to finish your day.
4. Wine-tasting in Binissalem
What is it? The charming, country town of Binissalem is the epicentre of one of the island's main wine-producing areas (and has its own D.O., or denominaciód'origen), and there are several wineries that you can visit for tastings and purchases.
Why go? Take a wander around the diminutive little town to soak up its sleepy atmosphere, before heading off for some tastings at the local bodegas. Some of the best include ANA Vins, Bodegas José L. Ferrer, Bodegas Oliver, Celler Tiana Negre and Vins Nadal. Bodegas Biniagual occupies a beautifully restored hamlet nearby.
5. Vintage train from Palma to Sóller
What is it? A beautifully restored century-old train trundles from Palma to the country town of Sóller. This is a captivating little town, with lots of shady squares to linger on, but you could also extend your trip and take the vintage tram through orange groves to Port de Sóller.
Why go? Slow, rickety and oozing with old-fashioned romance, this dinky train clanks its way across hills and forests to reach the pretty little market town of Sóller. You can potter around Sóller (Café Paris is a good option for lunch) or hop on the vintage tram to Port de Sóller on the coast.
Fly to Palma Majorca twice weekly from Ireland West Airport with Lauda from 31st March 2020.
Book on www.laudamotion.com or www.ryanair.com
Tags: