A new book has been released detailing the stories of Vikings in the north of Ireland and the Cenél nEógain dynasty.
The Kings of Aileach and the Vikings, AD 800-1060, by historian Darren McGettigan, explores the local history of Inishowen and surrounding areas.
The book deals extensively with Viking activity and the powerful kings of early medieval times across Donegal, Derry and Tyrone.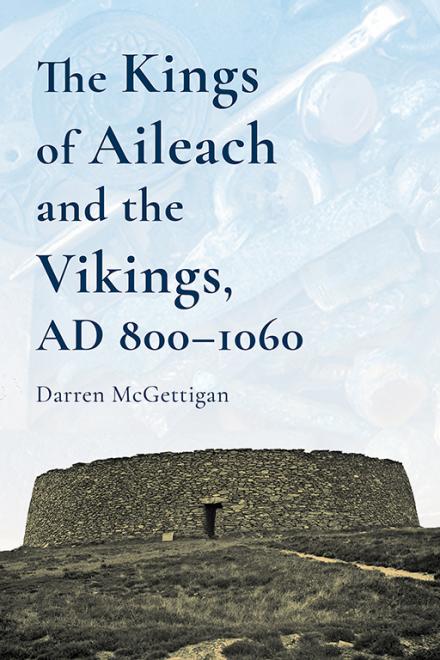 Author Darren McGettigan, a native of Wicklow, has family ties to Donegal and has published a number of books about the area. The latest book unveils major discoveries from his research into the Cenél nEógain kingdom, while he took a particular interest in the western families.
The kings of Aileach came to prominence in the north of Ireland c.AD 800, just as the first Viking fleets began to raid the coasts of Ulster. At first, Viking activity in this area followed a similar pattern to raiding activity elsewhere on the island. But it began to diverge after 866 when Áed Findliath, a high-king of Ireland from the Cenél nEógain dynasty, destroyed Scandinavian settlements in what is now Co. Antrim.
It appears to have been the intention of the Cenél nEógain to allow Viking strongholds to survive further south in Ulaid territory at Strangford Lough and Carlingford, and later on also at Ruib Mena on Lough Neagh. However, these longphuirt too were eventually destroyed by the Irish of the north of Ireland, the final ones in a spiral of violence that surrounded the death of the famous king of Aileach, Muirchertach of the Leather Cloaks, who was killed by the Vikings in 943.
The Kings of Aileach and the Vikings, AD 800-1060 also tells the stories of other noteworthy early medieval high-kings of Ireland who sprang from the Cenél nEógain dynasty. Among those discussed is Niall Glúndub, who was killed at the battle of Dublin in 919, leading the combined armies of the Northern and Southern Uí Néill against Viking invaders known as the grandsons of Ívarr. Also included is his grandson Domnall Ua Néill, one of the first Irishmen to adopt a surname (which he took from his well-known grandfather). It was Domnall's over-ambitious plans, caused by the expulsion of the Vikings from the north of Ireland, that led to the collapse of the traditional Uí Néill high-kingship of Ireland.
The paperback book is set to appeal to students and teachers of early medieval Irish history and also to local historians across a wide stretch of the north of Ireland.
The book is available now at Four Courts Press https://www.fourcourtspress.ie/books/2020/the-kings-of-ailech-and-the-vikings-800-1060-ad/
Tags: