CRANFORD AC senior juvenile athletes gathered on Sunday night to honour Frankie Casey.
The Cranford AC members honoured Frankie for the  use of the training grounds at Tromore, Downings to train in a safe and enjoyable environment for the last 22 years.
Oisin Kelly, Cranford AC's national champion, made a presentation of a beautiful engraved crystal whiskey set to Frankie on behalf of all at Cranford Athletics Club.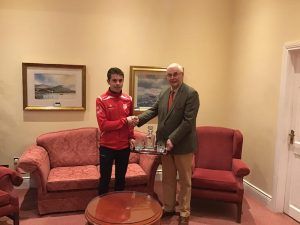 "Thanks to the use of the training ground we have Donegal, Ulster and National Champions," the club said.