A Donegal-based Australian native is bringing the local community together to support people devastated by disasters in her home country.
A fundraising concert, taking place this Saturday 15th February, will show the love for Australian people as they deal with the aftermath of months of fires.
Now, severe storms and record rainfall has caused flooding chaos in many areas.
Bronwyn Walsh, who lives in Letterkenny, is originally from Canberra and has family living in the South Coast area.
She has been moved by the disasters to do something to help the people on the ground.
Bronwyn's 'Funder For Down Under' brings top bands to No 58 upstairs in the Central Bar Letterkenny this Saturday 15th January. Doors open 6pm, €5 entry.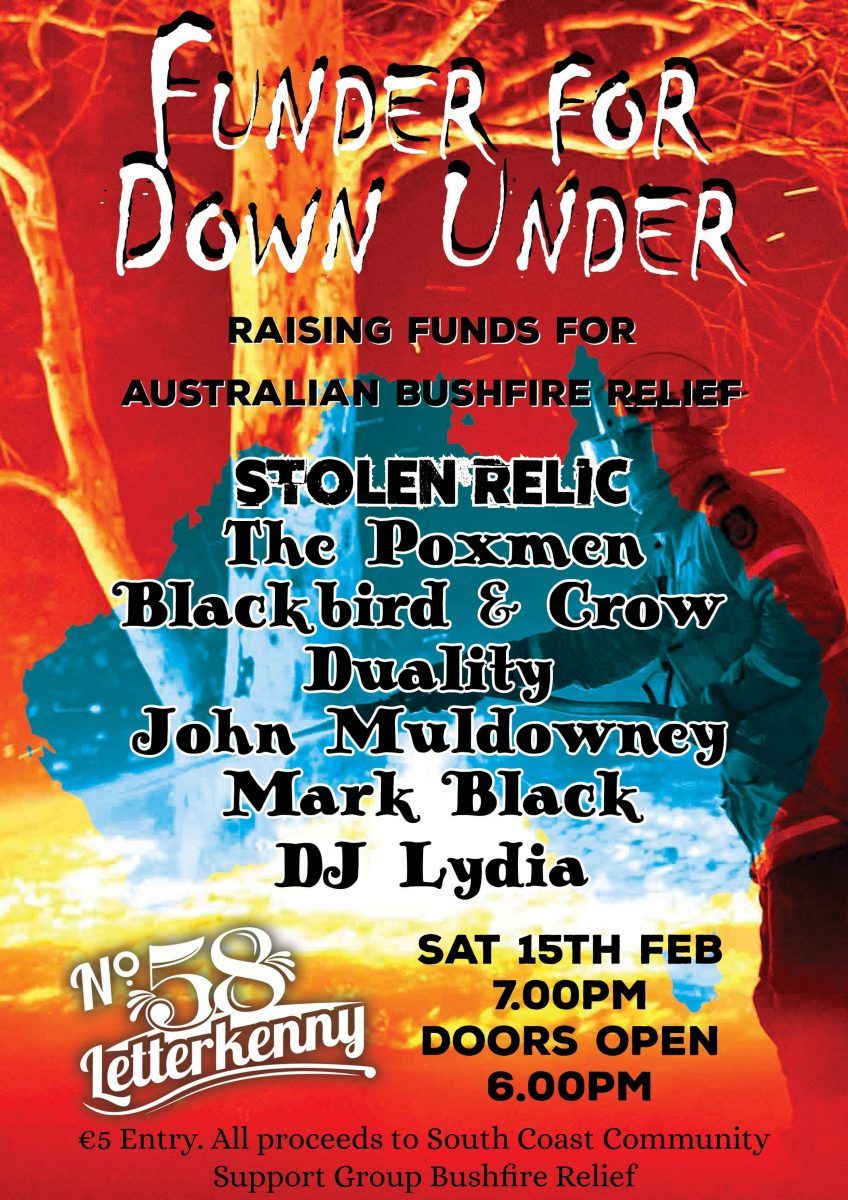 All proceeds will be donated to the South Coast Community Support Group, which is a voluntary group helping firefighters and evacuees and provides food and water and clothing to people displaced by the disasters.
Bronwyn's mother was evacuated from her home for over three months and she has only been able to return recently. Thankfully her house was protected from the flames.
Bronwyn said: "Bushfire season generally starts around now but this year it started in September. Because there's been a drought for so long there was no water. More houses were destroyed in the last six months than in 60 years."
Australia's fire season of 2019 and 2020 has so far burned through more than 7.7 million hectares in the south-eastern states, claiming 33 lives and almost 3,000 homes
As the fires raged, Bronwyn had to follow their locations on an app.
"First thing every morning I would check the app to see if there were fires near, it kind of helped me in a way I could see mum was safe," Bronwyn said.
Storms have brought chaos to east Australia, but the drought has not yet ended and the emergency is far from over.
To help the relief efforts, Bronwyn has rallied a team of talented musicians, who have all volunteered their time to support the Funder for Down Under. The Central venue is also kindly offering the space free of charge, so all proceeds can go to the cause.
The concert promises to be a superb night of music with a great line-up. All are welcome to come and enjoy the night and support the fund. Bronwyn is also hosting a raffle with huge prizes generously donated by local businesses.
Alternatively, you can send a donation via GoFundMe: https://www.gofundme.com/f/FunderForDownUnder
Tags: