IT HAS not been a normal time for any of us lately, but for Mona McSharry these last few weeks have been a real jolt.
In these times of lockdown, she is the swimmer who cannot swim.
Usually, the alarm call would come before dawn and she'd be off to the swimming pool in Ballyshannon.
Her weekly routine, since as far back as she can recall, has revolved around swimming.
Eight sessions a week until the plug was pulled. The Covid-19 shutdown has had sportspeople coming up with all sorts of ways to keep their levels intact. They can be simple ways, too: Race walker Brendan Boyce can do 2km loops on the road near his Cork home; Jason Quigley has a punch bag hung in his Ballybofey home; footballers are partaking in various 'challenges' that are honing their skills, perhaps without them even being aware of those benefits.
For McSharry, though, it has been different.
"I'm ticking by, adding to my fitness, but it's weird," the 19-year-old says.
"I spend so much time in the water, twice a day some days for two hours. At times you think: 'Aww a break would be lovely' but it has hit the point now already where I want to get back into the water. I feel much stiffer.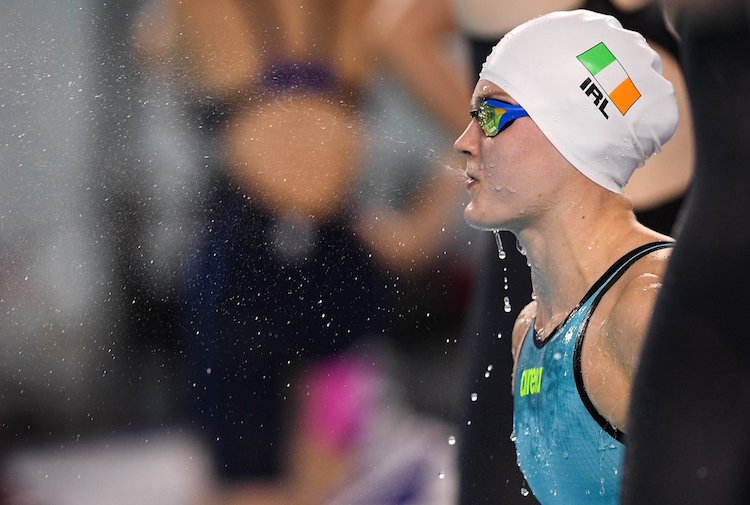 "I'm managing to get work done, but it's not normal. I'm doing a lot of circuit sessions, a bit of running and keeping the aerobic levels up."
Her fitness coach is Sean Flannery, the former League of Ireland striker who played 17 times for Finn Harps back in 2003.
A native of Grange, a village in north County Sligo, McSharry competes out of the Marlin's Swimming Club in Ballyshannon.
She went to school in Coláiste Cholmcille and she hopes to open the next chapter in a rapidly-filling book in the autumn. A move to the University of Tennessee in August remains on the cards.
The recent postponement of the Tokyo 2020 Olympics – which had been earmarked by McSharry – came as a disappointment. Considering the impact for a few moments, the positives may well outstrip the immediate negatives, she muses.
"I took a year out and wanted to start on the Tennessee training before I went," she says. "I wanted to build the blocks for the Paris Olympics (2024).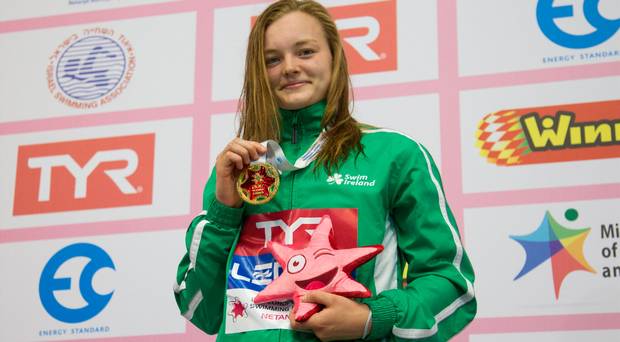 "It'll be interesting to see how I adjust in Tennessee. It's going to be a really exciting move for me. There is a huge team over there and it's an amazing chance to get.
"I would have loved to get a shot at the Olympics this year. For the experience alone, I'd loved to have gone. But next year, I'lll be a year stronger. I haven't hit my peak or anything and I'm still building.
"It was upsetting when I heard they were being postponed. I felt they were so close. This time last year, they were miles away and now they're another year and a few months away. But, the year could benefit me. I'll look at the positives and I should be stronger and faster by the time they do come around."
It has been, in her own words, 'a crazy ride'.
She holds 14 Irish individual records and is regarded as one of the most exciting talents across Irish sport. Seven of those individual records are at senior level. In December 2018, she twice broke a 23-year record, previously held by Michelle Smith, in the 100m freestyle.
McSharry had a tough beginning to 2019. Diagnosed with glandular fever, she had eight weeks completely off.
"At the start, when I spoke to people about the illness, some said I could be out for a year," she says now. "That was really difficult to hear. I missed the trials so then I didn't get a chance to go to the World Championships. It was my first time not being abroad for a competition like that and I found that really strange.
MONA MCSHARRY'S IRISH RECORDS

Irish senior records – short course

50m breaststroke 29.87 (December 4, 2019)

100m breaststroke 1:04.36 (December 6, 2019)

100m individual medley 1:00.34 (December 8, 2018)

4x100m FTR national team 3:41.09 (December 12, 2019)

4x200m FTR national team 8:07.86 (December 13, 2019)

4x50m MTR national team 1:49.31 (December 8, 2019)

Irish senior records – long course

50m breaststroke 30.87 (March 4, 2018)

100m breaststroke 1:07.10 (August 28, 2017)

200m breaststroke 2:27.44 (June 30, 2017)

50m butterfly 26.62 (July 28, 2019)

4x100m MTR national team 4:12.29 (May 6, 2018)

Irish junior records – short course

50m freestyle 25.90 (December 3, 2016)

50m breaststroke 30.94 (December 3, 2016)

100m breaststroke 1:06.71 (December 2, 2016)

200m breaststroke 2:24.42 (December 4, 2016)

100m individual medley 1:01.91 (December 16, 2016)

Irish junior records – long course

50m breaststroke 30.91 (June 28, 2017)

100m breaststroke 1:07.38 (April 7, 2017)

200m breaststroke 2:27.44 (June 30, 2017)

4x100m MTR national team 4:16.81 (June 25, 2015)

Irish Mixed Relay Records

Senior

4x50m FTR national team 1:31.86 (December 7, 2019, short course)

4x50m MTR national team 1:41.00 (December 5, 2019, short course)

4x100m MTR national team 3:52.38 (August 24, 2017, long course)

Junior

4x100m MTR National team 3:54.75 (July 1, 2017, ling course)
"I had to build very slowly back into it again. I was blessed that I didn't have it as bad as others. I just had to watch and not come back too soon or try to rush it.
"By the time September came around, I had started to build and I'd a real good season. It's ended on a strange note, but I'm excited to hopefully get back up and running and go to Tennessee with good work behind me.
"I suppose I'm kind of playing a waiting game now with Tennessee. Nothing has changed so far. Come August, hopefully this will be over. There might some hiccups if this lockdown keeps on going, but so far it's still on schedule."
The McSharry's – Mona, her mum and dad, Viola and Aidan, and broker Mouric (16) – won the title of Ireland's Fittest Family series on RTÉ in December, a pointer to their levels of activity.
The young Mona's first experience of the water was a frightening one.
The family were on holiday in Austria when Mona fell into a lake and panicked. Aidan jumped in and hauled her out. Viola, a German who has been a very active volleyball player, insisted that her daughter would learn to swim.
"It has been said that I nearly drowned, but that's probably a bit of an over-statement," she says. "It's not maybe as dramatic as it sounded, but it was probably worrying for mum and dad when it happened. That pushed them towsds getting me swimming lessons and here I am now."
Aidan and Viola met while Viola – having previously lived in Dublin – was back in Ireland attending college in Galway. They've settled in Grange, beneath the scenic peak of Benbulben.
The village came alive in the summer of 2017. Grange united to welcome home its world champion. Quigley was among the guests that also included the former Irish Athletics Team Manager Patsy McGonagle, who addressed the crowd from the platform erected in the middle of the town.
Mona McSharry was the 100m breastroke gold medalist at the 2017 World Junior Championships in Indianapolis. She beat off Canadian Faith Knelson and America's Zoe Bartel for gold in what was a new Irish record of 1:07.10.
McSharry also brought home a bronze from those Championships, coming just behind American Emily Weiss and Knelson in the 50m breaststroke.
"That was unbelievable," she says.
"I was just jumping around the place and I ran to hug our manager. There was a bit of disbelief there, too, for a good while afterwards.
"Like, any medal at a World Championships is great, but being the champion: That's something else. But in the world…
"It showed me, and hopefully showed others, that you can come from a small club, a small place, a small country and be the best. I come from Grange and swim for Marlin's in Ballyshannon, but was competing against American and Canadian swimmers. It's so true that you can get where you want with hard work."
In December, McSharry won a senior bronze medal at the European Short Course Swimming Championships in Glasgow.
Benedetta Pilato from Italy won the 50m breaststroke in a new world junior record of 29.32 with fellow Italian Martina Carraro scooping the silver. A national record of 29.87 saw McSharry take bronze.
"At this point, the senior medal is probably above the World Junior gold," McSharry adds. "It's great to be on top as a junior, but there is a smaller pool of swimmers than in a senior meet. The senior meet has everyone in it. So, anyone who is a fast junior can compete in the senior level.
"As a junior, too, you have to watch that you don't think you've 'made it'. You have 'made it' in one sense. Like, I made it as a junior, but now as a senior I'm a no-one again. It can be difficult to get your head around that.
"It's a pity that so many athletes throw in the towel too quickly making that transition. You have to hold out. We put ourselves through so much pain and you always feel as if you deserve something.
"For me, the junior medals were great, but going on and medalling at senior level, especially after having a rough 2018 and being sick in 2019, meant so much."
McSharry has been coached by Grace Meade for about 12 years now. The pair have struck a bond that has yielded medals and records by the bucketload.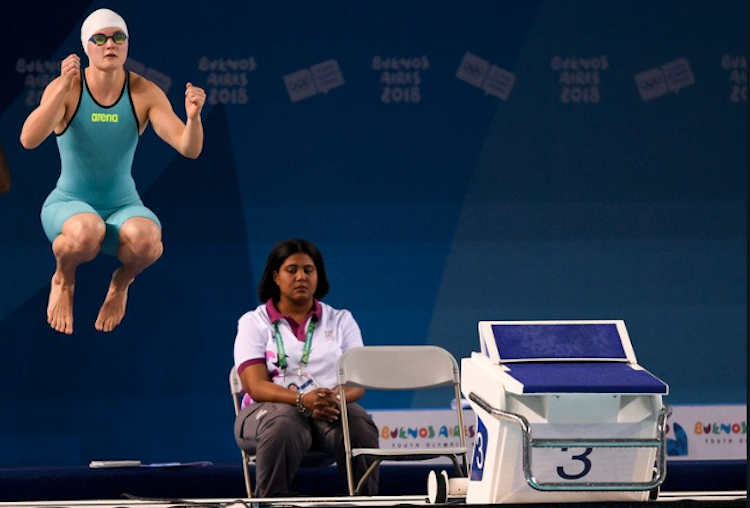 McSharry – whose swimming idol is the America champion Lily King, with Katie Taylor featuring high on her heroes list, too –  also took the 100m breaststroke gold at the Irish National Short Course Championships.
The Olympic dream had been flickering bright until Covid-19 ruled otherwise.
Four years ago, she was inches from Rio, missing out on the 2016 Olympics by 0.9 of a second.
"I wasn't a million miles off, but I suppose I wasn't super-close either," she says. "It was one of those things, if I had hit it, I'd have gone obviously, but we weren't aiming for Rio. I wasn't close enough and it probably worked out better that I didn't go. I was able to get to go into those Junior Championships and competitions and I didn't get too far ahead too quickly.
"I was pretty devastated at the trials at the time, mind you. I thought I could get it, but looking back I was only 15. If I had gone to Rio, the Juniors wouldn't have been the main focus anymore and it would have changed a lot for me.
"I'm much wiser now. It has been a roller coaster and a crazy rise since 2016 really. I've learned so much from the experiences. There have been some tough memories, but it's all part of sport."
Tags: