IT OUGHT to have been the most seismic couple of months in Leah Gallen's life, but instead it has become the most uncertain.
And yet, the Raphoe ABC welterweight is dealing with the change in her own inimitable way.
The postponement of the European Youth Championships – which originally were to get underway next week in Montenegro – has skewed her immediate sporting plans.
A punch bag, only recently installed at her home by Raphoe ABC coach Gerard Keaveny, means she has some normality to her now personal training regime.
The Leaving Certificate was pushed back from its June date to a period in late July and August and Gallen has simply just adjusted.
"You don't really know what to do," admits the double European medalist and six-time Irish champion.
"I'm still training away at home and keeping the study up, too.
"It's hard sometimes to get the motivation when you're by yourself. It's grand, but you don't see anyone. It's hard with no-one there pushing you on, like there would be at the club.
"Boxing is a lonely sport anyway. You box by yourself. But you miss seeing ones around the gym and the coaches. I give out at times about Gerard and Gary (McCullagh) roaring at me to push me on and could punch them – but I miss it now!"
The European Championships will take place in the autumn and it could be a buy period for the 17-year-old.
Time management has had to become a part of a busy routine anyway, though – and she's largely unbowed by the sea change to the schedule.
"Being away boxing, I miss a lot of school anyway," she says. "I always try and catch-up with what I miss in school. It's been like that since my Junior Cert really because I've been away a lot.
"I had to drop down a level in maths, but I find it not too mad. At the minute, I'm doing a different subject for an hour or two every day.
"We have Google Classroom set up and the teachers are sending us in assignments. Others are doing Zoom classes. It's obviously not the same as being in the classroom and it can be hard to take it in. You kind of feeling like maybe you're winging it a bit.
"You get more distracted at home too, but you just have to try and focus, sit down and get it done."
The decision, announced last week by Minister for Education, Joe McHugh TD, came as a jolt to many Leaving Certificate students.
Gallen has a bit of a path plotted in her mind that involved studying either quantity surveying or social work once her secondary education has completed.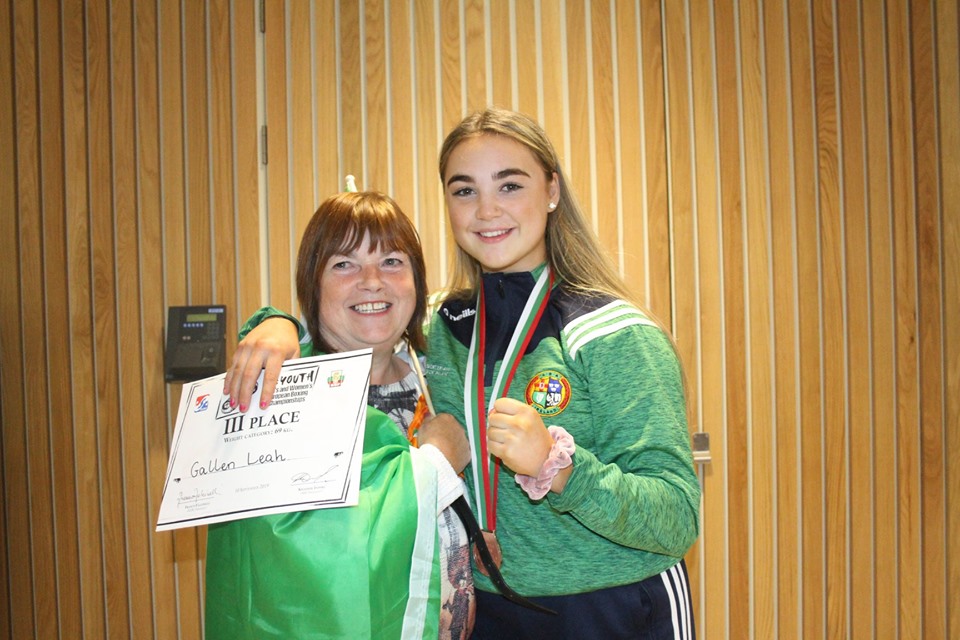 "We knew it definitely wasn't going to go ahead when it was planned," Gallen said. "It was still horrible to hear about it getting put back. I don't think they should have made that decision. I think it would have been much fairer to do predictive grades for the Leaving Cert. It's going to be so hard now to come straight in and do an exam. I saw where they might get to take us into school for a week or two beforehand, but it won't be the same.
"By then, we'll have been off for month and we'll be coming in then to sit big exams. It's a long time out of class to go in then for exams, but we just have to try our best now."
Just before lockdown, by chance rather than design, Keaveny gave Gallen a punch bag, which enables her to do some of her normal routines.
"I try to do Monday, Wednesday and Friday as if I was in the boxing club," she says. "I do a bit of strength and conditioning work on my own too. I have a couple of kettle bells and I have a bar to do squats with. You don't get a feel of how hard you're pushing with no-one else there, but it's grand and, I suppose, everyone is in the same boat.
"You need the coaches there to work on the technical stuff, but I'm just doing what I can. I'm so glad Gerry gave me the bag for the house. That was just before this whole lockdown happened. I'd be lost without it.
"I can't wait to get back into the gym again – I'll work twice as hard when I get back."
At the end of January, Gallen defeated Shelby Myers to win the sixth Irish title of her career. The Irish U18 final win opened the possibilities for Gallen. A bronze medalist at the 2018 European Juniors in Russia, Gallen followed that up with a European Youth bronze last year in Bulgaria.
She feels ready to make a big mark in Montenegro whenever that may be now.
"It's been good, maybe in a way, to get a wee break because I haven't had one in about two years," she says. "Once one Championship was over, I was straight into another one. But I've put in so much work. I was in the best shape I was ever in and I felt that I had built myself into this weight.
"I'm in the older age now for these Europeans – I was a year young last year – so it would be a bit of an upper hand. The good thing is that the whole world is the same and I'm not at a disadvantage compared to anyone I'd be boxing. Everyone entering will be in the same boat.
"Being on lockdown like this has definitely given me more hunger. It makes you realise the love you have for the sport and I cannot wait to get back at it."
Tags: