STANDING AT 5'11", Oisin Orr is regarded as tall for a jockey.
It means the Rathmullan man has to keep a stricter diet than most.
Picture: Oisin Orr with trainer Dermot Weld after a win on Imaging.
Having saddled 114 winners over the last five years and with big ambitions, Orr is quite content to forego some meals.
A typical day – every day, in fact – has the same ritual.
"I don't eat much and I run plenty," Orr tells Donegal Daily/Donegal Sport Hub.
"I might have a yoghurt in the morning and for lunch maybe a salad with some chicken. That's about it, really. I don't usually eat dinner. I just drink loads of water until I'm not hungry.
"It's just what I have to do if I want to ride good horses."
Orr has to keep himself at nine stone, but while in Australia recently he was a few pound beneath that again.
Orr was the champion apprentice in Ireland in 2017 and shared the title in 2019 with Andrew Slattery.
He says: "I'm used to it now. When the gym was opened every day, I'd be in a lot.
"I would run a few kilometres every day and maybe go for a walk as well. I keep on top of that.
"I watch what I eat all year. Back at Christmas, I was racing the next day in Australia so there was no Christmas dinner.
"When the racing season finishes up and I have two or three weeks off, I might eat a bit more normal, but that's it."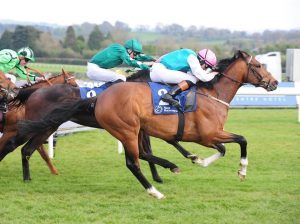 *****
THE 2019 season started off with Orr in flying form.
At one stage, he was 15 winners ahead of Slattery. As they headed for the final day of action, at Naas, however, Slattery was two in front.
When Orr was pipped at the post by the nose of Elusive King while on Soul Seeker, it looked as if his chance had gone.
"That was on one of my better chances at that meet," Orr says. "I thought I'd struggle after that one."
Orr's season had included some standout evenings.
In October, he had a 95/1 double at Dundalk, riding Masalai (11/1) and Benedict Roezel (7/1) to wins. In May, he had recorded a 122/1 double on Aneczka (33/1) and Peddlers Pass (6/1).
Orr was back in the mix when winning on the 13/2 Tide of Time for Edward Lynam.
In the day's – the season's – final race, Orr had a length to spare as he guided the Dermot Weld-trained Maria Christina (9/2) to victory.
"I'm fairly laid back and I don't get too worked about about things," Orr sats.
"I got beaten by a short head in the first race that last day and it didn't look good for me.
It worked out well in the end. As far as tactics went, I didn't do anything wrong and it all went well. I kept it simple.
"It was important for me to do that because it showed people that I was capable of doing it.
"It was my last year as an apprentice – I lost my claim half-way through the year – so it was important to do well. It helps with being given more chances on better horses going forward. Last year was great for me."
The wins at Naas took Orr to 43 for the season. He had Slattery enjoyed quite the joust and it was a marked increase from 2017 when Orr was champion apprentice with 20 winners over the season.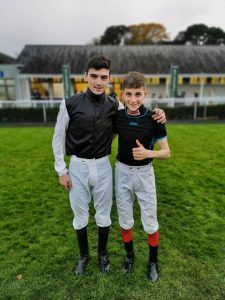 *****
RAYMOND Orr kept some horses about him and his eldest son, Conor, is also a jockey with some notable scalps.
Although Oisin's Donegal accent is fading, he remains strongly rooted to Rathmullan, where he learned his trade.
It was from the seaside at Rathmullan that Orr spent his formative years and he rode 33 winners on the local pony circuit.
"Dad always had ponies for as long as I can remember," he says.
"We went to the pony circuit for a good few races. I was racing ponies for three or four years.
"Conor was working with Joanna Morgan at the time and I got a summer job there. I just got into the yard and was riding out every morning. I'd go back then and do the evening stables. I didn't mind doing all of that. It showed me what was involved and how the yard worked.
"Horses have always been in the family so I loved it. We were lucky that we had the beach right beside us in Rathmullan so we used to take the group of horses down there. We'd get plenty of runs done on the beach."
Conor Orr had over 100 pony winners before landing an apprenticeship with Joanna Morgan and he spent three years in Wales working with Evan Williams, bagging seven winners under rules and 11 in point-to-point meets before coming home.
It was Morgan who also gave Oisin a break before he linked up with Edward Lynam.
The Orr brothers have been linked throughout their lives and in December 2018 they recorded a stunning day in Limerick, where Oisin had a 22/1 double and Conor a mammoth 2,9991/1 treble.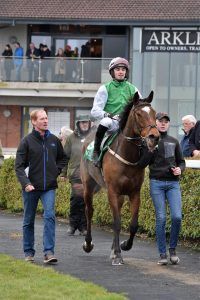 *****
DERMOT Weld is an admirer of Orr.
Last year, after the Donegal native won aboard one of his horses, Weld expressed his belief in Orr to racing reporters.
"If he gets a break on the weight he has the potential to do very well," Weld said. "He's a very talented young rider."
Orr's biggest wins so far have been the Group 3 wins in 2019, both for Weld, aboard Imaging at Naas and Leopardstown, both last April, and in May on Hazapour at Leopardstown.
"Dermot has been  very good to me," Orr says.
"He has given me lots of opportunities and allowing me to ride good horses.
"The next step for me now is to get onto the better horses. I was lucky last year to win a couple of group 3s so I need to keep improving as a rider and after that it's down to a bit of luck.
"I'll keep putting in the hard work. I'm enjoying it and want to keep busy. I just love riding winners and I want to keep proving myself for Dermot."
*****
ORR spent some time in America the previous winter and in November he linked up with Chris Waller for a stint in Australia engineered by Weld.
Down Under, Orr has eight winners, including a 14/1 triumph on Wyong.
"I loved Australia," he says.
"I learned a lot out there and the weather was nice so I had the best of both worlds.
"The racing is very different out there. Over here, you jump out of the stalls and everyone goes at a good gallop. It's more tactical in Australia.
"You have to take it nice and steady, making sure you're in the right place for the sprint to home. Every morning, when you're riding out the horses, you have to do a certain time on the gallop.
" Every furlong, you have to do it in a time. Here, that's not used at all."
Racing has, like much of the rest of the world, come to a standstill, but the horses still need looked after.
Orr remains busy as he waits for his next move.
"I'm in work every morning with the horses," he says.
"I ride out at the Curragh most mornings and it's going well. We're hoping to get up and going with races again in a month or so.
"It's doubtful with the lockdown and it just depends on what the government says, but we're still hoping to get going in about three or four weeks.
"We had only a day of racing over us and we were looking forward to racing at the Curragh in a few days' time when this happened. Hopefully it won't be too long 'tll we're back up again."
Tags: