A PLANNING submission containing over 120 signatures has been lodged with Donegal County Council in support of a proposed new development in the area.
Dunfanaghy Youths FC's proposed new development, on a 1.52 hectare site at Lurgabrack, Dunfanaghy, hit the headlines this week when Donegal Daily exclusively revealed that former Republic of Ireland manager Martin O'Neill was among those to lodge objections to the plans.
Dunfanaghy Youths FC has been homeless since the summer of 2019, when they had to vacate a pitch at Kill, Dunfanaghy and club official Danny Ferry told Donegal Daily recently that a rejection of permission for this development would sound the death knell for the club.
"We have exhausted all the possible options at this stage. If this is unsuccessful the club would go to the wall," he said.
An online petition has garnered over 1,100 signatures and messages of support and last Monday a large group of local residents formally submitted their support to the local authority.
In a letter, signed by 122 people, they 'categorically refute' claims that previous submissions had been made on their behalf. Indeed, their submission says that they 're completely supportive of the application.'
"The vast, vast majority of the local lifelong population in the Hornhead area is massively in favour of this development for the youth of Dunfanaghy and surrounding areas," the residents wrote.
"The youth of Dunfanaghy are desperately in need of a playing facility to play soccer on and we are aware that they have looked at many options, none of which were suitable or available to the club, this site which is home to a wooded area which is largely dead is an ideal site for a playing pitch and training facility.
"The local community in Hornhead, Dunfanaghy, appeal to the Council to allow for these facilities for the local Youth to be permitted.
"Dunfanaghy is a tourism hotspot and is recognised as such, many facilities and recreational amenities are available to the many people who attend the area on holidays and those who own second homes in the area. We now ask that the local community is permitted to build a facility for the youth of the area."
O'Neill, a resident in London, owns the derelict Horn Head House, near to the site Dunfanaghy Youths hope to develop into a new home.
The two-time European Cup winner, originally from Kilrea in County Derry, outline environmental and safety concerns.
"Ultimately Horn Head, a secluded and protected area, with especially high scenic amenity status is simply not appropriate for a large public gathering facility, ie a stadium," O'Neill said.
"First, the environmental impact of erecting stadia in this area of scenic beauty must be recognised. Horn Head is renowned not just locally, not just in Donegal, but also throughout Ireland and would be adversely affected by this proposed development."
However, these and a suggestion by O'Neill that the natural wildlife or the area 'would be seriously affected by the proposals' have been rejected by the residents.
The letter said: "It is a moot point to complain that the infrastructure is not fit for purpose.
"As people who live and indeed many of us farm in the area, we can confirm that the wide and varied amount of wildlife do not exist in this wooded area.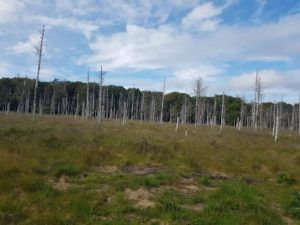 "We find it most unfortunate that an orchestrated, pointed campaign has been put in place to prevent this development from progressing. We simply cannot allow this to happen and it is incumbent upon us to support this application for these facilities which are so badly needed for the youth of our community."
Dunfanaghy Youths had around 130 registered players in 2019. They won the Donegal Youth League and the John Gorey Curran Cup during 2018
The proposed development is to consist of a playing pitch, a training pitch, spectator stand, clubhouse and associated facilities.
Donegal County Council say a decision is due on July 7.
Tags: