Wednesday evening saw our u12/u13s in action at the Athletics Donegal County championships. All of our Olympians as always competed with great heart and determination. 
Orlagh Faul was first on the track competing in the U13 hurdles. This was a new event for Orlagh and she equipped herself tremendously well, she was very unlucky not to be rewarded with a medal placing 4th.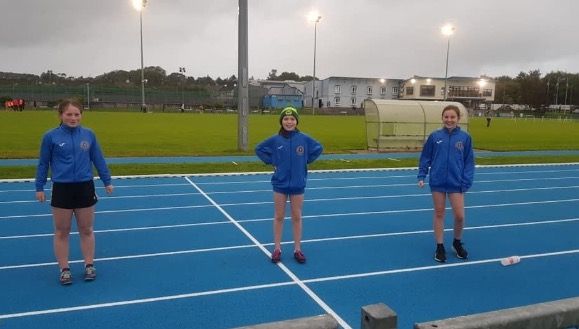 The 80m sprint was the next event for Orlagh where she had an excellent run placing 8th overall in a highly competitive field. Next up for Orlagh was the long jump. She a mighty jump of 3.79m and was rewarded for her efforts with a Bronze medal.   In her final event of the evening Orlagh had an impressive run where she ran the anchor leg of a mixed relay team and was rewarded with a bronze medal for her endeavours.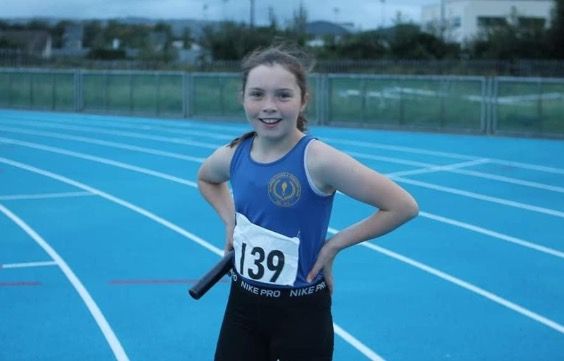 Eli Casburn competed for the first time in the Olympian vest. Eli performed well in two very competitive U12 races, placing 4th in the heats of the 60m and the 8th overall in the 600m.  Iarlagh Lafferty also competed for the first time in the Olympian vest in both U12 throws competitions where he placed 4th in the shot putt and 5th in the turbo Javelin.  Both young men enjoyed their first taste of the competition experience. 
Emma McDaid (U13), reigning all Ireland and Ulster shot putt champion, threw a Gold medal winning throw of 10.05m. She then proceeded to throw a mighty 18.40 in the Javelin securing her a second gold medal of the evening. In her final event of the evening she was unlucky not to medal placing 4th behind her team mate Orlagh Faul. 
Aoife McGeehin (U12) started her evening off competing in the 60m. Next up was the shot putt where she threw a new PB of 6.02m securing her the gold medal. In her final event of the evening, the highly contested Turbo Javelin, Aoife threw a massive 22m that was enough to secure her 2nd gold medal of the night and another PB.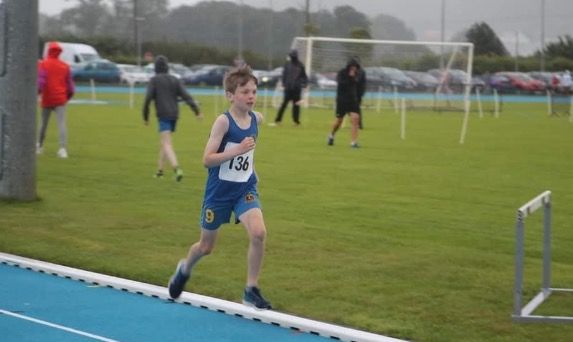 Yet again every single one of our Olympians gave it their all and  the proud coaches could not ask for more. It was great to see the Olympian flame continue to burn brightly. Well done to all and keep up the great training.  
Thank you to all coaches/parents/guardians and officials who supported the athletes. We would also like to extend our thanks to Athletics Donegal and Finn valley AC for hosting the event. 
Looking forward to seeing some of our Little Olympians take part in the Children's Games next week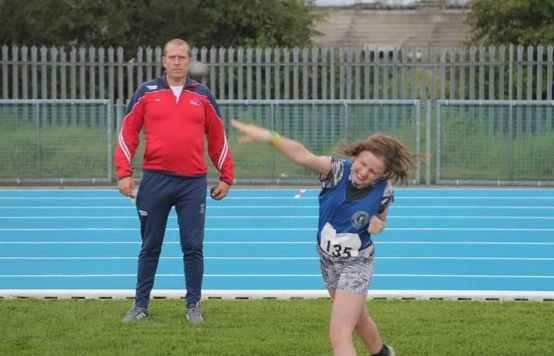 Training continues on Tuesday evenings from 7pm Glenswilly pitch and Friday evenings at Aura leisure centre track from 7pm. New members are always welcome. For further details please do not hesitate to contact Martin O'Donnell on 086-3838240
Club results 
U12 Boys 
Eli Casburn – 60m – 4th in heat & 600m – 8th
Iarliath Lafferty – Shot – 4th -4.59m & Javelin – 5th 10.52m
U12 Girls 
Aoife Mc Geehin – Turbo Javelin – 1st – 22.00m(PB); Shot – 1st – 6.02m(PB) & 60m 
U13 Girls
Emma Mc Daid – Shot- 1st -10.05m, Javelin – 1st – 18.40m & 
Long Jump – 4th – 3.74m
Orla Faul – Long Jump – 3rd – 3.79m; 60m Hurdles – 4th – 12.6s;
80m – 8th Overall – 12.7s