With the way the world is going you wouldn't be overly sure if there will be an Allianz League Division 1 next year, but if there is Donegal will be in it.
Donegal 2-17 Tyrone 2-13
Goals in either half from Peadar Mogan and Jamie Brennan gave the Ulster champions a four-point victory over Tyrone on one of those crisp and clear autumnal afternoons when you'd usually be dissecting a county final or catching a provincial club match.
Photos by Geraldine Diver
We've not heard whether on not there's a league next season, but at the same time we don't really know what's happening tomorrow. Donegal have stayed up and can still technically win Division 1, if there's a draw between Dublin and Galway, although it's fair to presume that's not too near the priority list's top no matter how confusing these times are.
With a rivalry filled with flashpoints and sparks, things were relatively quiet in Ballybofey with Covid-19 restrictions meaning no supporters. Not much could be heard barring onfield coaching and from off the field the jarring of excess panel members continually asking the opposing goalkeeper how long he planned to take for a kick-out.
Frank Burns of Tyrone might've picked up a second yellow card for a foul on Jamie Brennan on 45 minutes. He was given the curly finger by Mickey Harte within two minutes although Kieran McGeary was sent off four minutes for adding a black to a previous yellow then Rory Brennan joined him togging back in in the main stand for getting a red card, in his case for a foul on Michael Murphy and then laying a hand on referee Jerome Henry.
Brennan's laying of a hand on referee Jerome Henry might well land him in serious bother.
Aside that, Conor McKenna hit Michael Murphy with what you might term a 'championship shoulder' that rattled the Donegal skipper. An Ulster SFC quarter-final at the same venue in two weeks' time at the same venue will provide further fire, particularly so seeing the safety net has been removed.
Declan Bonner's side, after events in Tuam, knew they'd need to cobble something from their last two fixtures, with Tyrone aware they weren't out of the woods with Mayo to come to Healy Park on Sunday.
Tyrone had plenty of time to dry out from their leap year victory over Dublin in an Omagh monsoon in their last outing.
With Jamie Brennan having opened with the first two points, Donegal fashioned a fantastic eighth minute goal through Mogan, who played a give-and-go with Niall O'Donnell before evading a clutter of challenges and shooting into Niall Morgan's top corner.
That made the score 1-3 to 0-2 to Donegal and although dictating the play for the most part with a kind of style that was deliberate and dynamic, Tyrone were clinging in there. A penalty on 10 minutes from Darren McCurry came following a nudge by Stephen McMenamin on Conor McKenna.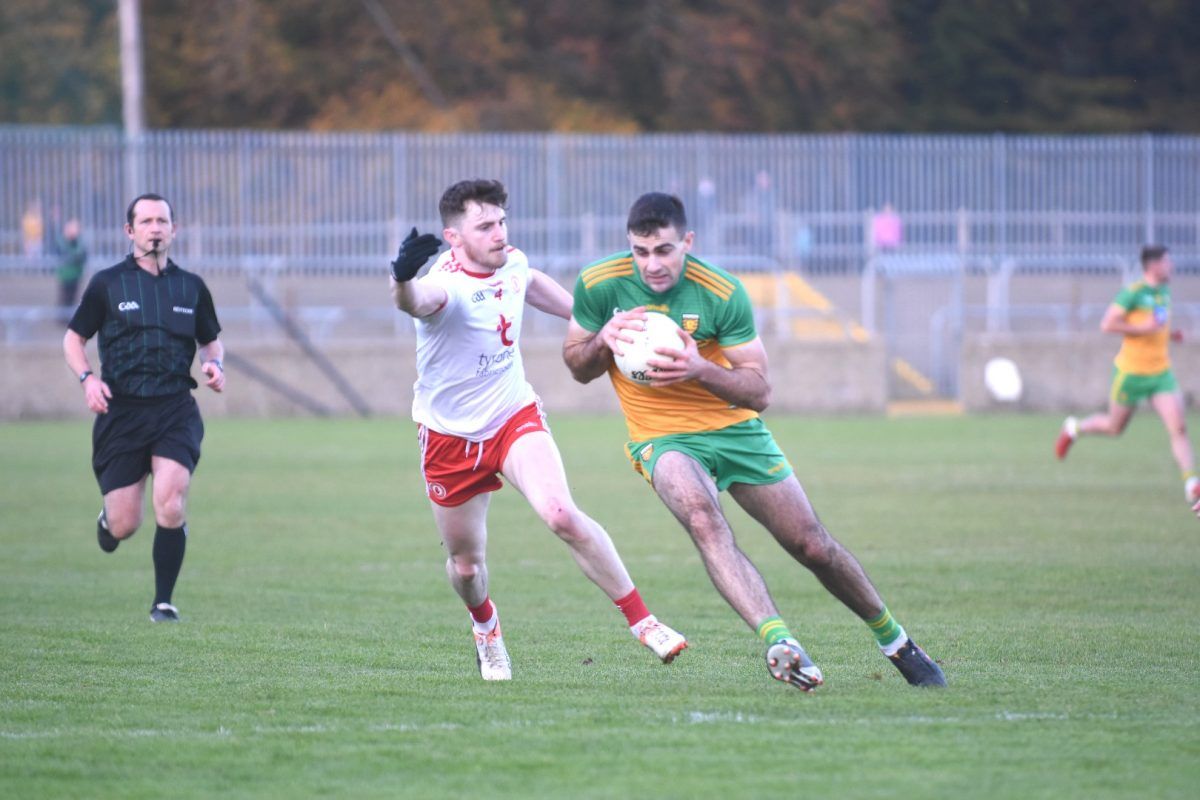 Donegal steadied themselves and finished the half well, with four points in two minutes during a particularly hot streak, Ciaran Thompson and Niall O'Donnell adding to a Ryan McHugh brace. Liam Rafferty's second point from corner-back and a breakaway score from Michael McKernan with Morgan playing sweeper-keeper meant Tyrone still weren't too far off, 1-9 to 1-6 down at half-time.
The second half was score matched by score, with McGeary and McCurry points more than wiped out by Jamie Brennan's fantastic goal on 39 minutes. Brennan slotted under Morgan as he scampered from his line to conclude a move that included Murphy and Ryan McHugh for a 2-9 to 1-8 lead.
For the most part thereafter, it was score for score with Murphy, McHugh, Ciaran Thompson and Caolan McGonagle on the mark for Donegal and Morgan, Conor McKenna, McCurry and David Mulgrew keeping Tyrone in touch. Three wides in succession hampered the visitors' chances.
Tyrone grabbed a second goal when Mattie Donnelly fed Conor McKenna, who cut across the front of the Donegal square and although Shaun Patton got a good hand on it, the power took it into the top corner. That meant it was 2-16 to 2-13 and Donegal needed an insurance score to just edge over the line and Andrew McClean provided it in injury time.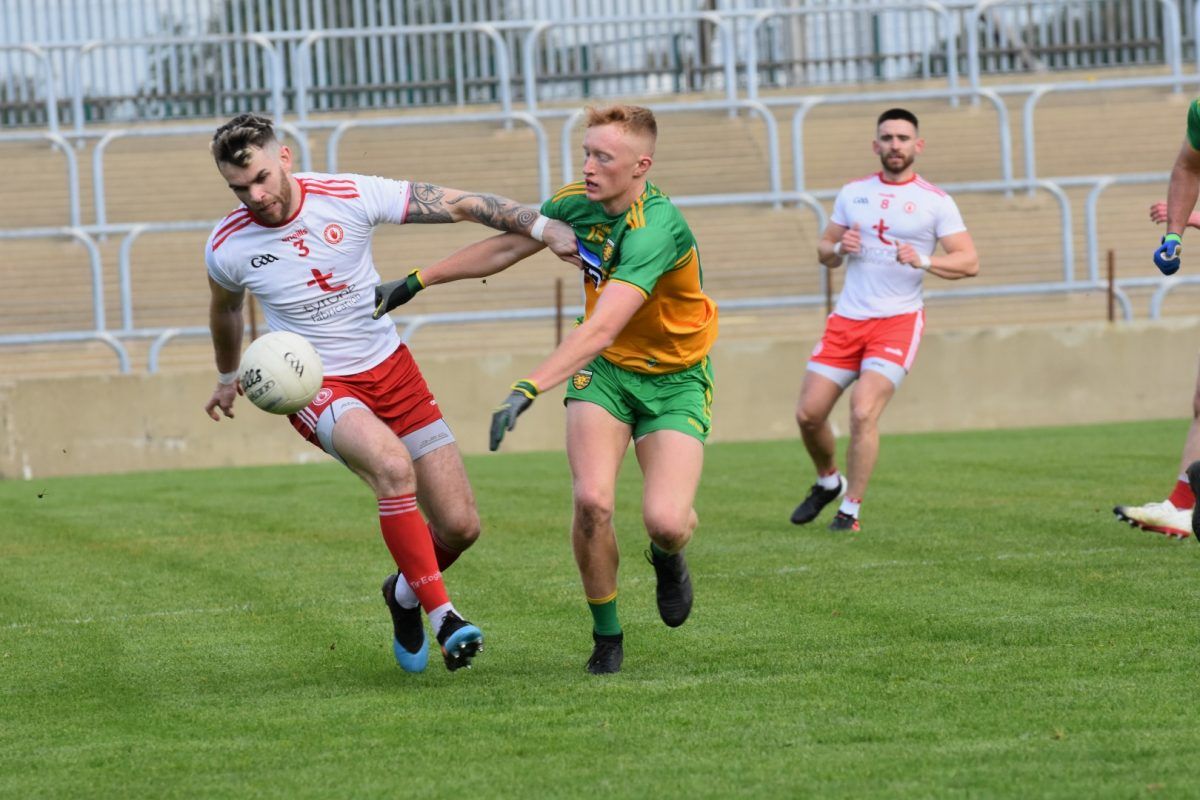 Nobody was overly disappointed at the conclusion, with both sides just glad to get back on the pitch again. How long that will last for is anyone's guess. But all Donegal and Tyrone can do is play the hand that's dealt.
Donegal: Shaun Patton; Eoghan Ban Gallagher, Neil McGee, Stephen McMenamin; Ryan McHugh (0-3), Paul Brennan, Jeaic Mac Ceallabhui; Hugh McFadden, Caolan McGonagle (0-1); Peadar Mogan (1-0), Niall O'Donnell (0-2), Ciaran Thompson (0-2, 2f); Jamie Brennan (1-2), Michael Murphy (0-6, 5m), Oisin Gallen. Subs: Andrew McClean (0-1) for Gallen (45), Jason McGee for McFadden (55), Daire O Baoill for Mac Ceallabhui (60), Paddy McGrath for P Brennan (64), Caolan Ward for Gallagher (70+3)
Tyrone: Niall Morgan (0-1, 45); Liam Rafferty (0-2), Ronan McNamee, Rory Brennan; Tiarnan McCann, Kieran McGeary (0-1), Michael McKernan (0-1, 1m); Padraig Hampsey, Frank Burns (0-1, 1m); Matthew Donnelly (0-1), Conor McKenna (1-2), Darren McCurry (1-2, 1-0 pen, 1f); Niall Sludden, Conall McCann (0-1, 1m), Conor Meyler. Subs: David Mulgrew (0-1) for Sludden (half-time), Michael O'Neill for Burns (47), Ronan O'Neill for C McCann (49), Ben McDonnell for Hampsey (62),
Referee: Jerome Henry (Mayo).
Tags: