Donegal's Road Safety Officer Brian O'Donnell reflects on a year that has seen another ten people lose their lives on the county's roads.
Brian O'Donnell sounds like a frustrated man.
For much of last year, Donegal's roads from Bundoran to Buncrana were quiet, dimmed by the silent pandemic of Covid.
The law of averages would have suggested that less traffic would have led to less accidents and ultimately road deaths and heartbroken families.
While the number of accidents may have dropped, the number of those who killed on our county's roads increased from eight in 2019 to ten last year.
Donegal accounted for the third-highest number of deaths on Irish roads last year behind Cork with 24 deaths and Dublin with 20.
Reflecting on 2020, a frustrated Mr O'Donnell said the old issues of speeding, not wearing seat belts and drinking behind the wheel are still huge factors in road deaths.
"Speed is still an issue. If anything those out on the road are increasing their speeds because there is less traffic and they have more opportunity to increase their speed on an open road.
"Again the issue of not wearing seat-belts is huge. People are still going to scrapyards to get extra seat buckles so they can clip them into their holdings so the warning sound does not go off. Others are still sitting on their belts.
"And people are still drinking and then getting behind the wheel. The statistics show that too," he said.
Mr O'Donnell said that drug driving is a huge issue and said he will almost be frightened to read the statistics for drug driving when they emerge.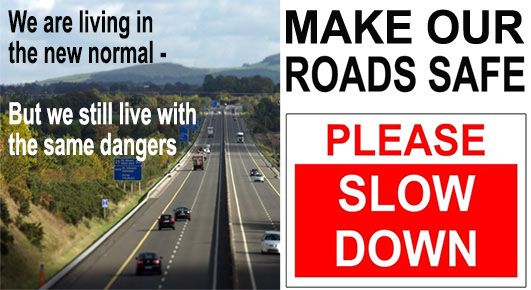 "There has been an explosion in drug driving and this is an issue which we face throughout the day. People are being caught behind the wheel under the influence of drugs morning, noon and night," he admitted.
Of the ten people killed in Donegal last year, two were pedestrians, three were passengers and the remaining five were the drivers of cars.
Mr O'Donnell said that with the arrival of lockdowns and people wanting some exercise, there was a new danger on our roads.
He noted that people are out walking in both towns and villages across the county but also on country roads.
He pleaded with these people to take extra care.
"It's great to see so many people out walking and it's a very difficult time for people in general but they have to be careful.
"Many are walking now who would not have been used to regular walking for exercise before and they need to wear high-viz vests and to make sure they are taking extra care with traffic."
The Donegal Road Safety officer said that while the rate of road deaths across the country including Donegal had thankfully dropped in recent years had, one death is still too many.
In Donegal fifteen years ago the number of deaths was in the mid-twenties compared to the current rate of less than half of that.
He admitted that the current restrictions has meant the Donegal Road Safety Office have had to come up with new ways of getting their safety messages cross.
The annual schools road safety show at the Aura Leisure Centre in Letterkenny, which was a huge success and eye-opener for students, has had to be postponed for the meantime.
"It has been difficult, even meeting colleagues in an office to plan things has been difficult but our message hasn't changed.
"We will continue to send out that message and examine ways of reducing accidents and road deaths in our county. It's all we can do to prevent more families form being thorn apart because of a road death or serious injury," he added.
Mr O'Donnell said the overall aim of the Road Safety Authority and the Government is to have zero deaths on our roads by 2050.
"That's what we should be aiming for. If we simply reduced our speeds, always wore seat belts and did not drink or drive or be on drugs behind the wheel then the number of our current deaths would be drastically reduced.
"One death is too many and we have to realise every time we are getting into a car that we are taking control of a potentially lethal weapon.
"We need to respect cars, their power and the potential danger they offer every time we step into one," he added.
Tags: