A new campaign will be launched this evening to refresh an appeal to find missing man Cian Langelaan – four months after his disappearance in Donegal.
Cian (aged 28) has been missing from Falcarragh since 27th September 2020. The last confirmed sighting of Cian was in the Hornhead area, near where he was living.
Gardaí are continuing to ask the public to look out for him in towns and townlands all over the county.
This February 1st, a community of people are rallying together to get Cian's name shared far and wide on social media.
At 7pm, the new missing persons poster below will be circulated on Facebook and Twitter with the hashtag #FindCian to strengthen the appeal once again.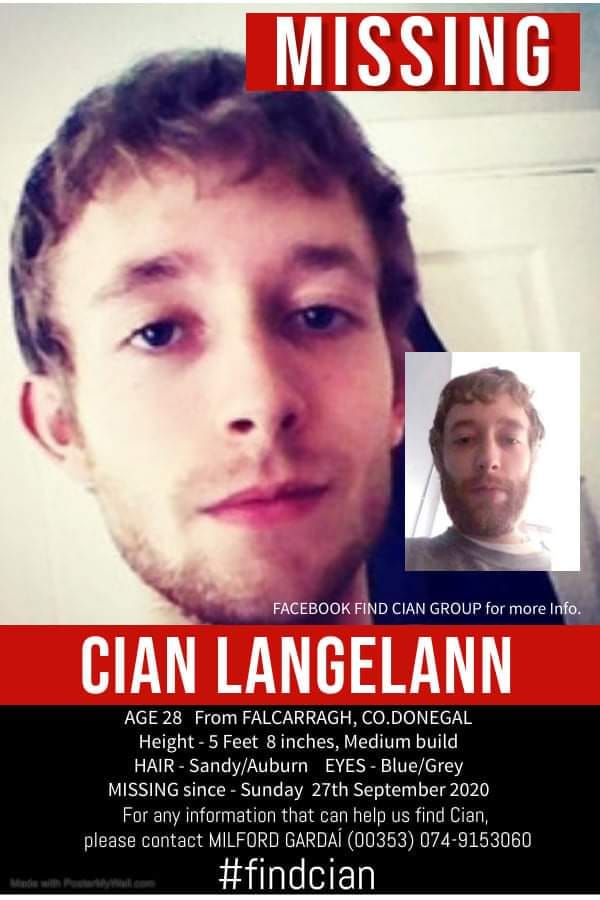 Almost 3,000 members of the 'Find Cian' Facebook group are being invited to support this evening's campaign.
Cian's heartbroken mother Anthea, who lives on the Isle of Wight, has set out to help others with a fundraising appeal for the North West Simon Community.
Cian had struggled with his mental health and did not have a home of his own over the last year. Anthea told 'Find Cian' supporters that her son often lived in a derelict house or stayed overnight with kind people in the Falcarragh community.
Inviting people to donate to the NW Simon Community, Anthea wrote: "I can do nothing for Cian until he is found, but I CAN do something to help others who find themselves in a similar situation to Cian. Just as people in Falcarragh cared for Cian when he lived in the community and (I discovered when I came over in October) some kind souls 'paid forward' for him to eat in a local cafe , now I want to try and do something for other homeless and missing people."
Anthea added: "This is the worst experience of my life and if can raise awareness of mental health difficulties in young people and help others to find a roof over their heads then it will make me feel less helpless. "
If anyone has any information in relation to the whereabouts of Cian, they are asked to call Milford Gardaí on 074-9153060 or contact any Garda Station.
Tags: