FOUR east Donegal men will take on a gruelling marathon challenge in aid of Kacey Blackburn, who has underwent life-changing surgery at the weekend.
Raphoe teenager Kacey, a student at the Royal and Prior, had corrective surgery in Turkey after being diagnosed with Idiopathic Scoliosis, a condition that has forced her to give up football.
A talented footballer for Raphoe Town, Kacey had a procedure in Turkey and now faces a long recovery road, with at least six further visits to Turkey for scans and consultations required.
Four men in her locality – Don Pearson, Christy Bogle, Paddy Ward and Clint Doherty – have taken on a marathon challenge.
Indeed, the quartet will each run 52 miles, the equivalent of two marathons, in Raphoe on May 1. Starting at 7am, they will complete 4.5mile loops around the race course in Raphoe, starting on the hour.  You can donate to their cause here: https://www.paypal.me/kaceypainfree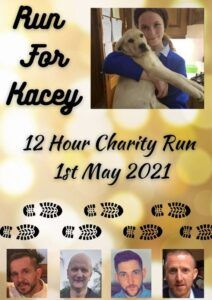 Earlier this week, a video was posted of Kacey up walking post surgery.
"It truly is remarkable," a spokesperson for the Help Kacey Be Pain Free cause said.

"Kacey still has a long recovery ahead of her and will have to travel back to Turkey at least six times for further scans, follow up consultations etc. but at least she is on the right road, thank God.
More than €40,000 has been raised on a GoFundMe page that has been established. You can click here to donate: https://www.gofundme.com/f/help-kacey-be-pain-free
Tags: