Sponsored Post
The Irish School of Reflexology and Wellness in Stranorlar, Co. Donegal is now enrolling for the autumn term.
The upcoming courses are:
ITEC Level 3 Certificate in Diet and Nutrition for Complementary Therapists – new term: 24th of August (21 online classes)
NRRI /ITEC Practitioner's Diploma In Foot Reflexology : 11th and 12th September
Click here to enroll: www.irishschoolofreflexology.com
The Irish School of Reflexology & Wellness are leaders in holistic health education.
Tatiana Grosso, Principal of ISR&W explains more: 
The Irish School of Reflexology and Wellness has grown year after year thanks to the support of our lovely students. Terms after terms the support we received from our pupils has pushed us to do better, try harder to expand our own knowledge, teach better techniques. We watch our students blossom into capable therapists and that makes us very proud. They are like our own children. We walk with them and teach them until they are fully grown and independent. We are proud to see how the right support and tutoring enables them to blossom and disclose their full potential as therapists as well as human beings. We, as teachers, learn so much from this human interchange. We love holistic healing therefore we decided to add the ITEC Diet and Nutrition course to the list of our classes because it fits so well with our very popular Practitioner's Diploma in Foot Reflexology.
Balance is a word that is very familiar and important to those who strive for holistic health. Practically, it is a continuous process and daily devotion to obtain a holistic balance as a human being. Whether we look back through the ages, ask a holistic healer or consult a medical doctor, health is considered by all to be a balance between mind, body and soul. Because the energy we get from food is distributed to every cell, and we are made up of those cells, a balanced diet is a vital component of a healthy human being.
A balanced diet gives our body the nutrients it needs to function correctly. A balanced diet is one consisting of the proper quantities and proportions of foods needed to maintain health, growth and repair. No single food contains all the essential nutrients the body needs to stay healthy and work properly. For this reason, our diets should contain a variety of different foods to help us get the wide range of nutrients that our bodies need.
During the course of the weeks, we will be exploring all the different aspects of a healthy digestive system, proper balance between nutrients, what the body really needs to maintain its health and, the very important Holistic approach to health and wellbeing. We are really looking forward to teaching this course because nutrition and diet are a fundamental part of a healthy and balanced lifestyle. Health comes from an holistic approach that takes into consideration the whole picture: we are what we eat, we are what we do and we are what we think. So keeping all this in mind: what we do needs to be healing, what we eat needs to be strengthening, what we think needs to be uplifting. People today are developing a new and responsible attitude to themselves, a new concept of sickness and health, and this in turn is leading them to preventative methods of healing therapies that gives them faith in themselves.
Energy is the other side of the coin. Looking after our energy and blood flow will keep us healthy too. That can be achieved by receiving Reflexology treatments. That is why these two courses are the perfect recipe for a healthy life. Learning both views will give the therapist a well rounded knowledge on how to treat their clients both energetically and with food.
Our goal is to educate and train our students to the highest levels of excellence.
We achieve this by:
1. Offering Comprehensive, professional and multi-platform education;
2. Delivering high-quality course material and experienced tutors;
3. Accompanying students through their own journey of personal growth during their training.
By constantly monitoring and improving our own high standards, the ISR&W fosters competence, professionalism, and community; and always strives to preserve and share knowledge in natural healing. Through the promotion of these values we demonstrate our respect for our students, employees, associates and our community.
Practitioner's Diploma in Foot Reflexology
NRRI /ITEC Practitioner's Diploma In Foot Reflexology : 11th and 12th September  
Our Practitioner's Diploma in Foot Reflexology consists of 150 Hours of tutoring in the classroom and 60 hours of practical work at home. The diploma is part-time (one weekend per month for 12 months), which means students will need to attend just one weekend per month. The school is affiliated with the NRRI (National Register of Reflexologists Ireland http://www.nationalreflexology.ie/).
Enrolment is now open on www.irishschoolofreflexology.com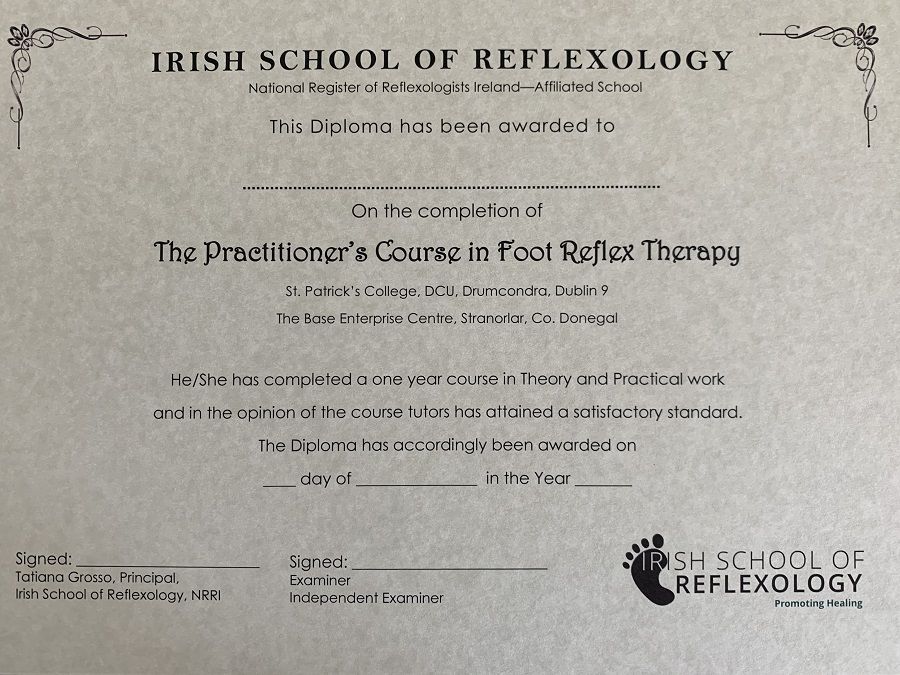 Reflexology is based on the principle that there are points and reflexes in the feet which relate to all the parts and organs of the body. By working on these points it is possible to improve the energy and blood flow to the different parts of the body, helping the patient to stay healthy.
ITEC Level 3 Award in Diet and Nutrition
I have always been interested in Nutrition. But the role and importance of Nutrition became clearer to me as I progressed with my studies and as I was working with my own patients.
I have started to appreciate even more the benefits of having a proper diet while practicing and teaching Reflexology.
This qualification is geared towards learners who want to work within the complementary therapy industry. This course can be a great chance for personal development and awareness also for people who are not from the sector to gain insight and knowledge about Nutrition and will open up great opportunities of development and progression in holistic health.  We, as therapists, can support our clients in this journey by adding this skill to our knowledge library.
The Nutrition Course will start on the 24th of August and it will be taught online over 21 weeks, one evening per week and a full Saturday per month. Enrolment is now open on www.irishschoolofreflexology.com

The Irish School of Reflexology and Wellness is located at The Base Enterprise Centre, Stranorlar, Co. Donegal.
Enrolment is open now for the new term at www.irishschoolofreflexology.com
Tags: