This week, Donegal Nutritionist Sorcha McElchar from Sorchas Healthy Living shares advice on how to enjoy a BBQ feast the healthy way.
But first, Sorcha is inviting all readers to take a short survey as she gathers market research on her newest business development. Take the quick 2 minute questionnaire here: https://www.surveymonkey.com/r/96X667Q
Summer is on us, hopefully accompanied by good weather! It's time to dust off the BBQ. Here are a few tips to help you enjoy your BBQ without feeling like you've overindulged. 
Tip 1: Pick your protein. Don't just stick with beef burger, steaks, and hot dogs. Oily fish like salmon, trout, tuna, or mackerel don't just taste great when grilled, they also give you those healthy fats that are so important. Prawn and chicken are also great choices. 
Tip 2: Crowding is an intuitive eating technique where instead of saying what you 'won't' have (e.g. "I won't have that second burger") you say what you 'will' have (e.g. "I will have that extra portion of salad"). You naturally fill up on the healthier options leaving less room for the less healthy option, and you won't feel deprived! It's a great technique to use at any time, not just at a BBQ.
Tip 3: Don't forget about portion control! Using the hunger scale to gage how full you are will really help preventing that "oh my God I can't move I'm so full" moment! Check out my video on Mindful Eating to find out more about becoming more aware of your hunger and fullness cues so you can give your body what it needs, when it needs it!
Tip 4: Make it colourful! Vegetables don't have to be the supporting act, make them the star of the show. Be adventurous and try out some of the amazing salad recipes out there. Make your own marinades as premade ones can have a lot of sugar and salt. 
Tip 5: Try out new dishes. Like I said before don't just stick the vegetable dishes to the side. Vegetable kebabs, homemade veggie burgers, pasta salads and more can bring your BBQ to the next level with regards to flavours and even make it more exciting.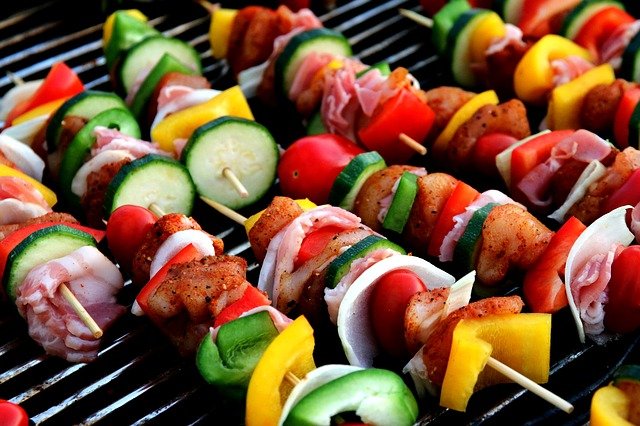 Tip 6: Go easy on the alcohol! Especially when it's hot out you need to stay hydrated and alcohol acts as a diuretic. So, it can dehydrate you. Caffeine is also a diuretic. You want to limit your alcoholic beverages and drink plenty of water. Carbonated water with some diluted juice added or ice-cold water with some chopped up fruit to flavour it can be a much healthier alternative. Also, alcohol is not calorie free. Every gram of alcohol provides 7kcals which is almost as many kcals per gram of fat (8kcals) without the essential function fats have.
Tip 7: Watch out for hidden calories in sauces and condiments. One tbsp of full fat mayo gives a whopping 100kcals, while the same amount of mustard offers only 10kcals and 20kcals for the same amount of relish. 
Tip 8: Try to include wholegrain carbohydrates when possible. Wholegrain burger bun, wholegrain pasta etc. 
The most important thing is not to stress over food! Enjoy having your friends and family together. Share stories, laugh, and enjoy the sunshine (soak up that vitamin D!) 
For more, click HERE to follow Sorchas Healthy Living on Facebook.
Tags: