ON 70 minutes of sleep from Friday-Monday, Raphoe ultra runner Ed McGroarty broke the world record for running from Mizen Head to Malin Head.
Just before 11am on Monday morning, the Lifford-Strabane AC athlete landed at Malin.
Pictures by Joe Boland, North West Newspix
The run took him three days, two hours and 53 minutes – breaking the previous record of 3:3:47, set by Eoin Keith in May 2017.
"It's still hard to process, it's unbelievable," Ed told Donegal Daily.
"It was just euphoric to cross the line and know that I was the fastest person to do it. There was a huge feeling of elation."
Ed began his mammoth attempt at 9am on Friday. Some 36 hours later, he took a ten-minute power nap, on a bed laid out in the back of his car.
A further 20-minute nap – 'a great booster', he says' – followed and at 4am on Sunday he had a third sleep, for 40 minutes.
"That was a magic sleep," he said.
"I have used power naps in the past and found they can revitalise the body for hours and hours.
"My plan going into it was to go non-stop until the pace was so slow it was defeating the purpose. I had an average pace in my head and once that dropped, I was going to have a nap. There was no stopping to sit for a minute or take a quick break.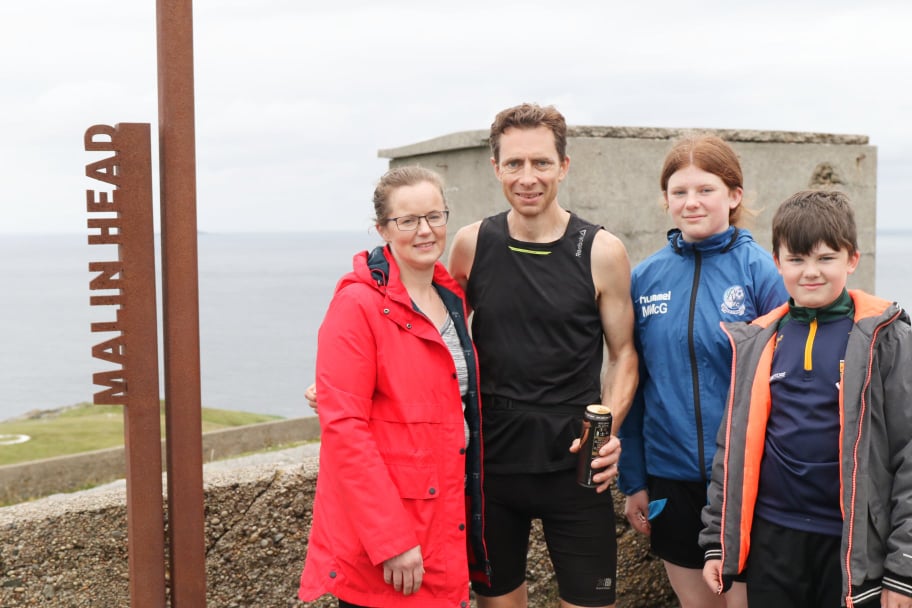 "I did it as a personal endeavour. We had a buffer coming into Malin. That was nice to have that and not be under any pressure. We didn't stop for the last 200km."
Ed felt the first 24 hours the most testing part of the weekend.
"The first 100km was the hilliest part and I ran it too hard," he said. "By day two, my quads were gone so I spent most of day two power walking and just moving forward."
After the gruelling 545km trek, Ed got sight of Ireland's most northerly point on Monday morning.
Some family and colleagues from Buncrana Community Hospital, where he is a chef, joined to greet him at the finish.
Through his effort, he was supported by his wife, Louise, and Angela McConnell.
He said: "Only for my crew, I couldn't have done it.
"They looked after my food, drink, navigation and split times. They do everything – I just run!"
McGroarty has been selected to run for Ireland in the 100km Anglo-Celtic Plate at Mondello Park in August and will also target the National 24 Hour Championships in October.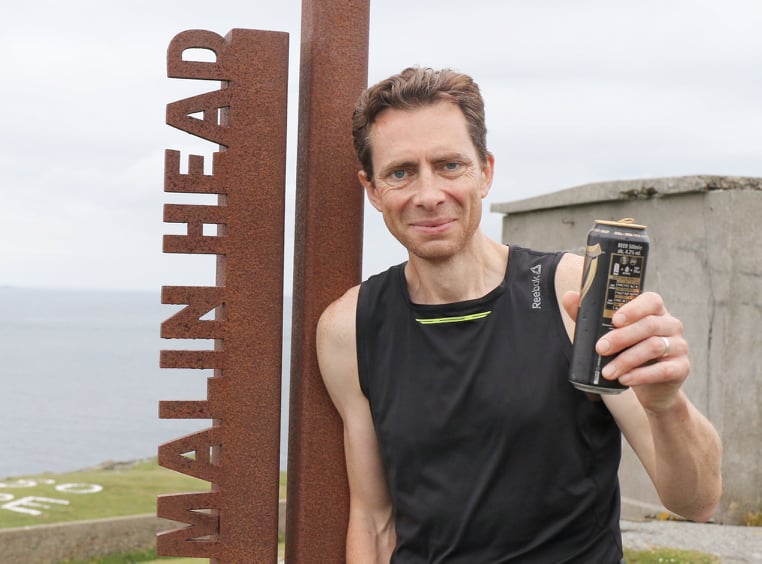 In February, 2020, Ed set a new Irish record at a 24 hour endurance race in Finland, the Espoo 24 Hour, when he completed 249.761km.
In October, he was the last Irish man standing at the Backyard Ultra World Championships, going 42 loops for a staggering 32 hours, 22 minutes and 26 seconds.
He said: "You don't train your body for the sleep, you just get out and do the run. You learn to experience them.
"I'm a 24 hour runner and I always say that the best way to train for a 24 hour race is to do a 24 hour race. My training programme isn't far off what a marathon runner would be, but i would do more long runs.
"It's a mental challenge more than a physical challenge. People say 'I don't know how you run for so long', but if you can't comprehend that then you won't be able to do it."
Tags: