DONEGAL Under-20s saw a five-point lead disintegrate as their Ulster Championship campaign came to an end in Enniskillen
Donegal 1-11 Monaghan 3-10
By Chris McNulty at Brewster Park
A hat-trick by Donnach Swinburne powered Monaghan into the final, but it was bitter disappointment for Gary Duffy's Donegal.
After a first half during which three black cards were shown, two of them for Monaghan players, Donegal led 0-9 to 1-1.
At that stage, one Donegal foot looked to have been planted in the final – but Monaghan turned the tide completely in the second half.
Their nails were bit to the quick when Donegal midfielder Ryan McFadden hammered a free to the net in added time at the end, but Swinburne, put clear by Shane Slevin, tucked home his third goal of the game right at the end.
Sean Jones, who featured for Monaghan during the 2021 Allianz League, came off the bench to aid the Farney.
Jones added new impetus to their attack and a second goal by Donnach Swinburne proved crucial with with Andy Callan's side scoring 1-6 in succession during the game's key period.
Swinburne's opening goal arrived from a penalty 11 minutes into an incident-packed opening half.
Darragh McElearney saw Daithi Roberts, the Donegal goalkeeper, repel his stinging shot at close range.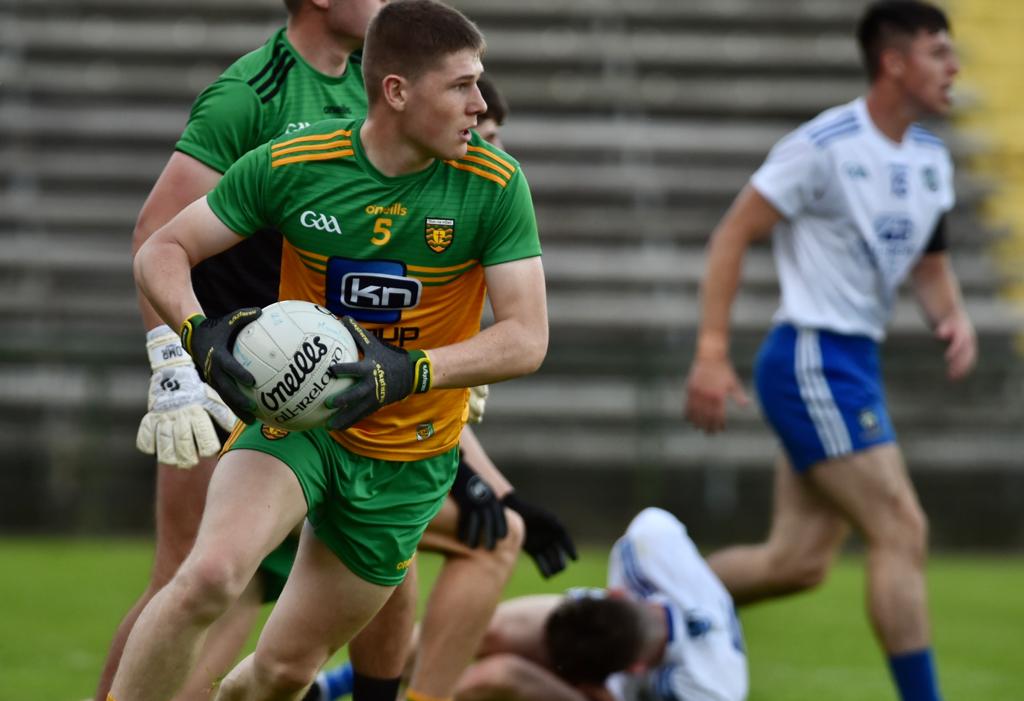 When McElearney followed up, referee Kevin Faloon penalised the full-back, Jamie Grant, for a foot block. Swunburne smashed the ball high past Roberts and Monaghan were energised.
A converted Darragh Dempsey had Monaghan front, but they were soon playing for a period with just 13 men.
Jason Irwin was already in the sin-bin, after being black carded in the ninth minute, when midfielder Joel Wilson followed him six minutes later.
Johnny McGroddy's early brace and a monster point by Shane O'Donnell had Donegal three in front after six minutes.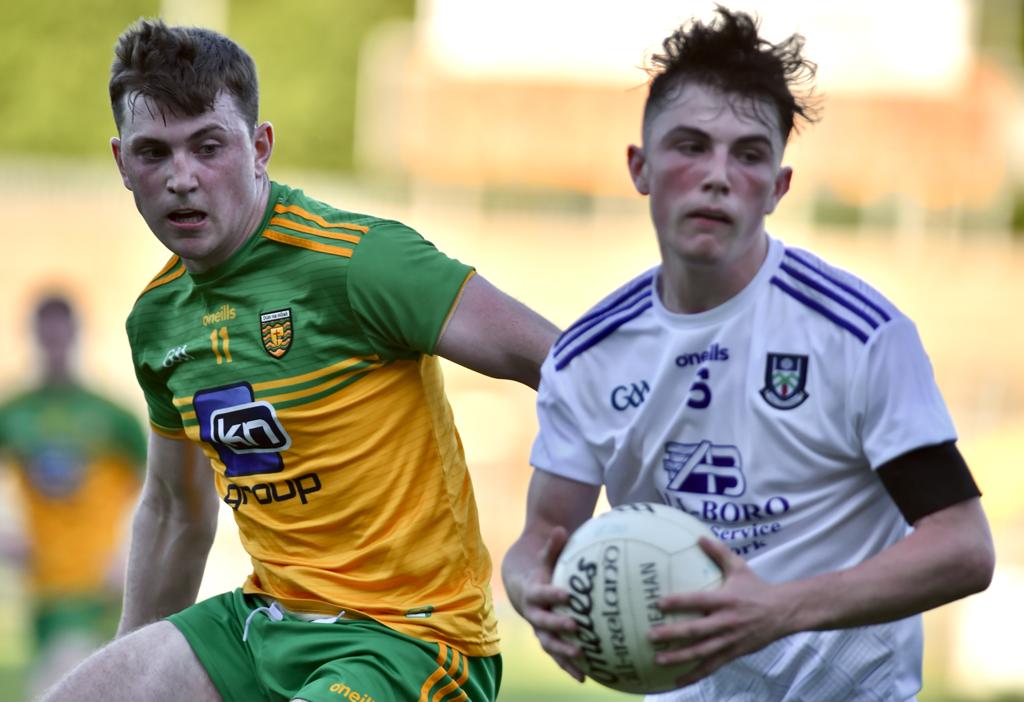 A big score from captain Rory O'Donnell levelled matters, 0-4 to 1-1, at the water break.
By the time the personnel numbers were evened up again, Jack Gallagher had just kept his cool under pressure to put Donegal 0-8 to 1-1 ahead, a spurt of five-in-a-row including a superb effort by Gallagher's Glenswilly colleague Keelan Dunleavy.
Faloon showed his third black card of the evening, to Donegal's Paul O'Hare, with the Naomh Columba man off to the naughty step for dissent.
Padraig McGettigan's second of the evening gave Donegal a 0-9 to 1-1 half-time lead.
Two Jason Irwin goals helped Monaghan to a 2-9 to 0-11 win over Derry seven evenings ago and they managed to creep to within three points of Donegal early in the second half.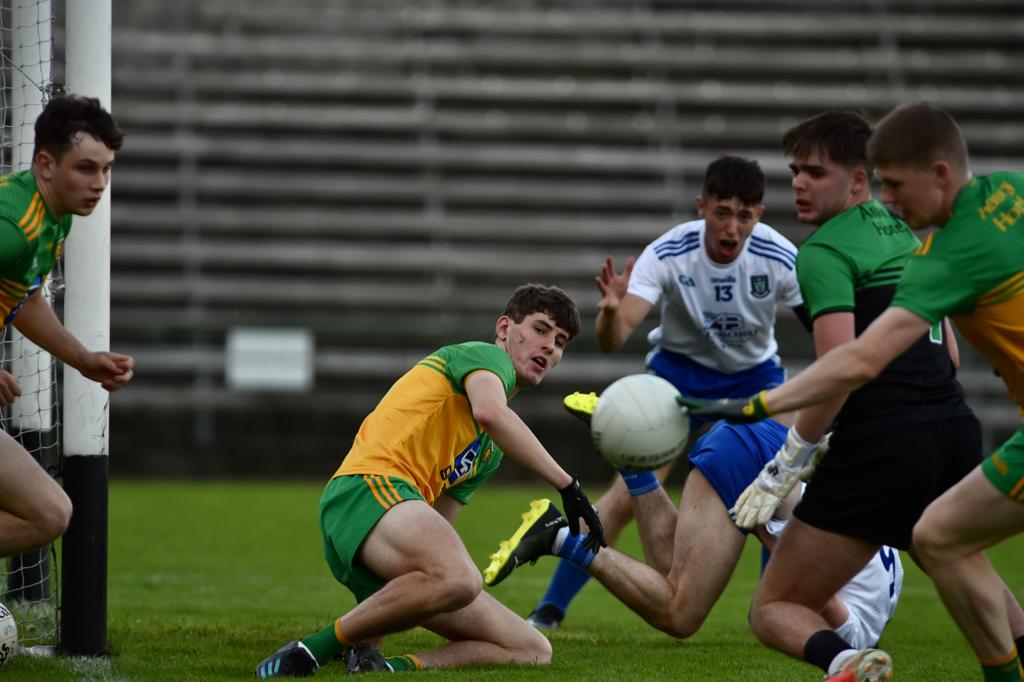 After an impressive 1-17 to 0-9 preliminary round win over Armagh in Ballybofey a fortnight ago, Donegal prevailed against Tyrone last Friday. Then, Eoin Dowling struck an early goal and a late Roberts save was every bit as important in a 1-12 to 1-9 victory.
Donegal didn't make their dominance count here and Monaghan were level when Swinburne finished to the net to polish off a solo move. Just after Swinburne clipped past Roberts, Jones converted a free and Monaghan had their sights on the finish post.
A second Jones free saw Monaghan with the 2-6 to 0-10 advantage when they huddled for water midway through the second half.
Donegal captain O'Donnell stemmed the flow with a badly-needed point – his team's first for 17 minutes.
As Donegal pressed hard for a goal, Monaghan 'keeper Ryan Farrelly got his fingertips to a dangerous ball across the goalmouth, the Magheracloone man intervening just when it seemed as if Donegal were on the verge of a goal.
McFadden did blast home a free, but it was too little, too late.
Donegal: Daithi Roberts; Caolan McColgan, Jamie Grant, Jack Gallagher (0-1); Kieran Tobin, Donal McBride, Keelan Dunleavy (0-1); Rory O'Donnell (0-3), Ryan McFadden (1-0f); Eoin Dowling, Shane O'Donnell (0-1), Ryan McShane; Paul O'Hare, Padraig McGettigan (0-2), Johnny McGroddy (0-3, 1f, 1m). Subs: Ciaran Moore for O'Hare (42), Nathan Byrne for Dowling (46), Ronan Frain for Dunleavy (46), Carlos O'Reilly for Gallagher (51).
Monaghan: Ryan Farrelly; Ronan Grimes (0-1), Thomas McPhillips, Ronan Boyle (0-1); Darragh McElearney (0-1), Brendan Og Duffy, Shane Hanratty; Gavin McPhillips, Joel Wilson; Darragh Treanor, Darragh Dempsey (0-2, 1f), Michael Meehan; Shane Slevin (0-1), Donnach Swinburne (3-0), Jason Irwin. Subs: Kyle Connolly for Treanor (half-time), Jack McGeown for McPhillips (half-time), Sean Jones (0-3, 2f) for Dempsey (41), Michael Hamill (0-1) for Meehan (41), Cian Maguire for Irwin (57).
Referee: Kevin Faloon (Armagh)
Tags: