COCKHILL Celtic won the Letterkenny Community Centre Summer Cup thanks to Stephen Duffy's extra-time winner.
Cockhill Celtic 2 Letterkenny Rovers 1 (after extra time)
It looked as if Ciaran Kelly's 75th minute goal would win the silverware for Letterkenny Rovers, but Garbhan Friel's 93rd minute penalty forced extra time.
Cockhill have won the last eight successive Ulster Senior League titles and Gavin Cullen's team have shown that their thirst for success hasn't waned any.
Christopher O'Donnell saved a second Friel penalty at the end of the first period of extra time, Cockhill reacted quickest, the ball found its way to Duffy and his strike proved to be the winner.
The competition has proved useful in getting these sides ready for the new USL campaign, due to get underway at the end of August, and they will expect to joust for further silverware over the next 10 months.
Danny McConnell has had to bide his time to take charge competitively at Rovers having been announced as Eamon McConigley's successor last summer, the ever-lengthening Covid-19 shutdown delaying his return to the Leckview Park hot seat.
Cullen has added significantly to his arsenal and Cockhill's strength was evident with the injured Laurence Toland, Jason Breslin, Jimmy Bradley and Peter Doherty still to return.
Rovers, though, held firm, led by the excellent Conor Tourish at the heart of their rearguard.
And it seemed as if they were destined for the win here when Kelly crashed to the roof of the Cockhill net after getting onto a ball across by sub Gary Merritt.
O'Donnell and his opposite number, Daniel Houghton, produced a pair of super saves in the first half to keep the respective sheets clean.
O'Donnell brilliantly tuned away Friel's tester from the edge of the box, while Houghton did well to get a strong hand behind a Gareth Doherty shot that he seemed to see late.
O'Donnell denied Friel midway through part one and the Rovers stopped thwarted the advances of Ronan Doherty after he got in behind.
Fionn McClure's effort slipped through O'Donnell's palms in the 55th minute, but the Letterkenny goalkeeper redeemed himself to keep the shot out of danger.
It was a warning, though, and the introduction around the same time of the lively Corey McBride added a new dimension to Cockhill's attack.
McBride saw a left-footed effort saved by O'Donnell, who was called into action by Friel, released by Duffy's perfectly-weighted through ball. Friel will feel he might have asked a more stern question of the Rovers number one.
Three minutes later, Kelly was wheeling away after putting Rovers in front.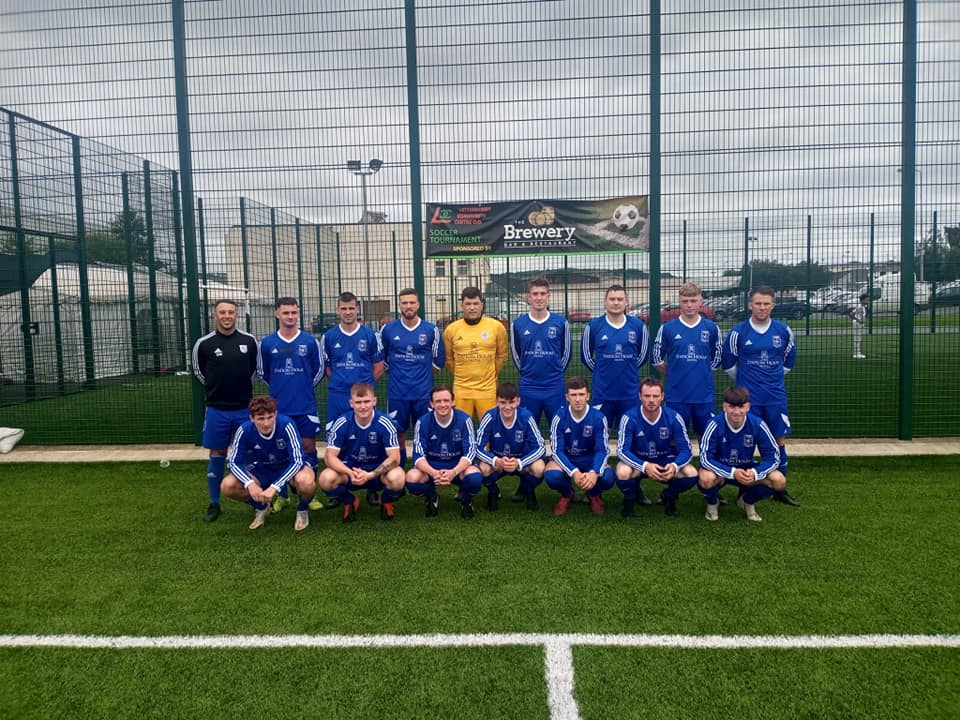 McBride had the pick of the Cockhill openings and they were almost out of time when the golden chance arrived, after Simon McGlynn flashed across goal down the other end.
Rovers lost possession from their next attack and McBride was fouled by Dean McCarry on the end-line. Friel made no mistake from the spot to take the tie into extra time.
McGlynn clipped the outside of the post with a good attempt, but the winner arrived on 100 minutes. McBride was fouled by Tourish and, although O'Donnell saved from Friel, Cockhill picked up the pieces, Duffy finished and they head for Inishowen with another cup for the sideboard.
Cockhill Celtic: Daniel Houghton, Keegan Hegarty (Mark Moran 87), Oisin McColgan, Lee McColgan, Fionn McClure (Christy Duffy (76), Caolan McColgan (Christy Fildara 76), Jack Doherty, Ronan Doherty (Stephen Duffy 66), Adam Duffy (Corey McBride 54), Bradley Callaghan, Garbhan Friel.
Letterkenny Rovers: Christopher O'Donnell, Matthew McLaughlin, Ciaran Kelly, Conor Tourish, Ryan Lonergan (Gary Merritt 69), Simon McGlynn (Davitt Walsh 101), Gareth Doherty (Zach Gorman 99), Conor Gormley, Shane McNamee, Dean McCarry, Kevin McGrath (Dan O'Donnell 92).
Referee: Marty McGarrigle
Tags: