Fans of the legendary Smokie will be eagerly anticipating their live show in the Clanree Hotel, Letterkenny on Saturday 19th February 2022 for what promises to be another unforgettable performance.
Tickets are out NOW on Ticketmaster.ie.
The Yorkshire band are world renowned for their distinctive sound that has allowed them to stay at the top for over 3 decades and to still continue to make new music.
Smokie sold over 30 million CDs, records and albums since their inception and had 13 top twenty hits in the 1970s, including "If You Think You Know How To Love Me" peaking at No. 3 in the UK Singles Chart, and "Living Next Door To Alice" which reached No. 5 on the UK Singles Chart, with the 1995 re-release reaching No. 3.
Despite the longevity of their career, the band haven't slowed down, Smokie are still one of the hardest working bands in the business, still touring worldwide to please their fans.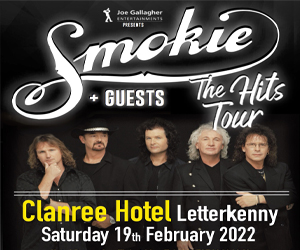 In 1998, Smokie released their album, "Wild Horses – The Nashville Album", in Nashville, Tennessee. In 2001, Smokie released another two albums, "Uncovered", and "Uncovered Too", which consisted entirely of cover versions. In 2004, Smokie recorded a studio album, "On the Wire", with eleven of the 14 songs written by the band themselves and in 2006; the band released the album, "From the Heart".
Then came a 6 year album break until 2010 seen them gain new chart success with a CD of brand new material entitled, "Take a Minute". Released initially in Denmark in August of that year, it peaked at No. 3 on the Danish albums chart.
Tickets for this unmissable show will be on sale from Clanree Hotel Reception:  00353749124369
www.clanreehotel.com
Ticketmaster.ie: www.ticketmaster.ie/smokie-tickets/artist/1071939 08442774455
Additional Dates:
Waterfront Hall Belfast,  Friday 18th February  2022
Vicar Street, Dublin Sunday 20th February 2022
Tags: