It certainly has been a busy year for the producers of the Five Farms cream liqueur.
Co-founded by well-known Donegal man Johnny Harte, the 'must buy' liqueur has gone from strength to strength and enjoyed huge growth in Ireland, Europe and the US.
And once again households across Donegal and the rest of the country are set to be stocked with the beautifully presented and mouthwateringly tasteful Five Farms over the festive season.
Be it a tipple before or after food, Five Farms is fast becoming a staple part of the Christmas experience for many households.
And it doesn't come without a lot of hard work not to mention plaudits throughout the year.
Five Farms once again won the Gold medal at the Blas na hEireann/Irish Food Awards for the second year running.
It's hard to believe that Five Farms only hit the market.
Yet in that time it has reached every corner of the planet from Australia to America, Asia to Europe and everywhere else in between.
Even over the past year, a year blighted by forced closures in the hospitality business worldwide, Johnny estimates that the growth of the product year-on-year is up by 25%.
Johnny, who is from Raphoe, is particularly proud of the growth in the US through the McCormick Group under the watchful eye of Mick Harris whose relatives the Currans hail from Donegal.
Entirely sourced and produced in County Cork, Five Farms is the first genuine 'Farm to Table' Irish cream liqueur.
Crafted from single batches of fresh cream sourced in five family-run farms in Cork blended with premium tripled-distilled Irish Whiskey, 10 times more whiskey than other brands in its category.
There are many which which Five Farms is being enjoyed.
That could be straight from the bottle or with a couple of cubes of ice as is many people's favourite serving.
But the Five Farms Espresso Martini is a very special way of enjoying the premium flavours offered by Five Farms.
See below for the ingredients and method to make yourself and your loved ones a very special drink this festive season.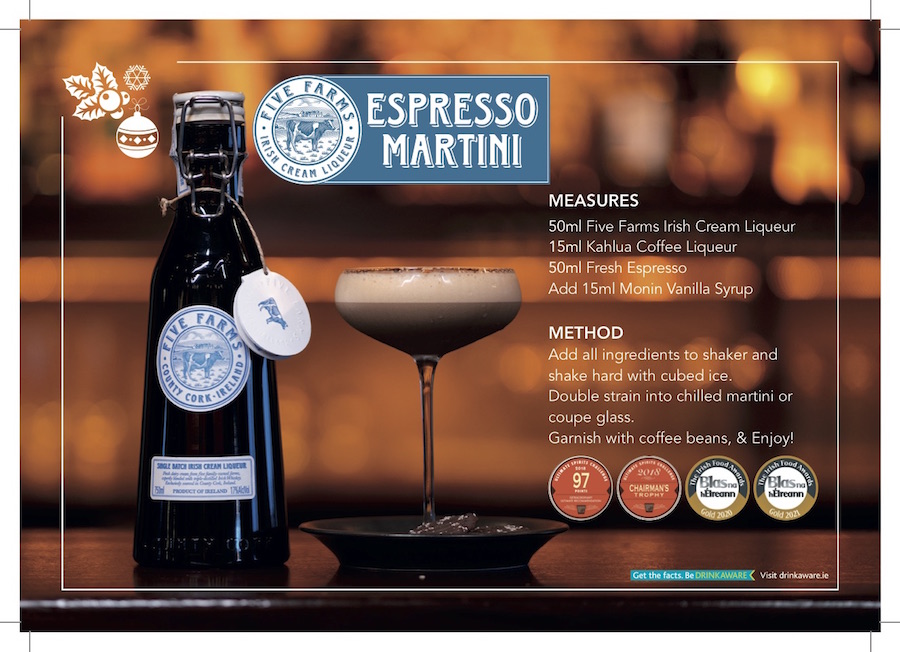 So where exactly can you get your hands on Five Farms across Donegal this Christmas and throughout the year?
It is available to purchase in Supervalu, Centra, O'Briens Wines and a host of independent off licences nationwide.
It's the ideal present for loved ones, staff, friends, relations but also for yourself.
Treat yourself to a premium product this Christmas – treat yourself to a bottle of Five Farms.
In Ireland, Five Farms is stocked by Supervalu and Centra, O'Briens, and many independent off licences. It is priced at a premium €35 – making it a drink to appreciate and to drink moderately.
"It is something you want to buy to treat yourself or to treat a special person," Harte said.
If you are in Donegal Five Farms is available in SuperValu and Centra stores as well as a range of independent retail outlets across the county.
You can purchase Five Farms online in Ireland through: wineonline.ie and www.irishdrinkshop.com/
Enjoy and Happy Christmas!
#donegal #christmas #presents #gifts #cocktails #drinks #whiskey #natural #love #beautiful #farming #nature
#farmtotable #food #friends #countrylife #irish #ireland #instawhisky
Tags: