Sponsored Post
Letterkenny Institute of Technology (LYIT) is now accepting applications for its 'Access Studies' programme.
On Monday 31 January at 7pm, the LYIT Access Team will host an online information webinar about the LYIT Access Programme. During this event, viewers will have the opportunity to find out everything they need to know about this pathway programme. The webinar will include interviews with current and former Access Studies students, and if you are thinking about returning to education be sure to connect to this live webinar session.
This Access Studies programme is the perfect fit for people keen to kick-start their third level journey and may be of interest to people that lack the confidence to take the first step on the education ladder. The programme is geared towards adult learners, mature students, early school leavers and LCA students interested in progressing to third level study. Learners on this programme will have an opportunity to study Information Communications Technology, Learning Skills, Mathematics together with modules of your choosing such as Computing, Law, Science, Business or Engineering.
The programme is based at the Letterkenny campus and is available on a part-time basis which would suit learners balancing family life commitments and/or part-time employment. The programme is free, with no fees and is a gateway programme supports adult learners transition into third level education. The Access Studies programme has been the foundation for many student success stories. 
Over the last twenty years, thousands of students have come through the 'Access Studies programme at LYIT. The majority of these students progressed into third level programmes of study at LYIT and have gone on to achieve great success in their chosen careers. 
Aoibheann Sims, a current 3rd year student in Applied Computing, chose LYIT's Access Studies programme when her children started national school. She wanted to return to education and felt that the 'Access Studies' programme was the perfect fit for her, having been out of education for many years. Aoibheann commented, "Having left school many years ago, Access provided me with the opportunity to get back to education. It gave me the knowledge, skills and confidence to return as a degree student to LYIT."
If you would like to find out more about the Access Studies programme at LYIT, pre-register to attend the live webinar on the link here: https://us02web.zoom.us/meeting/register/tZElcuGvrTsiEtNMYtMx0LXHHG6wXnHjzWAF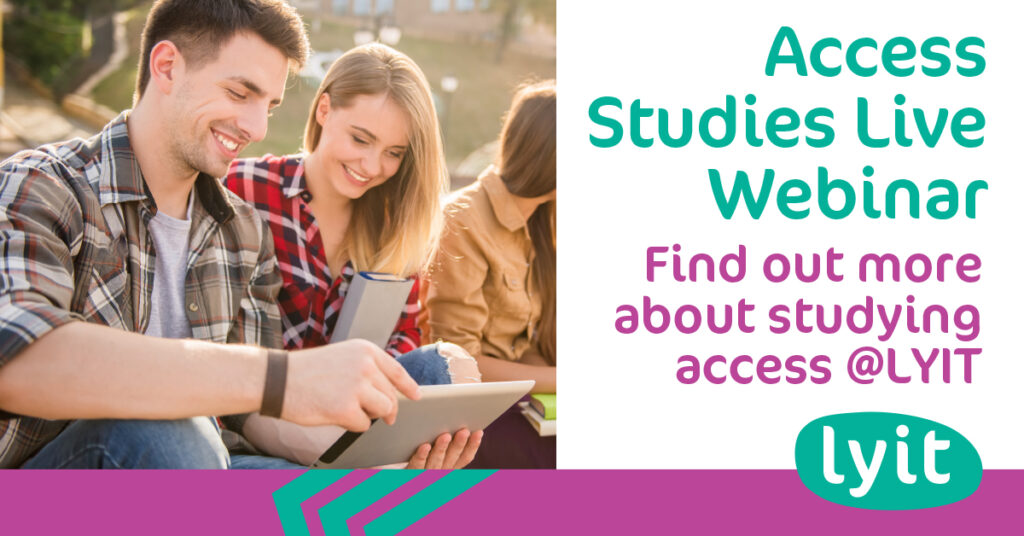 To find out more about 'Access Studies' programme at LYIT visit: https://www.lyit.ie/CourseDetails/D401/LY_CFOUN_F/PreparatoryStudiesforHigherEducation 
Completed applications to join the programme should be emailed to anne.brennan@lyit.ie no later than Wednesday 9 February.
Kick-start your future, apply today to join the Access Studies programme at LYIT.
Tags: