UPDATE – Thanks to our readers, the Donegal owner of the passport contacted us and we have put him in touch with the lady in County Down. She will be putting his passport in the post shortly! Thank you.
A member of the public is seeking to return a passport belonging to a young Donegal man.
The important document was discovered yesterday along the side of a road in County Down.
We have redacted some of the information on the image (below) in order to protect the young man's privacy.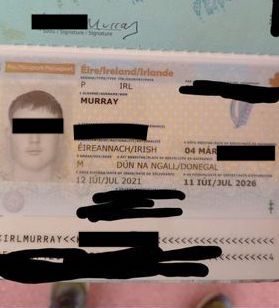 The person who found the passport contacted Donegal Daily in the hope that one of our more than 109,000 Facebook followers would recognise it.
"We found a passport of a young fella ***** Murray (age 16), which was found on the roadside in County Down," the finder explained.
"Just wondering if someone could put the word out that it was found?"
If this is your passport, or if you might know the owner, please email us on info@donegaldaily.com or send us a private Facebook message.
Tags: