Minister for State Josepha Madigan has apologised for sending an offensive tweet on the day of the Creeslough explosion.
The Dublin Fine Gael TD said she was "terribly sorry" for her actions on Friday 7th October.
Hours after the fatal explosion, Ms Madigan tweeted: "This is terrible! I hope no-one is injured and they find the culprits!"
She followed up on her statement to say:
"One hopes this isn't deliberate, but it is yet to be clarified!"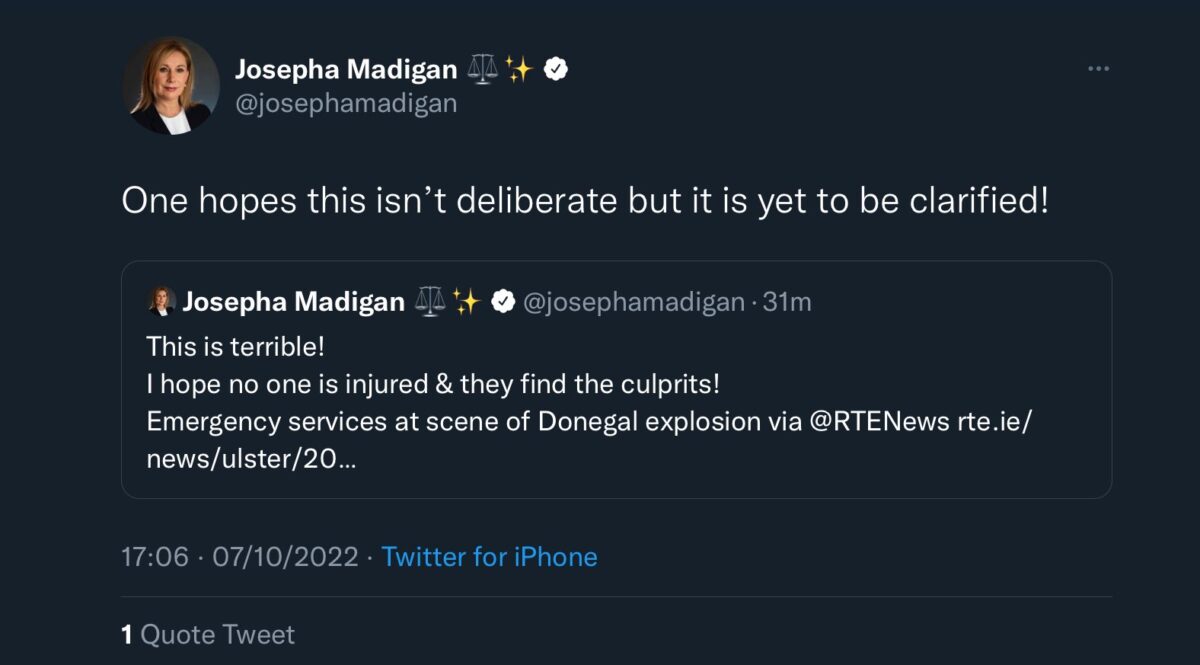 Her comments were made as emergency response efforts were ongoing at the scene. At the time, it was not known how many people were injured or had perished.
Ten people were later confirmed dead following the explosion at the service station, which is being treated by gardaí as a "tragic accident".
Ms Madigan deleted her tweets following a number of comments from other Twitter users.
Speaking to The Hard Shoulder on Newstalk FM yesterday, Ms Madigan said:  "First of all, I shouldn't have sent the tweet.
"I was wrong and I want to sincerely apologise for not just sending the tweet but also for the offence caused as a result. I am terribly sorry for that.
"I also want to offer my heartfelt condolences to the entire Creeslough community but especially to the bereaved families who lost their loved ones.
"It's an unimaginable tragedy that was visited on the people in Donegal and my heart goes out to all of those affected by this absolutely shocking event."